Looking at Names in Search (YNDX, GOOG)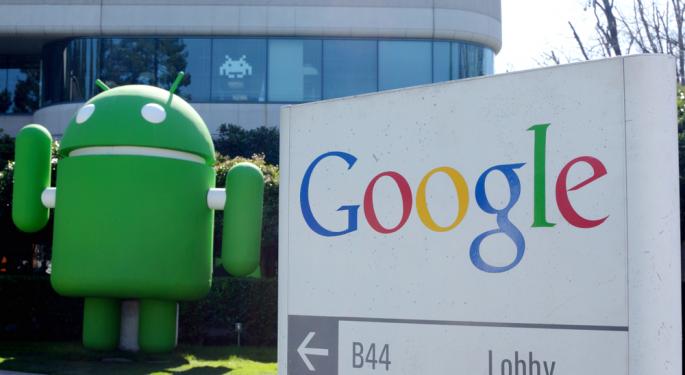 The market's run up a lot in recent months. At this point, it may not be short-covering, so much as it could be new money coming in from the sidelines. A big rally for the indices has resulted in a lot of extended stocks out there -- stocks too far past buy points for many to consider getting into right now. Google (Nasdaq: GOOG), for example, broke out over $658.59 in August and hasn't really looked back.
But buying stocks too late is an easy way to lose money. Rather than chase Google here, traders may do well to wait for a more palatable entry point. It may come at some point, but perhaps it's best now to wait for a consolidation phase.
While Google has a stranglehold on the U.S. search market and Baidu (Nasdaq: BIDU) remains dominant in China, Russia-based Yandex (Nasdaq: YNDX) has also emerged as a formidable player in the space with a market capitalization of $7.9 billion. The good news is that it doesn't appear to be extended in price. In fact, it might be setting up for a possible upside breakout.
Yandex isn't a widely-known name, but don't let that be a deterrent. U.S. mutual fund managers have been buying the stock hand over fist in recent months -- not surprising since the company has a pristine balance sheet and growth prospects appear solid.
At the end of the second quarter, 240 funds owned the stock, up from 201 at the end of the first quarter. The highly regarded Oppenheimer Developing Markets Fund has a big position. As of the latest reported period, it held 13.4 million shares.
In late July, second-quarter profit at Yandex rose 36% from a year ago to $0.19 a share. Sales growth decelerated for the second straight quarter but still rose 29% to $209.7 million. The company served ads for more than 193,000 advertisers in the second quarter of 2012, up 34% from a year ago.
Full-year profit is seen rising 28% this year to $0.82 a share and 34% in 2013 to $1.10. Despite strong growth prospects, Yandex's valuation is still palatable at 32 times trailing earnings and 22 times forward earnings -- not cheap by any means but not excessive either.
Clearly, rising Internet usage in Russia is working in Yandex's favor. There were 62 million internet users in Russia in 2011, representing 45% of the population, according to eMarketer. Russia's Minister of Communications says the number could hit 90 million in 2013. Yandex's share of Russia's search market is around 60%, but Google is holding its own at around 25%.
The Russian search firm went public in May 2011 at $25 a share. Its most recent base started in April. The stock corrected just over 40% before hitting a low of $16.65 mid-June. Several above-average volume price gains in recent months point toward institutional buying and with the market still in an uptrend, an upside breakout for Yandex over $25.23 could be in the cards.
Stock chart: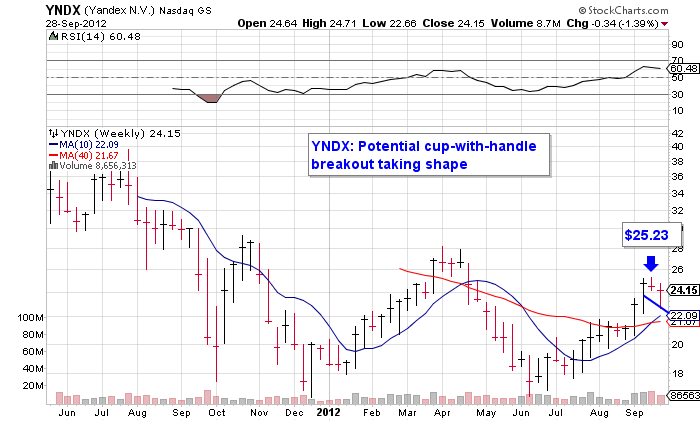 Posted-In: Long Ideas News Technicals Global Trading Ideas Best of Benzinga
View Comments and Join the Discussion!