Short Interest in Chip Makers on the Rise (AMD, BRCM, NVDA)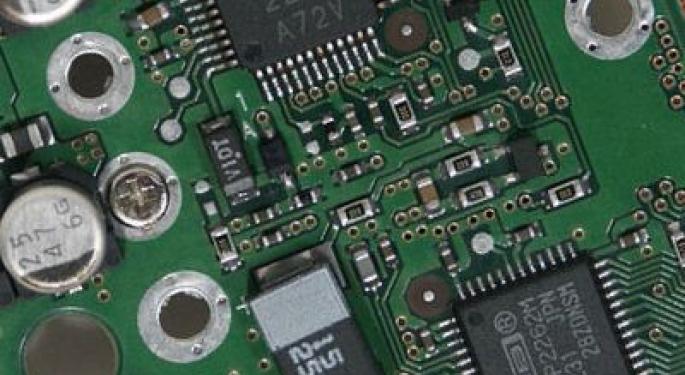 The short interest data is out from the September 14 settlement date. For the big semiconductor makers the results are mixed but overall trended higher. Shares sold short in Advanced Micro Devices (NYSE: AMD), Broadcom (NASDAQ: BRCM) and Nvidia Corp. (NASDAQ: NVDA) rose more than nine percent between the August 31 and September 14 settlement dates. Marvell Technology (NASDAQ: MRVL), Micron Technology (NASDAQ: MU) and Qualcomm (NASDAQ: QCOM) saw short interest fall more than seven percent in that period.
To a lesser degree, short interest in Applied Materials (NASDAQ: AMAT), ARM Holdings (NASDAQ: ARMH) and Texas Instruments (NASDAQ: TXN) increased as well, while short interest in Intel (NASDAQ: INTC) declined during that time.
Advanced Micro Devices
AMD saw short interest rise 9.5 percent to 120.95 million shares, or about 20 pecent of the company's total float. Earlier this month, AMD faced analyst downgrades, and it announced it would invest in a cloud gaming company. The stock is down about 39 percent year to date and the share price hit a 52-week low Wednesday.
Broadcom
Short interest rose by almost 11 percent to 6.4 million shares, but that is just 1.3 percent of the total float. Insiders, including the chairman, sold shares during this month, and the company launched the first 5G WiFi gateway platform. Shares pulled back more than five percent in the past week but are still up more than 17 percent year to date.
Marvell Technology
Shares sold short declined 18.4 percent to 5.91 million shares by September 14. But that followed a greater than 34 percent rise in short interest in the previous period. Marvell was one of three chip stocks downgraded by Citigroup just before the settlement date. Its share price fell to a new multiyear low Wednesday morning.
Micron Technology
Short interest retreated 9 percent to 62.79 million shares, which was more than six percent of Micron's float. This month, Micron took over the number 380 spot in the S&P 500 from Ball Corp. (NYSE: BLL). After pulling back nearly 10 percent in the past week, shares are trading more than 12 percent lower than at the beginning of the year.
Nvidia
Shares sold short in Nvidia rose by a stunning 56.6 percent to 14.9 million. That was about 2.5 percent of the float. Nvidia announced earlier this month that the general manager of its mobile business unit had left the company. Shares have traded between $13 and $14 since the first of the month; the stock is down more than six percent year to date.
Qualcomm
Qualcomm saw short interest decline 7.4 percent to 17.39 million shares, which represents just one percent of the company's float. The chipmaker suffered supply chain delays in the days leading up to the launch of the Apple (NASDAQ: AAPL) iPhone 5. Shares are up more than 12 percent year to date though they pulled back 3.5 percent in the past week.
Posted-In: Advanced Micro Devices AMD Apple applied materials ARM HoldingsLong Ideas Short Ideas Trading Ideas Best of Benzinga
View Comments and Join the Discussion!