Seven Cheap Large-Caps Yielding Over 4%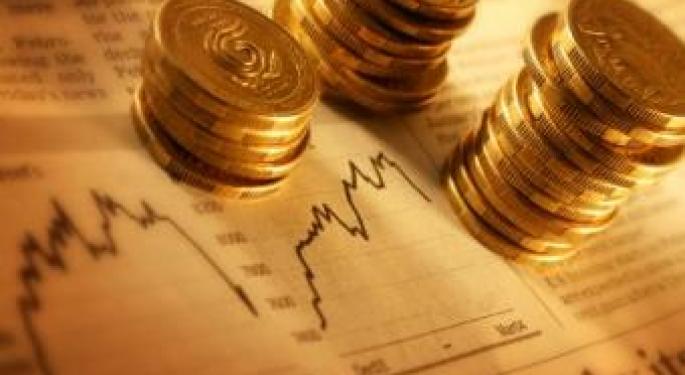 Traders looking for value plays may consider a variety of metrics. Key statistics include low P/E ratios, high return on equity, positive sales growth and great dividend yields. The following is a list of seven companies with at least $10 billion in market cap. Each has a forward P/E ratio below 15, return on equity greater than 10 percent, positive sales growth over the last 5 years and are yielding over 4 percent.
AstraZeneca (NYSE: AZN) - This UK-based healthcare company frequently turns up on scans looking for relatively cheap, high yielding stocks. The shares have underperformed the market in 2012, notching a gain of just over 1 percent. Currently, AZN has a market cap of nearly $59 billion, making it a leading player in the global healthcare and pharmaceutical markets. The stock trades at a trailing and forward P/E of below 8 and is currently yielding over 6 percent. Furthermore, both revenue and net income have been rising every year over the last 5 years. While AZN is not a stock that is likely to provide significant capital appreciation in short time frames, it might be a sound and safe investment with its great yield.
BP (NYSE: BP) - The British integrated oil giant has yet to recoup its losses from the devastating 2010 Gulf oil spill. Prior to the disaster, BP shares were trading at roughly $60.00, which compares to the current price of around $41.00. Yet, BP remains one of the largest oil companies in the world with a market cap of $131 billion at current levels. Given that revenues in 2011 were back above 2008 levels (when the stock traded considerably higher) BP could be a good value. In fact, this is a favorite stock of top value managers, including Baupost Group's Seth Klarman. Shares are inexpensive and offer a very healthy dividend yield. BP trades at a trailing P/E of 7.67 and a forward P/E of 7.45. At current levels, BP is yielding over 4.6 percent.
ConocoPhillips (NYSE: COP) - This stock has many similar qualities as BP in that it is one of the world's largest integrated oil companies and has many properties which appeal to value investors. In fact, Warren Buffett's Berkshire Hathaway (NYSE:BRK.A)(NYSE: BRK.B) owns a large stake in the company. At current levels, COP has a market cap of over $68 billion. The stock trades at a trailing P/E of 6.56 and a forward P/E of just under 10. ConocoPhillips recently spun off Phillips 66 (NYSE: PSX) into a separately traded public company, and this could provide a catalyst for the stock price as the company streamlines its operations. One of the most attractive qualities of COP shares is their 4.70 percent dividend yield, which makes this stock look like a high quality bond with potential upside.
GlaxoSmithKline (NYSE: GSK) - The healthcare and energy theme of this article continues with this stock. Like the other names on this list, GSK benefits from a large market cap, stable business, reasonable valuation and high dividend yield. Furthermore, value investors love the name and it is yet another holding of Buffett's Berkshire. At current levels, GSK has a market cap of a little more than $112 billion. The stock trades at a trailing P/E of 13.9, and a forward P/E of under 11. The stock is also yielding a little under 5 percent at current levels, which makes it extremely attractive in the current ultra-low interest rate environment.
Eli Lilly & Co. (NYSE: LLY) - This stock has recently broken out to new 52-week highs and remains an attractive pick for conservative investors. The company has a market cap of around $54 billion and is a global healthcare and pharmaceutical leader. With shares breaking out to new multi-year highs, LLY's chart also looks very compelling. The stock trades at a trailing P/E of under 13 and a forward P/E of just over 12. Eli Lilly also is yielding around 4.30 percent at current levels, making it an easy stock for investors to hold onto through market downturns.
Lockheed Martin (NYSE: LMT) - This aerospace name has been showing strong performance over the last year, rising almost 30 percent, including a better than 14 percent gain in 2012. Lockheed Martin is the smallest name on this list, with a market cap of only $30 billion. The stock's valuation, growth prospects, and dividend yield make it attractive. Revenues have risen year-over-year for the last four years, although margins have been ticking lower. The stock trades at a relatively inexpensive valuation as LMT has a trailing P/E of 10.75 and a forward P/E of 11.05. A quick look at the chart reveals that this is a name that investors continue to want to own. The company's high quality pedigree and the stock's 4.40 percent dividend could continue to make it a coveted name going forward.
Sanofi (NYSE: SNY) - This is yet another Warren Buffett stock that showed up on the simple scan looking for value metrics. This Paris-based healthcare and pharmaceutical company remains cheap despite a 21 percent gain over the last year and a 15 percent pop in 2012. Revenues have been rising over the last 4 years and Sanofi has a blue-chip pedigree. The shares currently trade at a trailing P/E of 13.81 and a forward P/E of just under 11. Add to Sanofi's profile a dividend yield of over 4 percent, and this is a name that should pique the interest of value-oriented, conservative investors.
Posted-In: Long Ideas Dividends Hedge Funds Technicals Movers & Shakers Trading Ideas General Best of Benzinga
View Comments and Join the Discussion!