Chanos Goes 5 for 6 in Spring Short Calls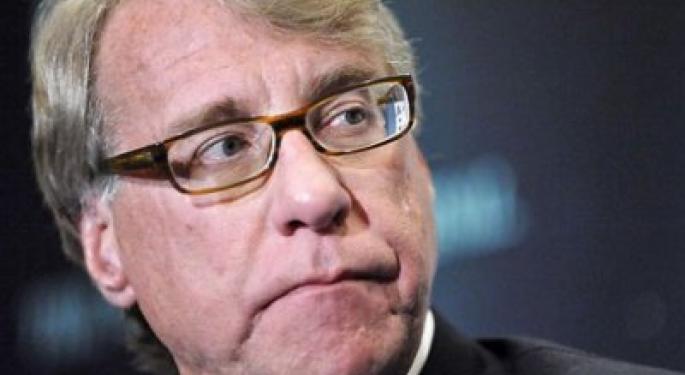 Back in April 2012, the founder of hedge fund Kynikos Associates Jim Chanos gave a presentation at Grant's Spring Conference outlining "Global Value Traps." His presentation discussed a number of secular trends and then offered up a variety of short stock ideas based on these trends.
The presentation delineated "value stocks," from so-called "value traps." While the two can be difficult to tell from one another, Kynikos notes some key differences. According to Chanos, value stocks have "predictable, consistent cash flow," and "defensive and/or defensible businesses." They also are "not dependent on superior management," trade at "low/reasonable valuation," have a "margin of safety using many metrics," and have "reliable transparent financial statements."
Conversely, many "value traps," tend to be "cyclical and/or overly dependent on one product." These companies also may have "marquis management and/or famous investor(s)." Furthermore, the stocks often seem to "appear" inexpensive, using management's favored metric. Oftentimes, according to Chanos, these companies will also have "accounting issues."
The first secular trend that the presentation covered was the explosion of shale gas in the United States. The incredible supply of natural gas that has come online in recent years has caused prices to plunge. At the time of the presentation, Henry Hub natural gas was trading at around $2.00, and Kynikos argued that "shale production economics imply even lower natural gas prices." Currently, natural gas futures are trading at around $2.85, so in the near-term prices have actually risen, although they remain at depressed historical levels.
Falling natural gas prices as a result of shale exploration has resulted in a significant shift away from coal. This trend has been seen in the price of coal stocks, with Patriot Coal (OTC: PCXCQ) declaring bankruptcy earlier in 2012 and other names such as James River Coal (NASDAQ: JRCC) and Arch Coal (NYSE: ACI) falling sharply.
Chanos highlighted another name that would likely continue to be effected by the explosion of shale gas, despite the fact that it looked "cheap" -- CONSOL Energy (NYSE: CNX). Thus far, that short has been profitable, with shares falling more than 14 percent since the April 11 presentation.
Chanos argued that while CONSOL had some "value" properties such as a diversified earnings stream and low cost assets compared to peers, the business would face continued headwinds. In particular, he said that CONSOL's thermal coal business would continue to deteriorate as a result of "pressure from coal-to-gas substitution" and the metallurgical coal segment could suffer from "uncertain Chinese steel demand."
The another trend highlighted was the rise of "quasi-public" national oil companies such as Petrobras (NYSE: PBR) and PetroChina (NYSE: PTR). While these stocks trade on exchanges, the state holds a majority ownership stake, thus leading to problems for private investors. Chanos argued that governments tend to "push ambitious and costly investment strategies" in order to keep gas prices low to appease citizens. The presentation also notes that frequently these companies overpay for overseas assets and often have negative downstream margins.
The short idea that Chanos highlighted in relation to national oil companies was Brazil's Petrobras. Since the April 11 presentation, that stock has fallen 15 percent and is now down nearly 26 percent over the last year. Chanos' presentation noted that the stock had some value attributes such as a low forward P/E multiple, but he highlighted a number of troubling headwinds for the company. In particular, he suggested that the stock could be hurt by Petrobras' massive capex program and government intervention. Thus far, the call on Petrobras has been proven correct.
Chanos also touched on the secular mobile computing trend, suggesting that this should continue to hurt PC makers. Chanos noted that in the first-quarter of 2012, Apple (NASDAQ: AAPL) shipped more iPads than the largest PC vendor shipped PCs. In conjugation with this fact, Chanos suggested shorting Dell (NASDAQ: DELL), on the thesis that it was a "value trap." Indeed, DELL is an extremely cheap stock using classic metrics. At the time of the presentation, shares were trading at a forward P/E of just 7.6.
The stock has been absolutely decimated since Chanos' presentation, showing a loss of 35 percent. A disastrous quarterly report and weak guidance caused the stock to fall dramatically in late May and shares have continued to trend downward. The company is still highly exposed to the PC market, with notebooks and desktops alone accounting for around 55 percent of the company's revenue in fiscal-year 2012. Given the shift away from these businesses, DELL could still be a "value trap" at current levels, despite the steep decline in the stock.
(Later, in July, Chanos suggested shorting rival PC OEM Hewlett-Packard (NYSE: HPQ) -- that trade has also been proven profitable, as HP is down well over 10% since that call.)
The fourth trend Chanos addressed was the rise of digital distribution, which has eaten away at physical media companies. According to Chanos, this trend will put Coinstar's (NASDAQ: CSTR) Redbox DVD kiosk business under pressure. At the time of the presentation, the company had recently raised DVD prices by 20 percent to $1.20 per night. Further, RedBox's installed kiosk growth rate was slowing dramatically. In the near-term, this analysis appears to have been spot on, as CSTR has lost more than 18 percent since April 11 versus a gain of more than 3 percent for the S&P 500.
The final two ideas that Chanos talked about were Spanish bank Banco Santander (NYSE: SAN) and Australian iron ore producer Fortescue (ASX: FMG). While Banco Santander has actually moved around ten percent higher since the April presentation, Fortescue shares have plunged nearly 41 percent. In outlining Banco Santander as a potential short candidate, Chanos pointed to Spain's troubled national balance sheet as well as the residual effects of the Spanish real estate collapse. At the time of the presentation, Banco Santander had around 323 billion euros in commercial and property developer loans outstanding.
The thesis on Fortescue surrounded the bubble in iron ore on the back of Chinese demand. The presentation stated that "growth in iron ore demand is driven by China's fixed asset investment boom." Chanos argued that, "China's credit-driven fixed-asset economy is not sustainable" and that recent signs point to a slow down.
In total, Chanos' presentation at the Grant's Spring Conference covered six stocks as potential short opportunities. Five of the six the stocks have fallen since April 11th, including extremely sharp declines in Dell and Fortescue. The other three winners, CONSOL, Petrobras and Coinstar fell 14 percent, 15 percent and 18 percent, respectively. This is even more incredible considering that the S&P 500 rose around 3.4 percent during this time. Jim Chanos and his Kynikos hedge fund have a reputation for being among the most astute short-sellers in the word. An examination of Chanos' calls from the Grant's Spring Conference only serves to bolster this reputation.
Posted-In: Long Ideas News Short Sellers Short Ideas Hedge Funds Technicals Movers & Shakers Management Best of Benzinga
View Comments and Join the Discussion!