Stock to Watch: Yelp Soars Despite Lockup Expiration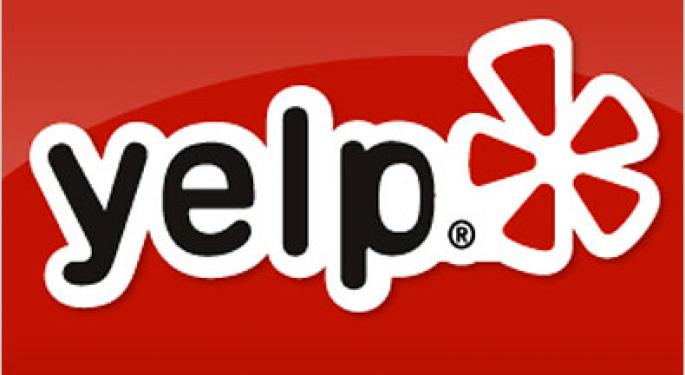 A peculiar thing happened on Wednesday with shares of recent Initial Public Offering (IPO) Yelp (NASDAQ: YELP). Despite the company's lock-up period expiring, the stock has soared more than 23 percent heading into the closing bell. This is unusual to say the least. When a company goes public, it normally sells only a small portion of its stock in the IPO process. In Yelp's case, it only sold 7,150,000 shares, compared to the 61,230,000 shares in existence. The rest of the stock is held by early investors, including private equity and venture capital firms Bessemer Venture Partners, Benchmark Capital, DAG Ventures and Elevation Partners. Significant amounts of stock are also owned by Yelp's management and employees.
When companies go public, many of these insiders and early investors are bound by a lock-up period during which they are not allowed to sell their stock. Frequently, when this lock-up period expires, it causes a stock's price to fall as large holders begin to dump shares to lock in profits. This is not always the case, but more often than not a lock-up expiry will have a negative near-term effect on a stock's price.
Investors and traders are aware of this phenomenon and frequently try to profit from it. In Yelp's case, short-sellers have been positioning themselves ahead of Wednesday's lock-up expiration in expectation of a quick payday. Heading into the day, nearly 32 percent of Yelp's float had been sold short. That is an extremely high amount, and one of the obvious catalysts that these short-sellers were looking to was insiders dumping the shares once they were free to do so. Unfortunately, for the shorts, this hasn't happened and it has triggered a very powerful short-squeeze in YELP on Wednesday.
According to Fortune, the big holders of YELP aren't selling on Wednesday, despite it being the first day they are legally able to unload stock. Fortune is reporting that, "most of the insiders didn't sell." Specifically, Yelp's private equity and venture capital backers aren't selling the stock.
Furthermore, Fortune reports that, "a source familiar with the situation also says that CEO Jeremy Stoppelman (founder & CEO) and board member Max Levchin also held onto their entire positions, but I have not yet been able to get secondary confirmation."
When the expected selling did not materialize this morning, the short-sellers, (some of whom likely had very large positions), began covering their bets. It appears that many of the shorts are doing this in a somewhat panicked fashion, as the stock has been rising throughout the day on massive volume. The 3-month daily average volume in Yelp is roughly 716,000. On Wednesday, more than 8 million Yelp shares have traded hands.
Given that many of the insiders did not sell, much of this volume is likely a result of short-covering. While lock-up expirations are often fairly high-probability trades, what has transpired on Wednesday in Yelp is a good example of what can happen when things don't go as expected. Taking a larger than 20 percent loss in one day on a short-sale can be extremely painful, particularly since most of the shorts had expected to make a lot of money on Wednesday.
Some of these market players, however, are probably just fine as YELP had been falling sharply heading into Wednesday's lock-up expiry. On August 8, YELP closed above $26.00. Subsequently the stock began falling on a near daily basis as short-sellers were likely building positions and other investors avoided the stock, knowing that the lock-up expiration was coming at the end of the month. Shares opened Wednesday's trading session at $17.51.
Therefore, it would not be entirely accurate to say that this event did not have a negative effect on Yelp's share price, but the timing was very tricky. Normally, one would expect for the stock to drop precipitously post lock-up, not fall dramatically in the weeks leading up to it only to explode higher on the same day that insiders can begin selling.
Posted-In: Long Ideas News Short Ideas Technicals IPOs Intraday Update Movers Trading Ideas Best of Benzinga
View Comments and Join the Discussion!