The Countdown to October 16 Begins for Vringo and Google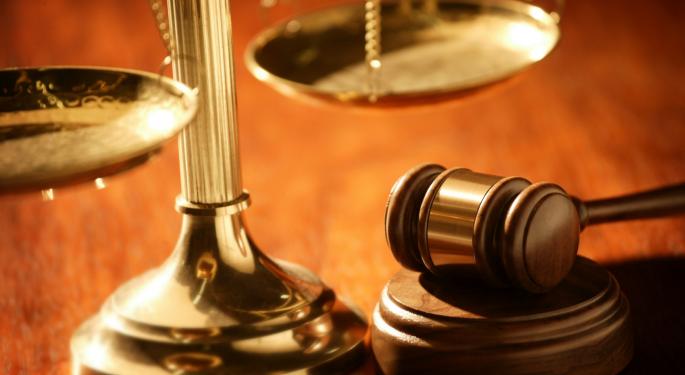 There are less than two months left until Vringo (NYSE: VRNG) and Google (NASDAQ: GOOG) go head-to-head in court. Once a forgotten penny stock stuck in application development operations, Vringo has emerged as a $200 million company largely due to its lawsuit threats against Google and other search engines like AOL (NYSE: AOL).
On October 16, 2012, Vringo will finally reach a long-anticipated legal hearing when it will try to convince the court that Google has infringed upon its patented search technology worth "billions of dollars." The trial will take place in the Eastern District Court of Norfolk, Virginia.
Many Vringo invesors are hoping for a quick, out-of-court settlement, including James Altucher, managing director of Formula Capital. Altucher famously penned his first article on the Vringo-Google lawsuit on March 31, sparking a 200% rally in shares of the otherwise forgotten patent troll. Since his article, Vringo has oscillated between $3-4 per share, with Altucher explaining that he continues to hold his shares in anticipation of a large settlement from Google.
On August 6, AOL settled with Vringo's I/P Engine in the same court. The settlement noted, "On this day, I/P Engine, Inc. and AOL Inc. announced to the Court that they have settled I/P Engine's claims against AOL relating to AOL's Advertising.com Sponsored Listings." The final dollar amount of this AOL settlement has not been disclosed.
How much money is at stake in the Vringo-Google lawsuit? Fans of Vringo note that if Vringo prevails against Google at a 1% royalty rate for its technology, Vringo would receive $700M for past damages. Additional payments are also possible, as Vringo's patents extend until 2016, and other companies have allegedly infringed on Vringo's technology. Optimistic speculators have cited possible share prices for Vringo in excess of $30 per share versus the current $3-4 range.
Skeptics, however, note that Vringo has already rallied over 200% in 2012 and trades at a significant premium to current revenues. Any failure of Vringo to monetize its patents would dramatically reduce speculative share prices. Skeptics also point to a dilutive financing at $3.25 per share announced on August 9 (a few days after the AOL settlement) as a sign of Vringo's low concern for its shareholders.
It is worth noting that David Cohen has been helping Vringo with intellectual property since March 2012. An experienced money manager, Cohen also helped Nokia (NYSE: NOK) receive hundreds of millions in lawsuit payments from Apple (NASDAQ: AAPL). Cohen's role at Nokia, like his current role with Vringo, was to help monetize intellectual property.
Vringo recently acquired a large patent portfolio from Nokia for $22 million plus royalties. Vringo hopes that Cohen's familiarity with this portfolio will help him to expedite its monetization. Critics, however, point to Nokia's limited success in monetizing this portfolio while it was in its possession for many years.
The trial is scheduled to commence on October 16, 2012 at 10:00am ET in Norfolk, Virginia. The civil action case number for the lawsuit is 2:11cv512.
Posted-In: Long Ideas News Small Cap Analysis Legal Tech Trading Ideas Best of Benzinga
View Comments and Join the Discussion!