Stocks and Sports: NFL Season Kickoff Coming Soon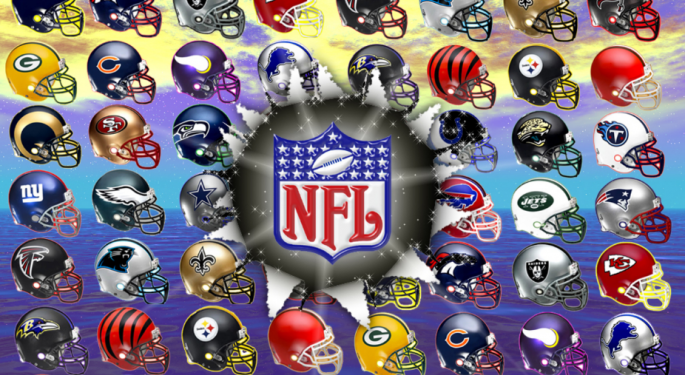 While the NFL pre-season is already underway, the NFL season is set to begin on Sept. 5, 2012 in a game between the Super Bowl champion New York Giants and the Dallas Cowboys. While fans may be excited about the upcoming NFL football season, one cannot help but notice a number of aspects of today's NFL that may be cause for concern.

I. Signs of the Times.

The ongoing football concussion crisis with its accompanying lawsuits would appear to compromise the future of both the NFL and American football. Former-NFL quarterback Troy Aikman's comments at the close of last season might seem relevant. Aikman said, "The long-term viability, to me anyway, is somewhat in question as far as what this game is going to look like 20 years from now." Aikman also suggested that if he had a son, he does not know whether he would be encouraging him to play "whereas, with other sports, you want your kids to be active and doing those types of things." Aikman continued, "I think we're going to look back at this point in time and say these were the missteps that the National Football League took that kept football from being the No. 1 sport."

In light of the football concussions crisis, Aikman is not alone in his assessment. In June 2012 while speaking with Jay Leno, NFL legend Terry Bradshaw commented, "There will be a time in the next decade where we will not see football as it is." Bradshaw added, "If I had a son today ... I would not let him play football." In addition, Bradshaw suggested that other sports like soccer, baseball, and basketball will grow in the years to come amid football's decline. He said, "There's too much fun to be had in athletics." Even so, Bradshaw commented that he would "absolutely" play football if he could do it all over again.

What might football look like in a decade or two? For one thing, fans might see female referees on the field. USA Today's Pete O'Brien recently reported how, "Shannon Eastin made history Thursday, becoming the first woman in the NFL's 97-year history to officiate a game. Eastin served as a side judge in the San Diego Chargers' preseason home opener against the Green Bay Packers." How might fans respond to seeing such changes in the sport? Might we see a woman kicking field goals in the NFL one day (akin to Manon Rheaume in the NHL)? Only time will tell.

On Aug. 8, 2012, Forbes' Patrick Rishe asked whether "the NFL [will] ultimately face a financial headache if the concussion issue plaguing the sport's past and present leads to future declines in fan interest." Per Rishe, "a legitimate concern that the NFL may face with the long-term interest in its popularity stems from how parents deal with growing evidence which links football to long-term health concerns." In light of medical reports linking football with chronic traumatic encephalopathy (which can cause early dementia and other mental problems) and lawsuits from former players, Rishe concluded that the NFL may be forced "to safeguard their sport so much that we may all be watching something akin to professional flag football. And that would likely cut into the sport's massive popularity and wealth."

George Will recently commented that "[w]e are ... rapidly reaching the point where playing football is like smoking cigarettes: The risks are well-known." Even so, "football has bigger long-term problems than lawsuits." Will speculated how fans would deal with the fact that football "may cause the players degenerative brain disease." Will added, "Not even football fans, a tribe not known for savoring nuance, can forever block that fact from their excited brains." Will concluded his analysis ominously, "Today ... the problem is not the rules; it is the fiction that football can be fixed and still resemble the game fans relish."

Between the concussions crisis, the prospect of female referees, Jerry Jones' recent "glory" comment, and the fact that a former Pittsburgh Steelers minority partner (who in 2010 claimed to be "1,000%" a Steelers fan) now owns the Cleveland Browns, American football is changing.

II. Football Stocks to Watch.

Even aside from issues of football's viability with respect to lawsuits and concussions, there are also a number of other facets to the NFL that individuals may want to take into account. The first facet is video games. Before the NFL began issuing exclusive licenses for video game rights, video game enthusiasts would have a range of video games from which to choose: Tecmo Bowl, NFL GameDay, NFL 2K, NFL Blitz, et al. Now, with EA Sports' (NASDAQ: EA) Madden franchise having an exclusive license with the NFL, the Madden NFL series of video games would appear to effectively have a monopoly on the football video game market, cf. Tecmo Bowl Throwback. An extended exclusivity agreement between EA Sports and the NFL carries with it negative implications for football's overall viability and options for football video gamers.

Another aspect of football's viability is that of broadcasting NFL games. The effects of changes in television for football fans may be sensitive, owing to differentiations in the American populace. Television may be getting harder to watch -- and in light of NFL televising agreements with respect to blackouts, there's a certain level of uncomfortable scarcity for fans' desiring to watch their favorite teams. As per the commentary of the Chicago Tribune's Mary Schmich in July 2011: "[E]ven as TV has gotten better, it's gotten harder. Once upon a time, it was simple. You bought a TV. You plugged it in. You turned it on. Now the options on how to watch -- not just what to watch, but how -- make TV as daunting as advanced calculus."

For cash-strapped citizens unable to afford NFL tickets and perhaps unable to afford cable television in a weak economy, such developments make football that much more inaccessible. In comparison, it may be getting easier to watch foreign fútbol matches than to watch NFL games. With the younger generation ditching regular television in favor of the Internet, it would be nice to have a minimal-cost NFL service online that allows fans to watch their favorite teams online. The NFL currently offers a service to watch preseason games online and NFL Sunday Ticket through DirecTV (NASDAQ: DTV), but even still, for many in America, the ability to watch NFL football is coming with quite a substantial price tag that previously did not exist. In order for a sport to remain viable, it helps for the sport to be reasonably accessible.

Many fans may be hungry for a viable, economically-priced avenue for being able to watch NFL games online on legitimate NFL-sanctioned websites. Again, changes in television programming affect different populations and different regions (in particular, parts of rural America) in different ways, but being an NFL fan and watching NFL football these days appears to have gotten a bit more expensive than in the past -- when you could just plug in a TV and watch the game. Where it may be less expensive to go to high school or college football games, in coming years we may see a bit of a decline in NFL fan participation in favor of NCAA and/or high school football.

In anticipation for the start of the NFL season, traders can take a look at Nike (NYSE: NKE), which is the NFL's official jersey supplier. In April 2012, Nike and Reebok settled litigation over Reebok's selling of New York Jets clothing that featured quarterback Tim Tebow. According to the Wall Street Journal, Nike had "reportedly paid $1.1 billion for the right to be the league's official provider" of jerseys.

Traders can also take a look at stocks like Anheuser-Busch InBev (NYSE: BUD), Coca Cola (NYSE: KO), PepsiCo (NYSE: PEP), and Boston Beer Co. Inc. (NYSE: SAM) in anticipation of fall beverage sales that come with the the NFL season. All in all, NFL fans can look forward to another great football season -- though one cannot help but notice various factors that seem to be calling into question the future of both the league and the sport.
Posted-In: football Jay LenoLong Ideas Psychology Topics Economics Trading Ideas General Best of Benzinga
View Comments and Join the Discussion!