Short Sellers Shy Away from Lowe's and Amazon.com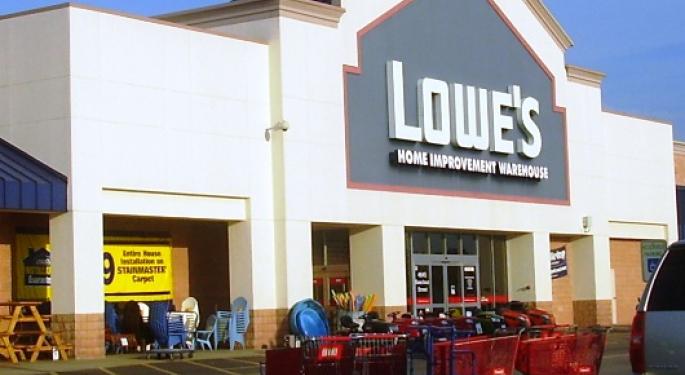 Moves by short sellers in late July indicate mixed feelings about the prospects for the retail sector. Shares sold short in Walmart (NYSE: WMT) rose only marginally between the 7/13 and 7/31 settlement dates. But the short interest in Best Buy (NYSE: BBY) and Walgreen (NYSE: WAG) increased more than 7 percent, while those in JCPenney (NYSE: JCP) and Macy's (NYSE: M) rose more than 10 percent. Home Depot (NYSE: HD) took the biggest hit among the largest U.S. retailers, with short interest spiking 31.7 percent to 22.8 million shares, though that is still only 1.5 percent of the float.
Competitor Lowe's (NYSE: LOW) was among the big retailers that short sellers shied away from in late July. Others include Amazon.com (NASDAQ: AMZN), Target (NYSE: TGT) and Kohl's (NYSE: KSS). Here is a closer look at this group.
Amazon.com
The preeminent online retailer saw short interest fall 5.8 percent to 7.55 million shares. That was the fifth consecutive decline since a rise of about 7 percent in mid-May. The Seattle-based S&P 500 component has a market capitalization near $105 billion. Its price-to-earnings (P/E) ratio remains ridiculous at 283.5, and its return on equity is a measly 4.9 percent. But its long-term earnings per share (EPS) growth forecast is more than 32 percent. And the mean price target of analysts is more than 10 percent higher than the current share price and also higher than the 52-week high.
Kohl's
Short interest in Kohl's dropped 6.1 percent to 19.95 million shares, though that is still the second highest number of shares sold short so far this year. The share price is up more than 7 percent in the past month, but the analysts' mean price target is still about 9 percent higher than the current share price. This department store operator is an S&P 500 component with a market cap around $12.2 billion. Its return on equity is more than 16 percent. Last week, Kohl's reported lower but better-than-expected EPS for the second quarter, but the company also lowered its EPS guidance.
Lowe's
The second largest home improvement store chain in the United States saw short interest dip 8.8 percent to 18.0 million shares, the lowest total since the end of May. The market cap is about $31.5 billion, and the S&P 500 component has a dividend yield of about 2.5 percent. The long-term EPS growth forecast is about 17 percent. The mean target price is more than 14 percent higher than the current share price, and that share price is about 4 percent higher than a week ago. Fifteen out of 29 analysts polled by Thomson/First Call recommend buying shares.
Target
Short interest in Target declined the most of this group -- down 10.4 percent to 9.41 million shares. That is the lowest number of shares sold short since the April 30 settlement date. Shares of this Minneapolis-based retailer are trading near the 52-week high. It is an S&P 500 component also, and it has a market cap near $41.5 billion and a dividend yield of about 2.3 percent. Of 25 analysts polled who follow the stock, 15 rate the shares at Buy or Strong Buy. The retailer is expected to post a marginal year-over-year decline in EPS and sales about 3 percent higher when it shares second-quarter results this week.
Posted-In: Amazon.com best buy home depot jcpenney kohl'sLong Ideas Short Ideas Trading Ideas
View Comments and Join the Discussion!