Can "Green Monday" Surpass Cyber Monday and Black Friday?
comScore (NASDAQ: SCOR) reports that U.S. online holiday spending is approaching $25 billion for the season, an increase of 15% from the previous year.
Is this huge news? It is for online retailers. Amazon (NASDAQ: AMZN) and eBay (NASDAQ: EBAY) have been trying to move shoppers out of traditional retailers for years. Amazon has been particularly eager to take consumers away from the likes of Target (NYSE: TGT) and Best Buy (NYSE: BBY), offering impressive discounts to those who walk away from competing stores and shop with Amazon.com instead.
eBay's efforts have been a little more subtle. In 2007, the company took the concept of Cyber Monday one step further by coining the term "Green Monday," which is used to describe the second Monday in December. Is it silly? Yes. But it draws a ton of attention to online retailers, which is what eBay was looking to accomplish.
On Sunday, TechCrunch reported that eBay was overwhelmed with consumers looking to buy a $99 TouchPad – AKA the Hewlett-Packard (NASDAQ: HPQ) tablet that nobody wanted until $400 was knocked off the price. Once the price dropped, few consumers could resist a device that was frequently considered to be an undesirable clone of the iPad.
comScore's latest data release indicates that holiday-season-to-date spending has reached $24.6 billion, which is a 15% increase versus the corresponding days last year. For the week ending December 9 alone, consumers spent $5.9 billion online (which was also a 15% increase over the same week in 2010). While three days passed the $1 billion mark during that week, there have now been a total of six days of online shopping that exceeded $1 billion since the holiday season began. Not surprisingly, Cyber Monday leads the pack at $1.25 billion.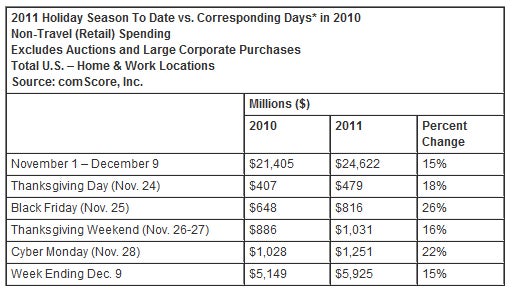 Source: comScore
Online spending is definitely increasing. But is this a byproduct of shifting trends, a sign of an economic recovery, or both?
"The most recent week of the online holiday shopping season saw growth rates remain in line with the season-to-date at 15 percent and three individual spending days eclipse the $1 billion threshold," comScore chairman Gian Fulgoni said in a company release. "These highlights represent another very positive sign for the holiday shopping season, as the week following 'Cyber Week' often experiences relative softness in spending momentum due to retailers pulling back on their promotional activity. As we enter what will be the heaviest week of the season for online retailers – beginning with 'Green Monday' on December 12 – all signs are now pointing to a strong finish to the season."
How are other retailers going to take advantage of the eBay-coined term? A quick look at Amazon.com does not reveal much more than the usual holiday promos, which include images of the Kindle Fire and a banner for the company's ongoing holiday deals. These are the same images the company had yesterday.
As usual, BestBuy.com is looking rather plain this morning, sporting few images, a "free shipping" notice, and a tagline: "The perfect gifts, all at great price."
Target.com is taking a bolder approach, greeting visitors with a large-text "Hello!" and an image of the Canon (NYSE: CAJ) PowerShot SX130IS, which was listed at $99 but appears to have sold out. (Upon clicking the link, consumers learn that the camera is "available in stores," but there is no longer a mention of the camera's online price.)
Walmart.com (NYSE: WMT) has one of the more festive sites with images of large presents greeting visitors, along with a notice on how to receive free shipping. Free shipping seems to be a more significant element than deals on specific products, though you will find image links to the day's top sales (which include items that are in "limited supply").
J.C. Penney (NYSE: JCP) is one of the few websites that seems to be directly banking on the hype for Green Monday by displaying a large front page image that reads, "Oh What Fun It Is To Save! Merry Monday Deals!" However, Overstock.com (NASDAQ: OSTK) maybe the only site that is actually using the "Green Monday" term, which makes me wonder about the validity of comScore's hype for this supposedly anticipated day. While I have no doubt that this will be an enormous week for shopping (both online and in store), the hype for Black Friday – and most recently, Cyber Monday – has led to some to believe that there could be additional days of comparable value. Consumers love a great deal, and retailers love anything that convinces consumers to spend. Thus, Green Monday was born.
But why aren't more retailers using it? Are they afraid of drawing too much attention to another major shopping day, which could later hurt them if consumers decide to skip sales in favor of the next one?
Look at Macy's (NYSE: M) – you can't go a month without hearing about one of the company's one-day sales. The upside to this strategy is that consumers know they can always find something on sale at Macy's. The downside is that consumers also know that it's okay if they miss today's sale because there will always be another – and 20 more after that.
By default, Green Monday may very well earn a billion dollars for the online retail industry. There may be enough dollars – and this week may have enough shoppers – to produce a record-breaking day. On the second Monday in December last year, online shoppers spent more than $950 million: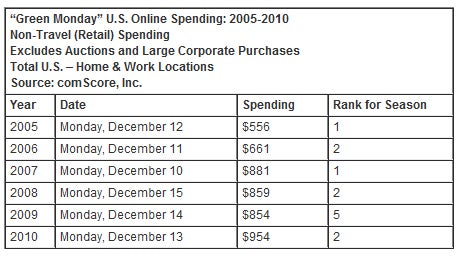 Source: comScore
"We know that Green Monday will rank among the top online spending days of the season, but it's hold on the #1 position may be slipping somewhat over time," said Fulgoni, who was once again quoted in the comScore release. "One possible reason is that as Free Shipping Day (Friday, December 16 this year) gains in importance each year, online spending during the heaviest week of the season is being more evenly distributed throughout the week, whereas in the past there was a much higher concentration of spending during the early part of the week."
Whatever happens this year and beyond, chances are the results will have more to do with consumer trends and the approaching holiday than the low-key hype for Green Monday.
ACTION ITEMS:
Bullish:
If you expect consumers to continue moving toward online shopping, consider the following:
Amazon is still the strongest name in online shopping. Something tells me we're going to say the same thing about this company next year.
eBay offers an interesting alternative for those looking for used and/or obscure items.
Barnes & Noble (NYSE: BKS) may have once preferred that consumers shop in its stores, but with the Nook line of e-readers and tablets, the company has fully embraced the world of online shopping and digital distribution.
Bearish:
For those who prefer a more traditional retail outlet, consider the following alternatives:
While Target, Wal-Mart and Best Buy have increased their presence online, they still rely heavily on in-store sales.
Follow me @LouisBedigian
Neither Benzinga nor its staff recommend that you buy, sell, or hold any security. We do not offer investment advice, personalized or otherwise. Benzinga recommends that you conduct your own due diligence and consult a certified financial professional for personalized advice about your financial situation.
View Comments and Join the Discussion!
Posted-In: Amazon best buyLong Ideas News Short Ideas Success Stories Tech Trading Ideas Best of Benzinga