iPhone In Danger Jan 19, Jan 27 (AAPL, SNE)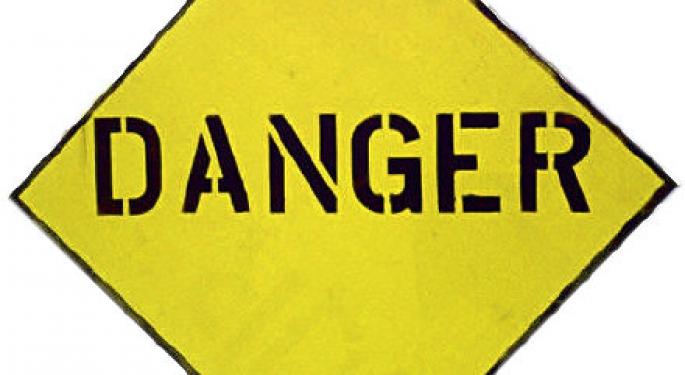 On January 11, iPhone enthusiasts waited anxiously for confirmation of the Verizon (NYSE: VZ) / Apple (NASDAQ: AAPL) deal. Less than one week later, investors moved cautiously as Steve Jobs announced that he was back on medical leave. Today, iPad users gasped at the news that their personal data may have been stolen.
Needless to say, the iPhone creator has been in the news a lot this month. But on January 19 and January 27, Apple will be the one watching the news.
On the former date, Nintendo will hold a media event in New York City to announce its plans for the North American launch of the Nintendo 3DS. On the latter date, Sony will reportedly announce the first details regarding the PlayStation Portable 2.
If you're not into video games, you might wonder what this has to do with Apple. The truth of the matter is that it has everything to do with the iPod maker. Apple wants to be the leader in technological advancements; if the 3DS is successful, Nintendo will have an immediate edge in that department. Apple also wants a larger piece of the video game pie, which Nintendo and Sony (NYSE: SNE) currently own.
While the App Store is only days (hours?) away from selling its 10 billionth app, most of them retail for just a few dollars apiece. The most successful apps tend to be priced at only 99 cents, which pales in comparison to the games on the current Nintendo DS and PSP platforms, which retail for an average of $30 to $40. Nintendo may not be selling a billion mini-downloads right now, but the company can't complain: at $35, Nintendogs, Mario Kart DS, and NEW Super Mario Bros. have each sold more than 15 million copies worldwide.
New Tech: Dangerous To Apple's Bottom Line
Now that the six-year-old Nintendo DS is slated to retire, the Pokemon-maker is ready to dive head-first into the next generation. Nintendo currently plans to ship 1.5 million 3DS units in the first month in Japan alone; when U.S. and European numbers are included, the 3DS could easily become the fastest-selling handheld device of the year.
These sales are no accident; in addition to the installed fan base that the original DS enjoys (more than 100 million worldwide), the 3DS has garnered a lot of attention simply because it is the first device that claims to provide a true 3D experience without the use of glasses. Never mind the negative press surrounding the warning for children under the age of six. The Nintendo 3DS has enough adult buyers – and enough teen and pre-teen buyers who started gaming with the original Nintendo DS – to ensure that this machine is a colossal success.
This poses a few problems for Apple: first, it ensures that people who want a rich gaming experience continue to look to Nintendo's devices (not the iPhone) for new content. Second, as a 3D device, the iPhone 4's advancements (a faster processor, crisper screen, etc.) might seem less significant. While the iPhone 4 has FaceTime, a feature no other device currently offers, the Nintendo 3DS will allow users to take and view 3D pictures – a gimmick, to be certain. But that won't stop it from piquing the interest of certain consumers.
Third, Nintendo is dedicated to making the 3DS the most connected machine it has ever developed. In the past, Nintendo has been terrible at getting their consoles and handhelds online, so this dedication might not sound like much. But the 3DS will not only have the option to be connected online at all times (if the user has a Wi-Fi connection), but it will also automatically interface with other 3DS units, allowing fellow game players to seamlessly connect, share content, and play games online.
Fourth, the Nintendo 3DS is currently the only handheld device slated to play 3D movies.
Fifth – and this could be the biggest problem for Apple – it wouldn't be that hard for Nintendo to say, "We're gonna make our own version of the App Store," and offer a plethora of cheap downloadable games. The company has already experimented with this concept via the Nintendo DSi (an upgraded version of the original DS that can download games). The download service hasn't been too successful, but Nintendo hasn't spent much time or money promoting the feature. Also, connecting to this service is rather slow and cumbersome. If what Nintendo says is true, the 3DS will remedy those issues, and will likely be accompanied with a much better marketing campaign.
If you think it will be hard for any game company to compete with the App Store, you're right – it will be very hard. But Nintendo is a company whose handheld systems continuously sell 100 million worldwide (I'm not sure about the original Game Boy, but I can tell you that, like the Nintendo DS, the Game Boy Advance sold more than 100 million units). Developers, whether as powerful as THQ Inc. (NASDAQ: THQI) or as small as a two-man indie team, will not be able to resist the potential that an "app store" could give them on the 3DS. And if developers, both big and small, happily support this venture, the App Store will be faced with a competitor unlike any other.
On the flip side, Apple has yet to develop an iPhone that is powerful enough to compete with the kinds of games that sell for $30 and $40 on the PSP and Nintendo DS. The biggest and most prominent developers in the world – Capcom, Konami (NYSE: KNM), Activision Blizzard (NASDAQ: ATVI), etc. – have all tried to bring their biggest games to the iPhone. Games like Metal Gear Solid, Dead Rising, and Call of Duty. And you know what? They all suck on the iPhone. Horribly. They aren't worth the price of admission; first because the iPhone's processor just can't handle these kinds of games, and second because they do not function well without a thumbstick and a proper set of buttons.
While analysts will tell you that the iPhone is Nintendo's biggest threat (even Nintendo of America's president agrees), this has more to do with consumer mindset than anything else. No one in the game industry wants us to become completely immersed in the idea of spending only a dollar for one game. Nintendo and Sony have both successfully countered this concern by providing a vastly different gaming experience. But the concern is still there – especially if Apple ever decides to release a game-dedicated iPod or iPhone with a killer processor and actual buttons.
The 3D Effect: Good For Apple's Future
Before the iPhone popularized the idea of touch screen phones, Nintendo increased their popularity with the original DS. While that may not have had any impact on Apple's development decisions, it certainly made the company's job easier; many of the iPod Touch's younger buyers purchased a DS first.
Prior to the arrival of the DS, touch screens were crap. The whole tech industry squandered the concept with lousy products that no one wanted. Similarly, if you look at the current 3D screens that are available, they too have some serious drawbacks: the price, the fact that you have to wear glasses, and the quality of the 3D effects produced (consumer response has been mixed at best).
After Nintendo announced the 3DS, other manufacturers – including Sharp, a supplier of screens for the original Nintendo DS – began to announce that they were working on new TVs and monitors that could produce 3D images without the use of glasses. While there were a handful of manufacturers trying to do the same thing before Nintendo's announcement, none of them had any success. Now that Nintendo seemingly has, other electronics companies are jumping on board. Coincidence?
Whatever you believe, you need to know that if the 3DS is a record-breaking success, Apple – who is already experimenting with glasses-free 3D – will take notice. That being the case, expect the company to have a 3D iPhone in stores by Q2 2013. (I'd argue sooner but the technology is new and could need some polishing.)
PSP2: All Or Nothing
Judging by Sony's recent developments, it almost seems crazy to think that the PSP2 could put a dent in Apple's success. It also might seem a little foolish to think that Sony – a company that lost a ton of money developing, distributing and marketing the PSP Go, a lackluster alternative to the original PSP – could rebound from its recent mistakes.
Traders, however, would be equally foolish to believe that Sony, a company that once ruled the game industry for nearly 10 years, has no hope of competing with Apple, Nintendo, and every other phone and game machine manufacturer. Sony wants nothing more than to regain what it lost. It also would love to cut into the market that Apple created with the App Store.
Right now, rumors indicate that the PSP2 will have a touch screen (a no-brainer), a full slate of buttons and at least one thumbstick (also a no-brainer), motion functionality (again, a no-brainer), both discs and downloadable games (which is surprising for a company who recently released a download-only machine), and the biggie – a graphics processor that is on par with the most powerful game console on the market: PlayStation 3.
Thus far, that latter detail is the one and only thing that sets the PSP2 apart from its competitors. But will it matter? To be clear, graphics processing is extremely important; if you think otherwise, just look at the iPhone and how it struggles to power games that the original PSP could handle with ease.
In the end, however, having the most powerful hardware rarely matters; Nintendo 64 was more powerful than Sony's first console (the original PlayStation), and Sony still won that battle. GameCube and the original Xbox (NASDAQ: MSFT) were more powerful than PS2, and Sony beat them both at retail. Now, Sony's latest console is more powerful than Wii and Xbox 360, and both of them have outsold the PS3.
Don't get the wrong idea here: having weak hardware does not give anyone an advantage. But having the most powerful hardware does not seem to provide an advantage either. Rather, the machine that wins is always the one with the best and most unique options – or simply the best content, whether it's games, movies or music.
In both areas, Sony is struggling. Still, I urge you to keep a close eye on the house that built the PlayStation. We don't yet know for sure what the PSP2 will offer, not in terms of hardware or game/multimedia content. But with an announcement slated to come just days before the Japanese launch of the Nintendo 3DS, you have to wonder: is Sony foolish enough to try and undercut the launch of Nintendo's next system with an announcement that no one is going to care about? That seems very unlikely.
Which, of course, begs an even bigger question: if Sony does indeed have something major to announce, what could it possibly be? Whatever the case, you should keep a close eye on the company and its stock, which currently trades at $35.85.
Short-Term: Apple Unharmed
In the short-term, Apple is unlikely to be negatively impacted by anything that Nintendo or Sony could announce – even if Sony's announcement includes a PSP phone that has a bendable OLED (organic LED) and displays images in 3D.
Long-Term: Apple Beware
Thus far, Google (NASDAQ: GOOG) Android has been the only iPhone alternative that has showed any hope of competing. But with Sony reportedly aiming to create the PlayStation of cellular phones, the PSP2 could set the stage for a serious battle.
Think I'm crazy? Nintendo thought it was safe when the original PlayStation geared up for release in 1995. At that time, Nintendo was the console leader; having crushed Sega and Atari, the House That Built Mario had become the new king. Within two years of the PlayStation's release, Sony had dethroned Nintendo.
While it could take much longer for Sony to have a similar degree of success in the war against Apple, the electronics giant appears to be in this for the long haul. It would be a mistake to overlook Sony's potential.
As far as Nintendo is concerned, let's be realistic: it's unlikely that anyone would buy a 3DS instead of an iPhone. The iPod Touch, however, is a whole other story. If you want a device that plays games and movies, Nintendo has one coming. In the area of games, you can bet that Nintendo will do whatever it takes to maintain its position as the industry leader. And in the area of movies, who knows? Cheap, glasses-free 3D could give Nintendo a significant edge.
View Comments and Join the Discussion!
Posted-In: Activision AppleLong Ideas News Short Ideas Tech Media Trading Ideas