Goodbye Bookstores? (BKS, AMZN, BGP, AAPL, BLOAQ)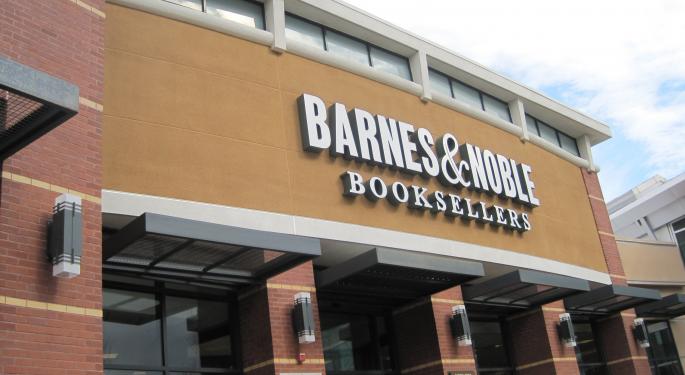 Just as Blockbuster (OTC: BLOAQ) faces difficulties as the shift from DVDs to online streaming has taken its business into bankruptcy, bookstores are also struggling as Amazon's (NASDAQ: AMZN) Kindle takes the book market by storm. Indeed, both Barnes and Noble (NYSE: BKS) and Borders (NYSE: BGP) have experienced stock price decreases since the Amazon Kindle was first introduced in 2007.
As bookstore investors are well too aware, the Amazon Kindle offers several advantages over printed books. Though an expensive initial investment, e-books themselves are inexpensive and the Kindle is efficient for traveling. However, books and physical bookstores provide an experience unmatched by e-readers. Shelf perusal is half the fun of purchasing books, and perusing e-shelves may not provide the same experience.
For Borders (NYSE: BGP) and Barnes and Noble (NYSE: BKS), their market is slowly disappearing as more and more Kindles find their way into households. Although Borders is experiencing difficulties presently - even to the point of possible bankruptcy - Barnes and Noble has developed the thriving NOOK series of e-reader devices in response to the Kindle. So far, it has been a successful attempt to break into the market. NOOKcolor, the first full-color touch Reader's Tablet, received high honors as the "People's Choice Award" winner on January 8, 2011 at the Last Gadget Standing competition at the 2011 International Consumer Electronics Show in Las Vegas. Barnes and Noble's NOOKcolor won in a landslide, thumping competitors with more than 60% of the nearly 5,000 votes cast by consumers and technology lovers online. Perhaps Barnes and Noble is optimistically adapting to the shift after all, while Borders has yet to up the ante.
Particularly with the release of the Apple (NASDAQ: AAPL) iPad, an e-reader and more, the competition facing the classic bookstores is becoming fierce.
Barnes and Noble displayed significant revenues increases in the third quarter of 2010, over $19.55 billion compared to 13.96 billion for the second quarter and also an increase in profits. Barnes and Noble is currently trading at $16.50, above the 200-day average of $14.86. The short ratio for Barnes and Noble is 21.8. This high ratio might suggest that investors expect that Barnes and Noble has hit a peak and prices may trend downward in the future.
Conversely, Borders experienced a decrease in both revenue and profits in third quarter 2010. Borders currently trades at $0.81 and the 200-day moving average is $1.21. Rumor that Borders is delaying payment to suppliers is not likely to push the price up closer to that average in the short-term. The short ratio is currently 2.1, suggesting optimistic investor sentiment which may have a positive effect on the stock price at some point.
Neither Benzinga nor its staff recommend that you buy, sell, or hold any security. We do not offer investment advice, personalized or otherwise. Benzinga recommends that your own due diligence and consult a certified financial professional for personalized advice about your financial situation.
Posted-In: Long Ideas Short Ideas Topics Trading Ideas General
View Comments and Join the Discussion!