Stocks To Profit Off Of The NFL (PEP, SAM, BUD, UA, NWSA)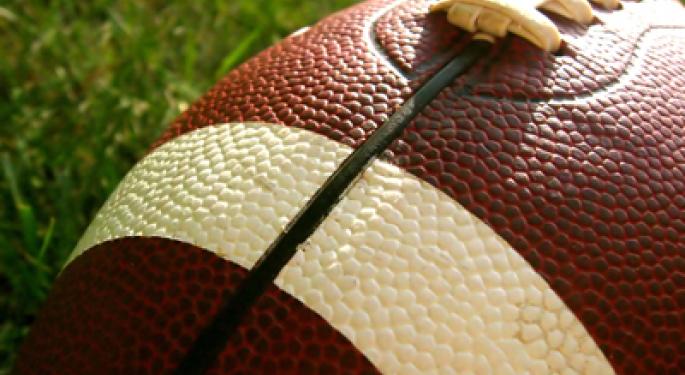 Benzinga staff has developed a list of stocks that could profit from the Super Bowl:
5) PepsiCo (NYSE: PEP) is a global food, snack and beverage company. The Company's portfolio includes oat, rice and grain-based snacks, as well as carbonated and non-carbonated beverages, in over 200 countries. Its operations are in North America (United States and Canada), Mexico and the United Kingdom. It is organized into three business units: PepsiCo Americas Foods (PAF), which includes Frito-Lay North America (FLNA), Quaker Foods North America (QFNA) and all of its Latin American food and snack businesses (LAF), including its Sabritas and Gamesa businesses in Mexico; PepsiCo Americas Beverages (PAB), which includes PepsiCo Beverages North America and all of its Latin American beverage businesses, and PepsiCo International (PI), which includes all PepsiCo businesses in Europe and all PepsiCo businesses in Asia, Middle East and Africa (AMEA). PepsiCo's three business units are comprised of six reportable segments: FLNA, QFNA, LAF, PAB, Europe, and AMEA.
4) The Boston Beer Company (NYSE: SAM) is a craft brewer and an independently owned brewer overall in the United States. The Company produces malt beverages and hard cider products at company-owned breweries and under contract arrangements at other brewery locations. The company-owned breweries are located in Boston, Massachusetts (the Boston Brewery), Cincinnati, Ohio (the Cincinnati Brewery) and Breinigsville, Pennsylvania (the Pennsylvania Brewery). During the fiscal year ended December 26, 2009 (fiscal 2009), Boston Beer sold approximately two million barrels of its products (core brands) and brewed or packaged approximately 200,000 barrels under contract (non-core products) for third parties. During fiscal 2009, the Company sold over 20 beers under the Samuel Adams or the Sam Adams brand names, eight flavored malt beverage products under the Twisted Tea brand name, and one hard cider product under the HardCore brand name.
3) Anheuser-Busch InBev (NYSE: BUD) is engaged in producing, marketing, distributing and selling a strong, balanced portfolio of well over 200 beer brands. These include global flagship brands Budweiser, Stella Artois and Beck's; multi-country brands, such as Leffe and Hoegaarden; and many local champions, such as Bud Light, Skol, Brahma, Quilmes, Michelob, Harbin, Sedrin, Klinskoye, Sibirskaya Korona, Chernigivske and Jupiler. The Company also produces and distributes soft drinks, particularly in Latin America. The Company operates in seven segments: North America, Latin America North, Latin America South, Western Europe, Central & Eastern Europe, Asia Pacific and Global Export & Holding Companies.
2) Under Armour (NYSE: UA) is engaged in developing, marketing and distributing branded performance apparel, footwear and accessories for men, women and youth. Its products are sold worldwide and are worn by athletes at all levels, from youth to professional, on playing fields, as well as consumers with active lifestyles. Its revenues are generated primarily from the wholesale distribution of its products to national, regional, independent and specialty retailers. Under Armour's products are offered in over 20,000 retail stores worldwide. Most of its products are sold in North America. The Company's trademarks include UNDER ARMOUR, HEATGEAR, COLDGEAR, ALLSEASONGEAR and the Under Armour UA Logo. The Company's product offerings consist of apparel, footwear and accessories for men, women and youth.
1) New Corporation (NASDAQ: NWSA) is a diversified global media company. It has operations in eight segments: Filmed Entertainment, Television, Cable Network Programming, Direct Broadcast Satellite Television, Integrated Marketing Services, Newspapers and Information Services, Book Publishing, and Others. The Company's activities are conducted in the United States, the United Kingdom, Continental Europe, Australia, Asia and Latin America. In April 2010, the Company completed the sale of bTV, its Bulgarian terrestrial television business, to Central European Media Enterprises (CME). In June 2010, the Company acquired Skiff, LLC.
Posted-In: Beer fox networkLong Ideas Short Ideas Media Personal Finance Trading Ideas General
View Comments and Join the Discussion!