Even the U.S. government wants a piece of the palladium pie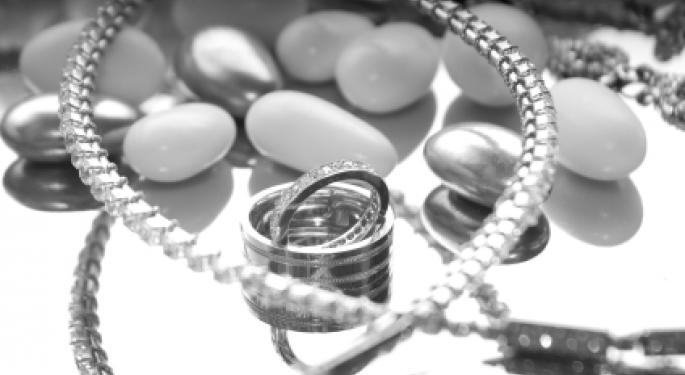 The simmering silver market has been getting all the attention of late, but palladium's actually outperformed its rival precious metal by 12 percent this year. That's right; silver's up 71 percent this year, and Palladium's rocketed up 83 percent. What gives?
Growing industrial demand and investor demand for palladium are feeding off each other and putting pressure on supplies as the worldwide automotive market recovers. Now, the U.S. government's looking into dipping its toes into the pot.
Two weeks ago, President Barack Obama signed H.R. 6166, the American Eagle Palladium Bullion Coin Act of 2010, into law. The bill authorizes "the production of palladium bullion coins to provide affordable opportunities for investments in precious metals, and for other purposes."
H.R. 6166's sole sponsor was Rep. Dennis Rehberg of Montana where Stillwater Mining Company (NYSE: SWC) mines the only palladium deposit in the country. It's clear that members of the House and the Senate saw value in letting the Mint go after the palladium market, though, as there were no votes against the bill.
There's no word yet on when the Mint might start producing palladium coins, but when it does, palladium prices will likely undergo further upward pressure.
"It gives the blessing of the U.S. government that palladium is not just industrial metal but an investment metal," Philip Diehl, a former director of the U.S. Mint, told Kitco in a recent interview.
Palladium prices have also been spurred on by the launch of two palladium ETFs this year: ETFS Physical Palladium Shares (NYSE: PALL), which launched in January and stores palladium bars in vaults, and ETFS White Metals Basket Trust (NYSE:WITE), a second physical precious metals ETF that was launched earlier this month and also invests in and holds physical silver and platinum in addition to palladium.
Both funds have automotive producers worried that palladium prices could be strained by pulling physical metals off the market.
"By the first week of December holdings (in PALL) reached 2.05 million ounces. Comparatively, annual global mine supply of palladium is just 6 million ounces, prompting analysts to suggest that investment demand is looking increasingly likely to push the metal's supply into deficit in 2011," Kitco writes.
General Motors Company (NYSE: GM) seems to have taken note. The U.S. automaker announced on Christmas day that it would be renewing its ties with Stillwater after accusations that they dropped the company in favor of cheaper foreign suppliers in 2009; a move that spurred Rep. Rehberg to renew his now-successful efforts on H.R. 6166.
GM could be making amends with an old supplier or they could see that palladium (a key ingredient in catalytic converters) is going to keep climbing in price. Either way, palladium is still shining as we head into 2011.
Posted-In: American Eagle Palladium Bullion Coin General Motors Palladium ETFs Stillwater Mining CompanyLong Ideas News ETFs
View Comments and Join the Discussion!