Why The Rare Earth Cut Is So Important (REE, MCP, SHZ)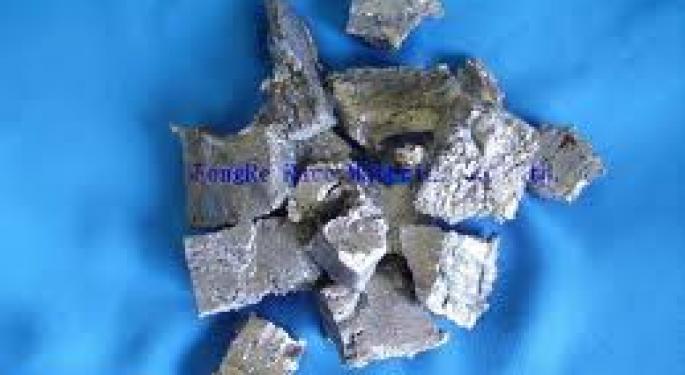 Rare earth metal names are getting a boost this morning after China said it would cut its quota from last year for 2011 by 11%. This obviously is boosting names like Molycorp (NYSE: MCP) Rare Elements Resources and China Shen Zhou Mining & Resources Inc. (NYSE: SHZ).
The reason this is so important is that rare earth metals are used in a wide variety of electronics and machines, from Apple's (NASDAQ: AAPL) devices to Ford's (NYSE: F) cars.
The Chinese cut wouldn't be such a bad thing if China didn't hold 97% of the world's known rare Earth metal deposits. The cut should benefit these names, particularly Molycorp as it's the only major player of rare Earth metals outside of China, and it pretty much has a monopoly on all supplies outside of China.
The huge moves we're going to see today are more likely an overreaction to the cut, but the cut is meaningful and barring any increase from China from political pressure, I would expect to see these names continue higher, albeit in a volatile fashion.
None of these companies are really proven yet in terms of earnings power. Molycorp went public during the summer and actually had its IPO price cut due to lack of demand.
If the Chinese decide to play hardball and stick to its cut, which is not confirmed as of now, then we could see sharply higher prices for these names in 2011.
Disclosure: no positions in names mentioned
Posted-In: Long Ideas Trading Ideas
View Comments and Join the Discussion!