5 Stocks For 2011 (JNJ, CAT, DE, GPS, YOKU)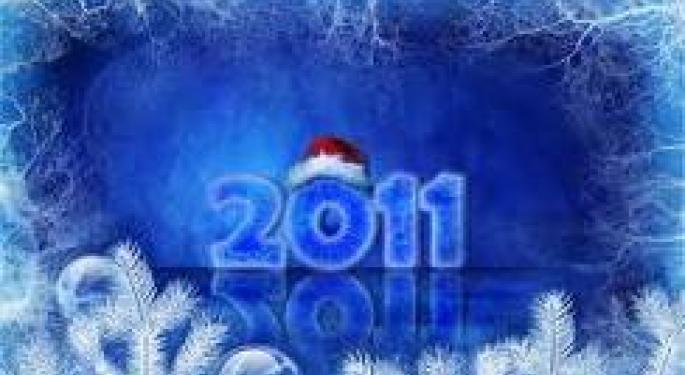 Everyone loves these kind of columns, as traders and investors have been looking to 2011 for a little while now and are beginning to position their portfolios for 2011.
2010 was a very strong year, as government policies and continued monetary policy were very Wall Street friendly, and plenty of stocks were rewarded this year.
2011 should continue to see more of the same, perhaps with a little more volatility than 2010.
One name I like is Johnson & Johnson (NYSE: JNJ). Warren Buffett upped his stake in the New Brunswick, NJ-based pharmaceutical company recently, and shares haven't done much this year.
The company has a diversified product list, ranging with products across pharmaceuticals, medical devices and consumer products. The company has finally moved past the Tylenol issue and shares should start to move higher as valuation begins to catch up with earnings. Shares could see $70 by late 2011 if there are no other major issues, and the company has a strong dividend (3.5%) and is constantly buying back stock.
Caterpillar (NYSE: CAT) and Deere & Co.(NYSE: DE) are i the same boat. As long as the global economy and emerging markets continue to grow strongly, these two names should continue to outperform. Caterpillar recently announced the purchase of Bucyrus (NASDAQ: BUCY), which it expects to close sometime next year and this will be a huge boon for the company.
Deere will continue to benefit from the global food shortage, as farmers continue to reinvest their profits to try to increase yield.
Gap (NYSE: GPS) is an out of the box pick, as it has iconic brands, but not much room for growth here in the U.S.
Gap has great profit margins, solid cash flow and $1.7 billion in cash on the books. It's going to enact a $750 million buyback program, and 2011 could finally be the year that its Athleta brand sees a physical presence. Women's sportswear has been unbelievably hot, just look at shares of Lululemon (NASDAQ: LULU).
The last stock I like is Youku.com (NASDAq: YOKU). This has been dubbed the "Chinese Youtube", and as the fanfare and media hysteria dies down, I would begin to start looking for a position somewhere in the $25 range, as this company has a strong position in the online video market in China. I really like 360.com, which is really China's Amazon, and is partially owned by Wal-Mart (NYSE: WMT), but shares are not available to the public yet. The company is expected to go public sometime this year.
Disclosure: no position in names mentioned, but that can change at anytime.
Posted-In: Long Ideas Trading Ideas
View Comments and Join the Discussion!