A Look At Tesla (TSLA)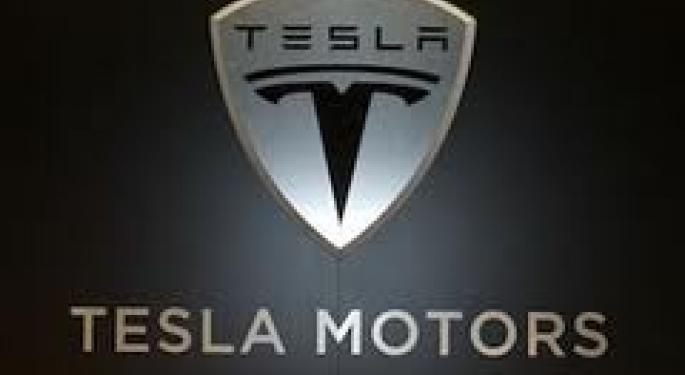 Tesla Motors Inc (NASDAQ: TSLA) was probably the hottest IPO of the summer, with all the fanfare surrounding it.
Elon Musk is a celebrity CEO, and was the basis for Jon Favreau's version of Tony Stark in Iron Man. Musk is famous for co-founding PayPal, and SpaceX, as well as Tesla.
After the initial fanfare has died down, I decided to take a look at the bull and bear case for this Silicon Valley hot shot auto maker.
First the bull case.
Tesla is the biggest brand name in the electric car space, which many of us, including me, see as the wave of the future. A car that produces no emissions and has less repairs needed than the average car seems like a strong case to me. The Model S is schedule to ship in 2012, and this when things for Tesla should begin to ramp up, as this is the car that is targeted to the everyday consumer, not just the super wealthy. The super wealthy market is being geared towards the Raodster, which has a sticker price of over $100,000. Major celebrities like George Clooney have endorsed the company. Major partnerships with Daimler (NYSE: DAI) and Toyota (NYSE: TM) should begin to pay off over time, presumably within the next year. Elon Musk is a celebrity
CEO, and we've seen what celebrity CEO's can do for a company, namely Steve Jobs, and Mark Hurd.
Now for the bear case. Tesla just experiences its first recall, recalling 439 Roadsters because of fire hazards that could potentially happen if a faulty cable is rubbed the wrong way. The company is still not profitable, and doesn't expect to be for quite some time. There is always the risk that oil prices could drop sharply, as the U.S. economy is extremely weak, and oil is the engine that drives our economy. Without high oil prices, there is no incentive for consumers to purchase an electric car. Teslas has estimated that it will cost $1 billion to get the Model S to market, but some believe it will cost far higher, and profit margins on it will be extremely weak, or possibly negative.
Personally, I believe that oil will continue to stay high, and like every start up or new company, there will be hiccups along the way. Those that have vision, as Musk does, often succeed far bigger than they fail. Musk saw a market that was badly needed, and Tesla fills this niche. The Nissan Leaf, Chevy Volt will only bring more advertising for the electric car market, and Tesla is the leader here.
This is not a stock to hold for a few weeks and see how it performs. This is a visionary company, that could be held for a lifetime if Musk operates well.
Remember, there were many who doubted Henry Ford's innovation called the assembly line. Look where that got them.
Disclosure: no position in TSLA
Posted-In: Elon Musk Iron Man Jon Favreau Robert DowneyLong Ideas Short Ideas Trading Ideas
View Comments and Join the Discussion!