Benzinga's Bulls & Bears Of The Week: Fitbit, GE, Intel, Target, Walmart And More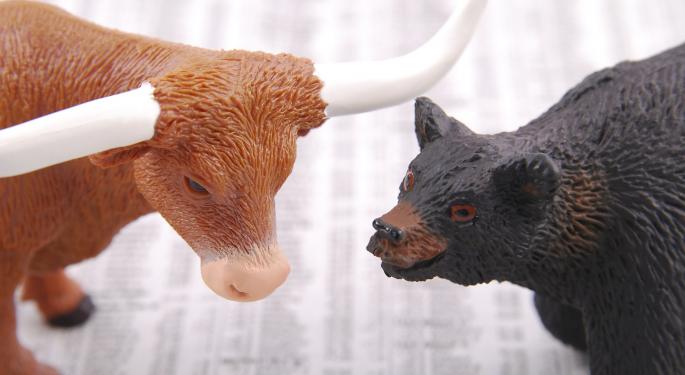 Benzinga has featured looks at many investor favorite stocks over the past week.
Bullish calls included a leading semiconductor maker and oilfield services giants.
Bearish calls featured a wearable device maker and the world's largest retailer.
Volatility was turned up again last week as the specter of rising interest rates was joined by that of a possible trade war. Meanwhile, Benzinga continues to feature looks at the prospects for many investor favorite stocks.
Here are just a few of this past week's bullish and bearish posts that may be worth another look.
Bulls
"Citi Names Intel A Top Pick, Calls Stock 'The Micron Of 2018'" by Shanthi Rexaline examines why the recovery in the enterprise end-market due to increased spending from tax reform bodes well for Intel Corporation (NASDAQ: INTC).
In "Credit Suisse: Celgene Needs To Win Back Investor Trust," Elizabeth Balboa points out that bulls have emerged in defense of Celgene Corporation (NASDAQ: CELG) as the sell-off continues after unfavorable news from the FDA.
Wayne Duggan's "BofA Weighs In On Oil Services," Schlumberger Limited. (NYSE: SLB) may be a better bet now than Halliburton Company (NYSE: HAL).
One noted venture capitalist sees a buyout of Target Corporation (NYSE: TGT), according to Bill Haddad's "Gene Munster: Target's Drive-Up Innovation Makes It An Amazon Competitor, M&A Opportunity."
In Shanthi Rexaline's "Here's How YouTube Could Add $10-$20 To Google's EPS By 2022," see why this online video platform may generate "material optionality" for Alphabet Inc (NASDAQ: GOOGL) going forward.
Also have a look at Warren Buffett Still Prefers Burgers And iPhones To Tacos And Samsungs.
Bears
"Ken Langone's Inside Account Of General Electric's Blunders" by Jayson Derrick takes a look at how a former General Electric Company (NYSE: GE) board member says the iconic conglomerate became a "colossal failure in governance."
In Shanthi Rexaline's "Morgan Stanley Downgrades Albemarle On Supply, Pricing Concerns," see why a top analyst's updated forecast for the lithium market resulted in a downgrade for Albemarle Corporation (NYSE: ALB).
After its disappointing fourth-quarter report, does Opko Health Inc. (NASDAQ: OPK) have a path back to positive operating margins, an analyst asks in "Opko Seen In Poor Health; JPMorgan Downgrades" by Elizabeth Balboa.
In "Fitbit Falls 13% And Citi Still Says 'Sell'," Jayson Derrick shows why one Wall Street analyst projects further downside for shares of Fitbit Inc (NYSE: FIT) even after disappointing quarterly results recently sent shares to a new all-time low.
Wayne Duggan's "Morgan Stanley: Walmart's Slowing E-Commerce Growth Is Cause For Concern" suggests Walmart Inc (NYSE: WMT) still has a long way to go in its efforts to beef up its online presence.
Be sure to check out Why Credit Suisse Favors Target Over Walmart for another take on Walmart and Target.
View Comments and Join the Discussion!
Posted-In: albemarle Alphabet Celgene Fitbit GE General Electric halliburtonTrading Ideas Best of Benzinga