Are Listed Home Improvement Companies On The Mend?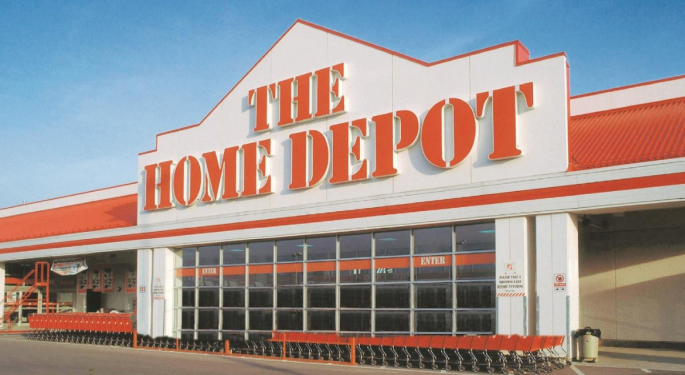 Home improvement companies listed on Wall Street have posted moderate gains for 2017. Home Depot Inc (NYSE: HD) is currently trading at $146.59 per share (April 13, 2017), and up 9.29 percent for the year to date. The company has a market capitalization of $178.01 billion and a price/earnings ratio of 22.72. For investors, that translates into a dividend of $0.89. The Home Depot has been generating increasing revenues since 2013. This bodes well for investors with a strategic perspective on the stock. The following sales figures have been reported since 2013:
2013 – $74.75 billion with gross income of $24.28 billion
2014 – $78.81 billion with gross income of $25.76 billion
2015 – $83.18 billion with gross income of $27.3 billion
2016 – $88.52 billion with gross income of $28.58 billion
2017 – $94.6 billion with gross income of $30.56 billion
Clearly, the trend is bullish as evidenced by the net income figures between 2013–2017. 5 years ago, Home Depot generated net income of $4.54 billion and by 2017, that figure had increased to $7.96 billion. For traders looking for a strategic investment, Home Depot has certainly provided plenty of excitement with bullish upside momentum. It is interesting to point out that Home Depot has posted positive earnings across all four quarters since Q2 2016. Reuters analysts regard the stock as a strong buy, with April consensus showing a majority of analysts issuing a buy or strong buy rating.
Strong Improvements in US New Home Sales in 2017
Financial analysts are quick to weigh in on the performance of major home improvement companies like Home Depot, Lowe's Companies, Inc. (NYSE: LOW) and Sherwin-Williams Co (NYSE: SHW). Bronson Lazzaro, a financial analyst, alluded to the improvements in the US new home sales as a case in point. 'We have seen a steady increase in the United States with new home sales," he said. "In December 2016, figures of 530,000 new homes were reported. This increased to 558,000 in January 2017, and further improved to 592,000 in February 2017. The seasonally adjusted rates (annual rates) provide a clear indication of an upturn in market sentiment. Tips on how to improve your home is clearly a strong selling point with DIY retail outlets like Home Depot, and this reflects in the bottom line of these corporations."
Home Depot Moving Towards Greater Efficiency in Online Operations
Digital advertising has become a key component of the Home Depot's revenue stream. There is a strong move towards online retail, for the cost and convenience of it. It may seem odd, but Home Depot has managed to carve out a niche for itself as a strong online retailer as well as a leading bricks and mortar retailer. For example, Target and Costco generate approximately 4 percent of their revenues through their online operations. For Home Depot, this figure is 6 percent. During Q4 2016, the Home Depot's online sales increased at a rate of 19%. The digital option is yet another reason innovation lays the groundwork for increased profitability. Home Depot has announced plans for expansion of its digital operations, with options like increased shipping from store offerings and buy online offerings readily available. It is clear from the recent performance of this company that home improvements are alive and well in the US and companies like Home Depot are leading from the front.
The preceding article is from one of our external contributors. It does not represent the opinion of Benzinga and has not been edited.
Posted-In: marketacrossTrading Ideas General
View Comments and Join the Discussion!