Breaches Drive Investments Toward Security Technology Firms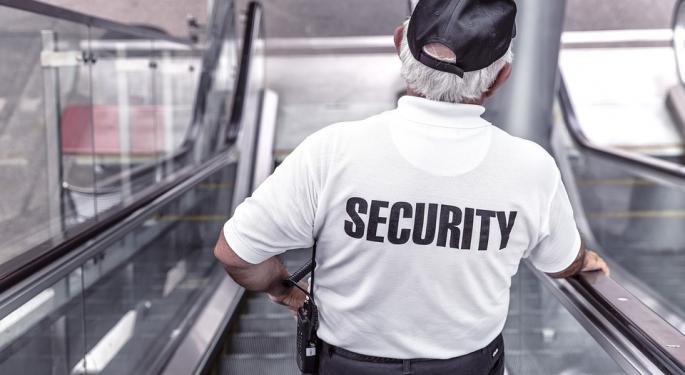 Each day we're faced with different kinds of threats from personal safety to cybersecurity. It's vital to support the security technologies industry, and one way to do so is investing in firms that develop formidable technologies for detection and neutralization of weapons. For the most part, those who will benefit greatly from having security measures in place are businesses. In this case, investing in cybersecurity is a must to protect against various threats such as hackers and cybercriminals.
Recent security incidents
According to a survey conducted by PricewaterhouseCoopers in 2016, a 38 percent increase in phishing scams and cybersecurity incidents were reported. Moreover, 28% respondents said that hacking instances are rooted in cloud architecture that attaches itself to mobile devices.
In August 2016, the hacker who calls himself Peace put up for sale on the dark web 200 million Yahoo! user credentials. The list included usernames and passwords that were hashed with the md5 algorithm and dates of birth. The data collected included information from a 2012 hack as well. The price of the credentials was at 3 Bitcoins, or about US$1,860.
Another well-known security threat that occurred in November last year affected Britain's Tesco Bank, which has about 7 million users. Nearly 40,000 Tesco bank accounts lost physical money from their accounts, and about 9,000 customers lost close to £600 (US$763). The purpose of the attack wasn't clear, but the source said a third-party retailer was compromised, or it could just be cybercriminal activity. The bank promised to refund the lost money within 24 hours.
Regarding physical security breaches, one of the deadliest to occur in recent times was the Pulse Nightclub shooting in Florida in June 2016. The shooting resulted in the deaths of 50 people, including the shooter, and 53 more injured. The lone attacker, Omar Mateen, called 911 and pledged allegiance to the Islamic State. However, the report said that national security officials could not determine if Mateen acted under the Islamic State or was just inspired by the group. They also weren't sure if he was spurred on by his homophobia. In addition, the Islamic State has urged its U.S. supporters since 2014 to plan and carry out attacks without having to travel overseas or communicating with the group's leaders, making individual attacks difficult to predict and prevent.
While saying that having proper security measures in place is easy, it will cost some money. But it is a worthy investment in the long run. According to Motif Investing, as of 2012, internet villains claimed 12 cybercrime victims per second. In addition, the cost per victim has gone up 50% to a total of $113 billion in a 12-month period. In response, big corporations are working to fight off these attacks, making cybersecurity an attractive opportunity to increase revenues and gain new customers.
Groundbreaking technologies that address security breaches
One of the surest ways to secure online identities is by means of an authentication tool. One of these technologies is HyperOTP Ray, a single device that can store a multitude of accounts and uses a one-time password. Ideal for big offices and personal use, the device can be reprogrammed if seed files are hacked or become corrupted and is more secure than a mobile device, which is considered to be only a "soft token."
Ideal for data loss protection, software such as Intel Security from McAfee can perform an analysis of previous events of data loss. It encrypts files, folders and removable media and has key-sharing capabilities so users can securely share files. Moreover, the software also protects against cold boot attacks and works best for medium to large businesses that have a trained IT and cybersecurity staff.
In terms of physical security, one of the companies working to provide excellent measures is Patriot One Technologies Inc. (OTCMKTS: PTOTF), a company that creates a system to detect concealed weapons using novel radar technologies. Patriot One Technologies specializes in a "cognitive" ability to detect concealed threats particularly in public locations such as schools and buildings. The system detects guns and knives and other weapons while assessing threats. Its unique system is programmed before installation and continues to "learn" even after its deployment to detect hidden weapons with each screening instance.
Posted-In: contributorTrading Ideas
View Comments and Join the Discussion!