Stock Market Risks Rise For The Coming Week
Stocks were mostly quiet last week, except for a 1 percent upside pop on Wednesday after the Federal Reserve's release of their policy statement and held their press conference. Buyers were likely encouraged by Chair Janet Yellen's cautious tone and the indication of very gradual increases in rates over coming years.
Per the accompanying chart, which shows our short-term forecast and "cycle analysis," the window for the correction we expected in the market is closing, as the current intermediate corrective period ends in about a week. Historically, these cycles normally involve a correction of at least 5 percent. However, the likelihood of that has decreased, as the stock market is exhibiting immense strength. Traders should remain nimble, as a coming potential downtick may be brief, followed by another move to the upside, as the stock market moves into the next rising phase of this relentless bull market.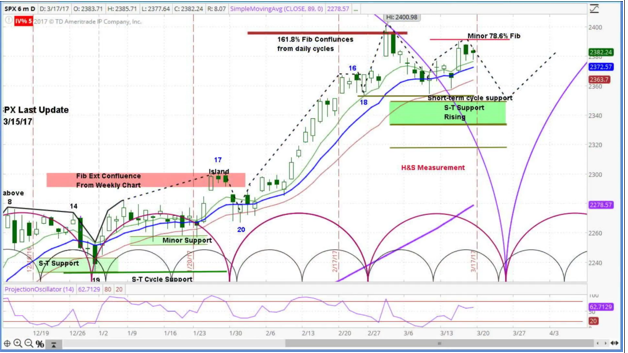 Along with stocks, in a counter-intuitive move, bond prices moved up this week, even as the FOMC raised rates. This was in line was much in line with our expectations, coming as a bounce in a very ugly bear market for treasuries. Gold, silver and oil all gained as the dollar weakened further on disappoint hat the Fed was not more aggressive in their policy statement.
Do you trust the Fed's actions? You might want to see some history on Chairman Yellen's comments before the financial crisis of 2008 in our weekly show.
Watch the "askSlim Market Week" show for a review on what happened in the markets this week and my short-term view for the coming week.
Posted-In: contributorTrading Ideas General
View Comments and Join the Discussion!