5 Stocks That May Be Affected By The FDA's New Labeling Regulations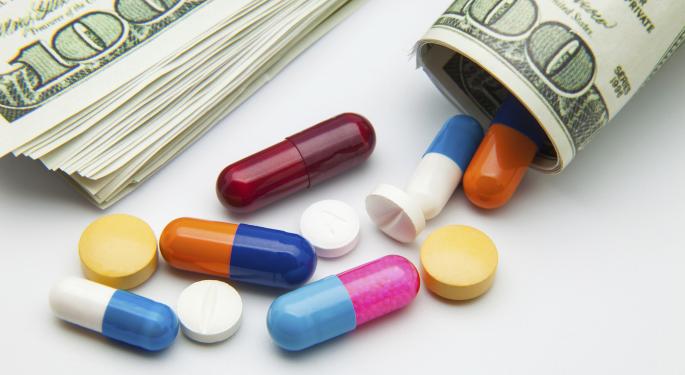 On November 25, the Food and Drug Administration announced new nutrition labeling laws that require all chain restaurants to "clearly and conspicuously "post calorie counts on menus.
The law also applies to vending machines with more than 20 locations and is as far reaching as popcorn at movie theaters. Companies will have one year to comply with the new guidelines. Similar regulations have already been implanted in New York and California but will now be enforced throughout the country.
FDA Commissioner Margaret A. Hamburg, M.D. supported the law, reasoning that "Americans eat and drink about one-third of their calories away from home and people today expect clear information about the products they consume.
Making calorie information available on chain restaurant menus and vending machines is an important step for public health that will help consumers make informed choices for themselves and their families."
Additionally, the new law is intended to empower consumers to make healthier eating choices while encouraging restaurants to provide healthier alternatives.
How will this new labeling law affect restaurant stocks in the service sector?
McDonald's Corporation (NYSE: MCD)
It is not so surprising that a Big Mac is 530 calories, but customers may be more shocked to realize that lattes, mochas, and frappes have as many as 670 calories (a large frappe mocha).
On November 25th, Stock Gamer of Seeking Alpha rated McDonald's as a Buy, noting that the share price "is currently trading 7% below its 52-week high of $104 achieved in May 2014… From a dividend investing perspective, MCD looks attractive at $97 as valuation is inexpensive relative to the company's dividend growth prospect and the current price also offers a compelling dividend yield… Long-term income investors should consider buying at this point."
Stock Gamer has a 75 percent overall success rate recommending stocks with an average return of +14.6 percent per recommendation.
Many customers are already aware of the health implications of eating too much McDonald's, but it will be interesting to observe how sales are affected by a clear calorie count on menus across the country.
The top analyst consensus for McDonald's is Hold.
Chipotle Mexican Grill, Inc. (NYSE: CMG)
Chipotle is notorious for its transparent food sourcing and has a user-friendly online calorie counter. Therefore it may not come as such a shock that you can consume as much as 960 calories from a salad with chicken (including guacamole, sour cream, and cheese).
Last week on November 18th, John Divine of Motley Fool rated Chipotle a Buy. The blogger noted, "With a market cap of $20 billion, Chipotle's days of anonymity are long behind it, but its growth potential isn't. Same-store sales grew at nearly a 20% clip in the most recent quarter as increased popularity despite higher menu prices sent comps through the roof. Chipotle's ruthless efficiency continues to impress Wall Street, as operating margins rose by 200 basis points despite higher commodity prices."
Divine has a 71 percent overall success rate recommending stocks with a +4.6 percent average return per recommendation.
Chipotle already makes an effort to help customers make health-conscious decisions, but the clearly labeled calories may inspire customers to forgo the extra charge of guacamole.
The top analyst consensus for Chipotle is Moderate Buy.
Darden Restaurants, Inc. (NYSE: DRI)
Darden owns several restaurants chains, including Olive Garden, LongHorn Steakhouse, and The Capital Grill. Darden operates more than 1,500 locations and employs more than 150,000 people. Darden sold Red Lobster earlier this year but still owns and operates a total of seven franchises. The restaurants range from casual dining to chic restaurants.
On November 11th, Christopher O'Cull of KeyBanc upgraded Darden from Hold to Buy with a price target of $62. After a new board of directors was appointed, O'Cull explained that Darden was "poorly managed by the previous CEO and COO…. With greater insight from internal resources, we expect the board to provide a new plan to investors before year end… The new board should bring greater scrutiny of capital expenditures and ROIC, which we expect will lead to meaningful free cash flow improvement in the next two years."
O'Cull has a 76 percent overall success rating recommending stocks with an average return of +12.2 percent per recommendation.
Darden's restaurants cater to a diverse customer base, so some restaurants chains may be affected differently by the FDA-mandated calorie count than others.
The top analyst consensus for Darden is Moderate Buy.
Papa John's Int'l, Inc. (NASDAQ: PZZA)
Papa John's Pizza is known for its quick delivery and take-out services.
Zacks Equity Research rated Papa John's a Buy on November 25th, noting a 20 percent growth in earnings per share last year. "In fact," the article states, "the current growth estimate for this year calls for earnings-per-share growth of 12.8%. Furthermore, the long-term growth rate is currently an impressive 15.8%, suggesting pretty good prospects for the long haul."
Zacks Equity Research has a 54 percent overall success rate recommending stocks with an average return of +1.0 percent per recommendation.
Investors are hopeful that this optimism will continue, but there's no telling what will happen when customers realize that one slice of the large cheese original crust pizza is 290 calories.
The top analyst consensus for Papa John's is Hold.
Buffalo Wild Wings (NASDAQ: BWLD)
Buffalo Wild Wings is a sports bar notorious for its wide selection of wings. Soon, customers will read that one boneless wing with BWW original sauce averages out to 90 calories.
On November 20th, Robert Derrington of Wunderlich Securities "raised his earnings outlook and price target" to $185.00 due to decreasing poultry prices. Derrington explained, "Key poultry indices have declined to their lowest level since March 2014 and could continue to trend lower." As a result, Derrington raised his fourth quarter EPS estimate from $1.03 to $1.12.
Derrington has an 89 percent overall success rate recommending stocks with an average return of +18.9 percent per recommendation.
Time will tell whether Buffalo Wild Wings' customers will be put off by the calorie counts or remain loyal to their favorite sports bar.
The top analyst consensus for Buffalo Wild Wings is Moderate Buy.
The preceding article is from one of our external contributors. It does not represent the opinion of Benzinga and has not been edited.
Posted-In: Trading Ideas
View Comments and Join the Discussion!