Kandi Technologies: 2 Charts To Watch On Earnings
The graphs below were produced by Capital Market Labs.
Kandi Technologies Group Inc (NASDAQ: KNDI) has booming revenue, collapsing earnings and a huge price-to-sales ratio. In short, when earnings come out, Kandi must show increasing revenue (and positive forecasts), a steadying of gross margin percentage, and a clear plan of how and when to control selling expenses (which are booming right now).
Total Revenue (TTM)
Up from $20 million to now over $140 million (trailing-twelve-months) in the last five years. This is the growth story.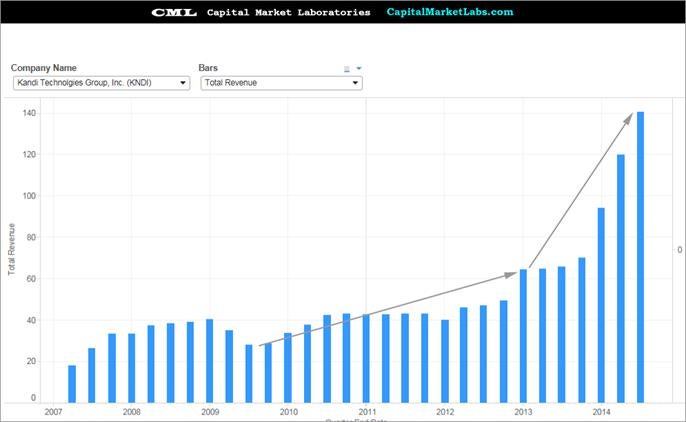 Net Income Margin Percentage Vs. SG&A Expense / Operating Expense
It's hardly a needle in a haystack, but if one's looking for what's driving net income margin percentage down, it's simply an increase in selling, general and administrative expenses. This is actually a very normal place to see expense increases in a young firm, and of all places to see driving losses, this isn't the "worst." Much like R&D, it's an investment in branding and selling.
Watch for revenue growth and forecasts, as well as SG&A expenses, and investors will have a pretty complete picture of Kandi's stock price movement off of earnings.
Ophir Gottlieb can be found on Twitter @ophirgottlieb.
Posted-In: Trading Ideas
View Comments and Join the Discussion!