Staples Has A New Meaning; Will It Matter?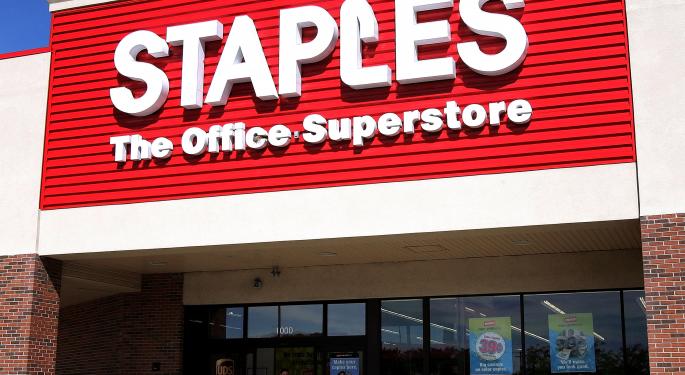 The Staples (NASDAQ: SPLS) consumers once knew no longer exists.
They might find bits and pieces of the old Staples at some stores and online, but this company is transforming. The best way to understand the difference is that with the old version, the name referred to actual staples, as in what you use to connect two pieces of paper.
This, in turn, indicated that Staples was the place to go for your office-supply needs. With the new version of the retailer, the name Staples pertains to essentials. The Staples founder was lucky to have chosen a name with two meanings, which has made for an easy transition with the company name and brand, but what about the company's performance and potential?
Product offerings
Before getting to some important numbers, let's clarify what Staples will sell. Considering the company has now added more than 250,000 products to its online store, it would be impossible to list everything here. The basic concept is that Staples will sell everything you might need (vs. everything you might want). A few examples consist of: hard hats, goggles, mops, coffee, a dolly, rubber boots, paint brushes and dog biscuits, to help expand the range.
Related Link: Under Armour Is Looking To Cross Over Nike
Due the paperless-office trend, Staples needed to make a move, but despite optimism surrounding the company, this is still going to be an uphill battle. Fortunately, it won't be a steep grade, but it won't be downhill, either.
Staples' biggest advantage is that it's the third-biggest online retailer in the world. While that's a big positive, think about that for a moment. Amazon (NASDAQ: AMZN) is the biggest online retailer in the world, and it sells everything you can possibly imagine, including products that consumers might need or want. Put simply, why would investors opt for the third-largest online retailer in the world when they can invest in the largest retailer in the world?
Looking at this a little deeper, when a company's revenue consistently outpaces its selling, general, and administrative expenses, it often indicates top-notch upper management. With that in mind, consider the five-year performance comparisons for these companies:
Staples
Revenue: Down 4.9 percent
SG&A Expenses: Down 0.6 percent
Amazon
Revenue: Up 233.6 percent
SG&A Expenses: Up 377 percent
Amazon has enjoyed incredible top-line growth for years, but at a steep cost. That said, a company with relentless top-line growth like Amazon always has significant investment potential. This is especially the case considering CEO Jeff Bezos' innovative ways. Cutting costs is always easier than driving the top line higher.
If you move to the physical retail space in regards to a company that sells everything, then Staples has to contend with Wal-Mart (NYSE: WMT). Despite all the headwinds Wal-Mart is facing with its low-end consumer and all the negative press it receives, if you just look at the facts, Wal-Mart is holding its own, and it might continue to do so thanks to the advent of its small-box stores, eCommerce growth, and consistent free-cash-flow generation. However, let's stick to the metric in focus here: revenue vs. selling, general, and administrative expenses over the past five years. Over this time frame, Wal-Mart's revenue increased 18.37 percent while selling, general, and administrative expenses grew at a 16.28 percent clip. This is a net positive.
If you're a dividend investor, then Staples might look appealing thanks to a 4.2 percent yield. But an attractive yield might not mean much if the company is facing competition in every direction, which has the potential to negatively impact the stock price. Plus, Wal-Mart yields a somewhat generous 2.6 percent. Amazon doesn't offer any yield, but growth investors don't expect yield anyway. They would rather have stock appreciation.
A bullish case could be made for all three companies. A lot will depend on an investor's time frame and risk tolerance. Which company do you think is the best bet?
Posted-In: Trading Ideas Best of Benzinga
View Comments and Join the Discussion!