The One Oil Trade You Need to Be in Today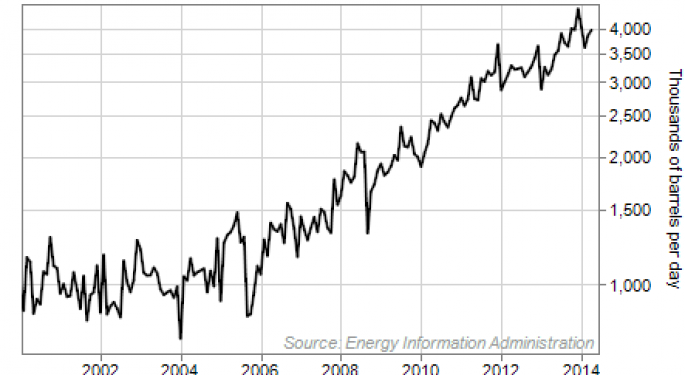 Today, we're sharing one more reason to own U.S. oil stocks. The government is going to be on our side soon...
Regular Growth Stock Wire readers know the U.S. energy boom is this decade's greatest investment theme. New drilling technologies have allowed the U.S. to tap into vast oil and gas reserves.
As a result, oil stocks have soared. The Market Vectors Unconventional Oil & Gas Fund (FRAK) is up around 60% over the past two years. This fund is made up of U.S oil and gas producers.
But there are even more gains to come... as we've recently told you in these pages, the U.S. energy boom isn't even close to being over, U.S. oil production is going to keep soaring, and Russia is indirectly supporting the boom. In short, oil stocks will continue to make many people rich.
But there's another reason U.S. oil stocks are about to head higher... exports.
Let me explain...
On June 24, the U.S. Commerce Department approved the export of certain kinds of "condensate" without a license. Condensate is basically a light version of crude oil, made up of hydrocarbons – like gasoline and lighter fluid.
The media hailed the ruling as the first relaxation of the ban on U.S. crude oil exports. In the 1970s, it became illegal to export oil from the U.S.
But according to legal expert Jacob Dweck, that isn't a relaxation of the ban. Dweck represented the oil companies seeking permission from the Commerce Department to export U.S. condensates.
I heard him speak at the 2014 Energy Information Administration Energy Conference in Washington, D.C. this week.
Dweck told the audience the legality of exports comes down to the government's definition of crude oil. If the fluid comes out of a well, it is crude oil. That includes condensate. However, if the oil/condensate is processed (even in a simple way), it is no longer crude oil. That's why oil companies are allowed to export "finished" oil products like gasoline, diesel, and jet fuel.
The recent ruling allows companies to export treated condensate without a license. So it's not actually a relaxation of the ban. And according to Dweck, the Commerce Department ruled on this subject because it was asked.
So oil companies will soon flood the Commerce Department with new requests to export oil products. This will help narrow the definition of crude oil down even further – and likely allow oil companies to export more oil products.
And Pulitzer Prize-winning author Daniel Yergin believes the ban could soon be lifted.
During his speech at the conference, Yergin said all the reasons the ban was in place originally – to prevent Alaskan crude oil from going to Japan and to facilitate oil-price fixing – are now gone. We quit oil-price fixing in the 1980s and began exporting oil to Japan around the same time. In other words, the law is merely an antiquated shell that needs to be removed.
Lifting the ban would be great for the U.S. economy and oil stocks.
The U.S. is already the world's largest exporter of petroleum products. And as you can see in the chart below, over the past few years, the U.S. has seen a massive increase in its "finished" crude oil and petroleum-products exports.
Oil companies are doing everything they can to take advantage of cheap domestic crude-oil prices and high crude oil and petroleum demand elsewhere in the world right now.
And Yergin believes lifting the ban will propel U.S. oil production to as much as 14 million barrels of oil per day. The U.S. produced 7.4 million barrels of oil per day in 2013. This would cause U.S. crude-oil exports to rocket higher – along with oil companies' share prices.
In short, rising U.S. exports is just one more reason to own U.S. oil stocks... especially small- and mid-cap companies that can rapidly grow their production. A few of my favorite names here include Sanchez Energy (SN) and Laredo Petroleum (LPI). You can also own a fund of U.S. oil and gas producers like the Market Vectors Unconventional Oil & Gas Fund (FRAK).
However you decide to invest, make sure you're in this trade. We can't know exactly when the export ban will be lifted, but it will be lifted. And that will be a good thing for America... and for American oil stocks.
Good investing,
Matt Badiali
The preceding article is from one of our external contributors. It does not represent the opinion of Benzinga and has not been edited.
Posted-In: Trading Ideas
View Comments and Join the Discussion!