The 3 Best Growth Plays In Financial Services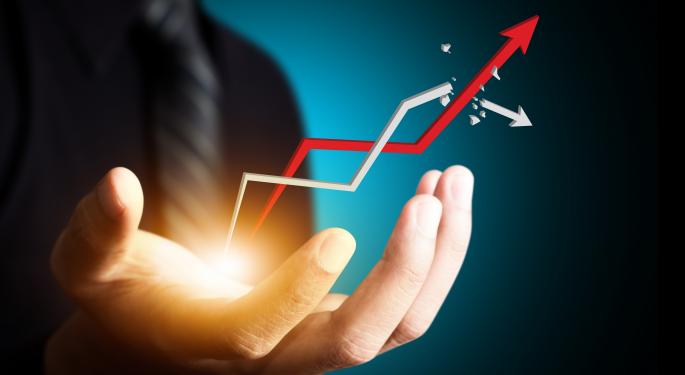 A new research report this past week from Bernstein Research touted private equity firms Apollo Global Management (NYSE: APO), Blackstone Group (NYSE: BX) and Kohlberg Kravis Roberts (NYSE: KKR) as the best pure-play growth stocks in the financial services sector.
The analysts see significant growth opportunities ahead for private equity firms, especially in real estate and debt investing. And the report points out that these stocks trade at an average of 11 times forward earnings, compared with a 16-times multiple for traditional asset managers. In addition, they are expected to offer cash distribution yields of more than five percent.
Below we take a look at how Apollo Global Management, Blackstone Group and KKR have fared and what analysts in general expect from them.
Apollo Global Management
Barron's recently said that Apollo Global was in "harvesting mode" and it was poised to deliver significant growth in fee-based revenues and realizations from credit carry funds. It sports a market capitalization of more than $4 billion. Bernstein Research is looking for a distribution yield of around 5.6 percent this year.
The number of shares sold short in this New York–based investment manager was a little more than one percent of the total float in mid-March. That was about the same level of short interest as in the previous period. It would take about two days to close out all short positions.
Four of the 17 analysts who follow the stock and were surveyed by Thomson/First Call rate it at Strong Buy, and nine others also recommend buying shares. Their mean price target, or where the analysts think the share price will go, is about 17 percent higher than the current share price.
The stock saw a gain of more than 76 percent in 2013, but shares are down about four percent year to date. Over past six months, the stock has underperformed the other private equity companies featured here, as well as the Carlyle Group and the broader markets.
See also: Blackstone to Offer Senior Notes
Blackstone Group
This New York–based investment manager announced last week that it will acquire industrial manufacturer Gates Global for $5.4 billion. Blackstone has a market cap of around $19 billion and its payout is about 6.9 percent. The long-term EPS growth forecast is more than 22 percent.
The short interest in Blackstone was less than one percent of the float in the most recent period, even after the number of shares sold short saw a gain of 22 percent from the year-to-date low in the previous period. It would take less than two days to close out all short positions.
All but two of the 15 surveyed analysts recommend buying Blackstone shares. A move to the analysts' mean price target would be a gain of about 15 percent for shareholders. That consensus target would also be a record high since Blackstone came public in 2007.
Shares rose more than 94 percent in 2013, and the share price is up more than five percent from the beginning of this year. The stock has outperformed KKR and the S&P 500 over the past six months, but it underperformed competitor Carlyle Group in that time.
Kohlberg Kravis Roberts
This New York–based private equity firm got in on the growing investment appetite in the maritime sector by picking up $150 million worth of shipping loans last week. KKR has a market cap of less than $7 billion and a yield near 8.1 percent. Its return on equity is more than 28 percent.
After decreasing by about eight percent in early March, the number of KKR shares sold short represented more than four percent of the total number of shares available. That was the lowest level of short interest since January. The days to cover slipped to less than six.
Of the 15 analysts polled, 11 recommend buying shares, with five of them rating the stock at Strong Buy. The analysts see plenty of headroom for shares, as their mean price target is more than 18 percent higher than the current share price. That would be a new multiyear high.
After a gain of around 55 percent in 2013, the share price is about four percent lower than at the beginning of this year. It has been below its 50-day moving average since the sell-off in January. But the stock has outperformed Apollo Global and the broader markets over the past six months.
See also: How To Follow The Private Equity Money Into The Energy Sector
At the time of this writing, the author had no position in the mentioned equities.
Keep up with all the latest breaking news and trading ideas by following us on Twitter.
Posted-In: Apollo Global Management Blackstone Group Carlyle Group Gates Global KKR Kohlberg Kravis RobertsTrading Ideas Best of Benzinga
View Comments and Join the Discussion!