The Next Eleven (N-11) and ETF's to Position Yourself for Global Gains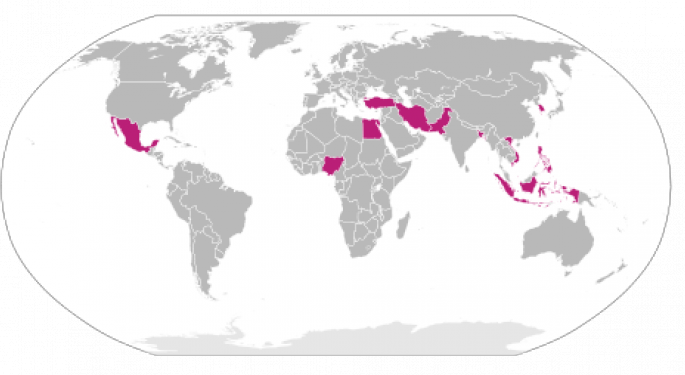 The Next 11, or N-11 for short is a term coined by Goldman Sachs' Jim O'Neil who is famous for coining the acronym BRIC (Brazil, Russia, India, and China) in 2001. N-11 represents Jim's target economies that have the highest potential of becoming the worlds largest economies in the 21st century. The 11 countries chosen in 2005 are Bangladesh, Egypt, Indonesia, Iran, Mexico, Nigeria, Pakistan, Philippines, Turkey, South Korea, and Vietnam. Of the 11, four countries have shown the most promising advances in GDP known as MIKT ( Mexico, Indonesia, (South) Korea, and Turkey).
Here are a list of ETF's and technical analysis to position yourself to gain from these emerging economies starting with the MIKT.
Mexico - iShares MSCI Mexico Investable Market Index (EWW)
Recent breakout over $71.75 resistance now support, new resistance at $72.50.
Indonesia - iShares MSCI Indonesia Investable Market Index (EIDO)
Multi-year resistance at $31, support at $29.50
South Korea - iShares MSCI South Korea Index (EWY)
Breakout at the end of 2012 over $62 resistance now support. Recent gap down, if $62 doesn't hold $60.50 next support. Overhead resistance at $65.
Turkey - iShares MSCI Turkey Investable Market Index (TUR)
Turkey's ETF, TUR has been on an up-trend since June 2012 producing a 55% return over that period. Recent support at $66, resistance at $68.50.
Philippines - iShares MSCI Philippines Investable Market Index (EPHE)
EPHE has been on a steady up-trend since January 2012 producing a 35% return over the year. Support at $34.50, and is still charging upwards yet to find new resistance.
Vietnam - Market Vectors Vietnam ETF (VNM)
VNM recently broke the 7 month downtrend sharply in December 2012 and is approaching May 2012 highs of $21. Support at $18.50. Lots of buy volume recently.
Eygpt, Nigeria - Market Vectors Africa (AFK)
Recent breakout over $31 resistance that should act as new support. New resistance at $32.
Iran, Pakistan - SPDR S&P Emerging Middle East and Africa (GAF)
GAF broke out of a year long ascending triangle early December. Recent support at $73, resistance at $74.
Bangladesh - No ETF to play at the moment
Original article HERE. Head over to The Smarter Investor for more actionable technical analysis.
The following article is from one of our external contributors. It does not represent the opinion of Benzinga and has not been edited.
Posted-In: Trading Ideas ETFs
View Comments and Join the Discussion!