Technical Tuesday – Holding the Line on Light Volume
We closed April positive!
That's right, the Dow finished April with a 1.59 point gain, making 7 consecutive monthly advances.  April is, historically, the Dow's best performing month so we can take those 1.59 points and put them on the refrigerator and maybe take the Dow out for ice cream later to celebrate…
The Russell can't come though, it fell 1.1% yesterday and, unlike the Dow, it wasn't jammed up 30 points into the close to maintain a winning streak that would impress all the people who don't bother to look behind the headlines.  The Russell did, however, manage to hold their 50 dma at 817 – or at least they only failed it by a little and, in a World that celebrates mediocrity – that's good enough for the MSM to crow about, isn't it?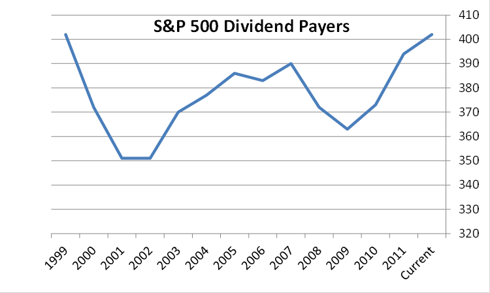 The NYSE is another broad index that was saved by it's 50 dma with 1,856 stocks in the index declining and 1,190 advancing on a day they fell just 0.4%.  That didn't stop 104 out of 2,627 stocks on the full Nasdaq from making new highs – defying gravity while AAPL took a little 3% dive on the day.  The S&P also fell 0.4% but the defensive dividend paying stocks in that index matched their 12-year highs – levels we haven't seen since just before the great crashes of 2,000 and 2008 – so all must be well!  
It's an interesting take on a defensive move as the actual Dividend Pay-Out Ratio has never been lower, barely holding 27 from a high of 63 in 2008, the last time the dividend-payers were anywhere near this popular.  What's going on is the S&P 500 have a lot of cash on their books and, just like the Fed, investors are sitting around like trained seals begging for MORE FREE MONEY fish – maybe if they learn to blow horns with their mouths?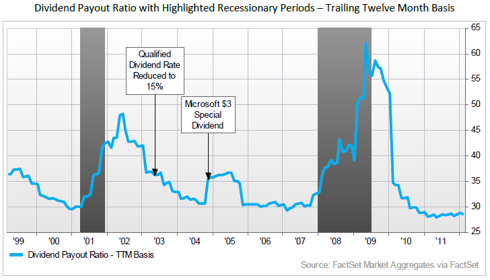 Stocks pay dividends, in part, to attract investors.  That's not going to happen in this market as you can't keep retail investors away if you beat them with a stick, can you?  No amount of bad data or poor earnings will scare investors out of owning stock – the retail ones anyway – as the professional money is bailing out in droves.  In fact, CFTC data shows the small speculators are the ONLY net longs…

Would you like to read up-to-date articles on the day they are posted? Subscribe by
clicking here
.
The preceding article is from one of our external contributors. It does not represent the opinion of Benzinga and has not been edited.
Posted-In: Trading Ideas
View Comments and Join the Discussion!