The Turtle Talks: Jerry Parker's Secrets To Success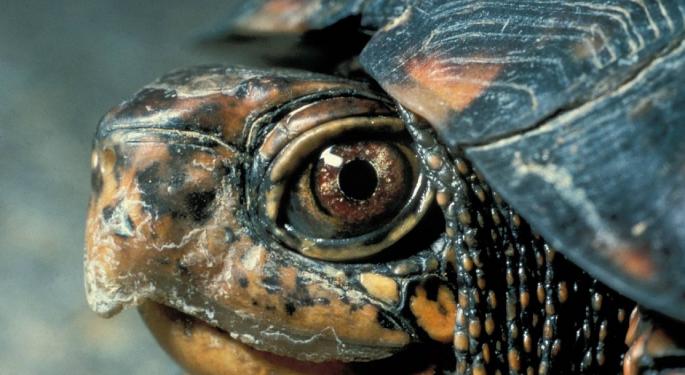 For Jerry Parker, success was largely serendipitous.
Without stumbling on Richard Dennis' newspaper ad, the chairman and CEO of Chesapeake Capital would be wandering a very different path, "not having nearly as much fun."
Parker is convinced he'd still have migrated to the markets from a life of public accounting and still developed a technical emphasis, but his life would likely be about stocks, not his lucrative recipe of interest rates, commodities and currencies.
His Rookie Mistake
Parker sees bits of his accounting background in his critical approach: conservatism, caution, meticulousness. But he attributes his success largely to Dennis' "Turtle" training. Like any novice, though, he's tested the philosophy, deviated from his training ━ and paid dearly.
Related Link: Why You Shouldn't Buy Or Sell Financials Based On Interest Rates
"They tell you the problems you're going to have and the things to watch out for, and when real-life trading starts in January 1984, you start seeing these issues, and you're failing from the very beginning," he said Thursday on Benzinga's PreMarket Prep radio show. "Everything they said not to do, you do and vice versa."
His first lesson came in the spring of 1984, when a New York City harbor freeze blocked oil imports and doubled the commodity cost.
"When it came time to do that trade, I sat on my hands and violated the most important rule ever, which is follow the system," he said. "That's the one thing you've got to do is follow the system, do all your entries, don't be afraid to take a small loss."
The fundamental philosophy requires a willingness to concede losses and an acceptance that 60 percent of trades will not prove profitable. A young Parker learned this the hard way.
"It's a perfect methodology and systematic approach, and I blew it and crashed on the very first opportunity and missed a big trade," he said. "Fortunately, it happens early in your career. You start learning not to do that."
The Turtle Approach
The game is a gamble and requires resignation to loss.
"One of the biggest rules is, with our style, we will make most of our money from 10 percent of the trades, and you can't tell which 10 percent it will be, so it's critically important to do all the trades and then sit back and watch which ones make all the money and have these extreme profits," he said.
Fundamentals are all but ignored. Disciples of Parker acknowledge that fundamentals drive the market ━ that the market "is not a game that's apart from reality and what's happening in the world," but technicals and breakouts dictate their plays.
"The lesson is you don't have to pay attention to fundamentals to be successful," he said. "In fact, one of the ideas that's been lost over the years is the non-technical, systematic approach that we had, which was to fade the fundamentals. The trades are better if the fundamentals are nonexistent."
Time-Tested Methods
The strategy relies on diversification, whether that means Parker's traditional blend of stocks, commodities, currencies and interest rates or the incorporation of more recent investments, such as the bitcoin.
There's no room to discriminate, as Dennis taught. Not across investments, and not across individual stocks. The trading guru trained Parker to trade the market the same way regardless of the name on the chart. With the exception of indices, which Parker opposes in favor of their individual components, the protégé has stayed true to the rule.
In fact, nearly all of what he learned under Dennis has survived the decades.
"The biggest change we've all had to make is the realization that there are more traders, trend followers and computers that we do battle with every day, and the markets are more choppy," he said, noting that the shift requires merely an extension to the look-back period for calculations. "The trends just aren't as smooth as they used to be."
How To Listen And Watch
PreMarket Prep is a daily trading ideas show with a focus on pre-market volatility and technical setups. You can listen live and chat with our hosts, guests and listeners every morning from 8–9 a.m. ET here or on YouTube Live. You can listen to the podcast on iTunes, Soundcloud and Stitcher.

Posted-In: Chesapeake Capital Jerry Parker PreMarket PrepTop Stories Exclusives Media Personal Finance Interview Best of Benzinga
View Comments and Join the Discussion!