Detroit Startup Uses Reclaimed Wood To Build Guitars: 'I Want People To Feel Like They're Playing A Cadillac'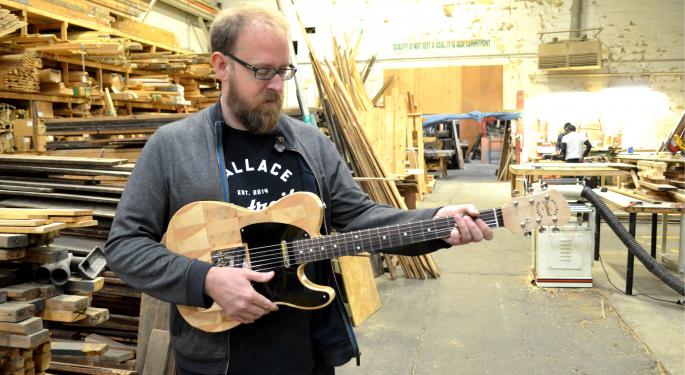 The reclaimed wood used to build Wallace Detroit Guitars — salvaged from buildings in the Motor City — dates as far back as the early 1800s.
The handmade guitars are therefore being built with the same vintage, slow-growth wood as instruments made in the golden era of the 1920s, said Wallace Detroit Guitars founder Mark Wallace.
"That wood went into guitars, and my wood went into houses," Wallace said during an interview at Architectural Salvage Warehouse, the nonprofit where he sources maple, ash, walnut and pine.
"There's something fundamentally different about the wood that went into those [vintage] guitars, and that's what I'm tapping into."
The age of the wood found in historic Detroit buildings means it's stronger than today's commercially available wood and has better acoustic properties, Wallace said.
But the wood's origin in Detroit buildings that are headed for demolition or renovation brings unique challenges. The staff at Architectural Salvage Warehouse sometimes use metal detectors to find nails, and dirt, mold and stains must be removed.
"It's not easy," Wallace said.
A Chelsea, Michigan native, Wallace, 40, has played guitar since he was 14. He's played in bands such as The Wallace Brothers and Black Jake and The Carnies. During the day, he's the CEO of the Detroit Riverfront Conservancy.
See Also: Detroit Entrepreneur Launches Superinfused Beverages As A Healthy Soft Drink Alternative
'Playing A Cadillac'
The serial number on a Wallace Detroit Firehouse guitar — an electric in the Telecaster shape that's made with pine — reads 313-03-002.
The "313" is Detroit's iconic area code. "03" denotes the Firehouse series, made with wood from the former Detroit Fire Department headquarters, a building that was recently developed into the boutique Foundation Hotel. And "002" means the guitar Wallace brought with him is the second one manufactured in the series.
The instruments have hand-wound pickups and CTS pots. The Wallace Detroit Guitars logo is branded into the headstock in lieu of the decal typically found on most guitars. The logo was designed by the Team Detroit advertising agency.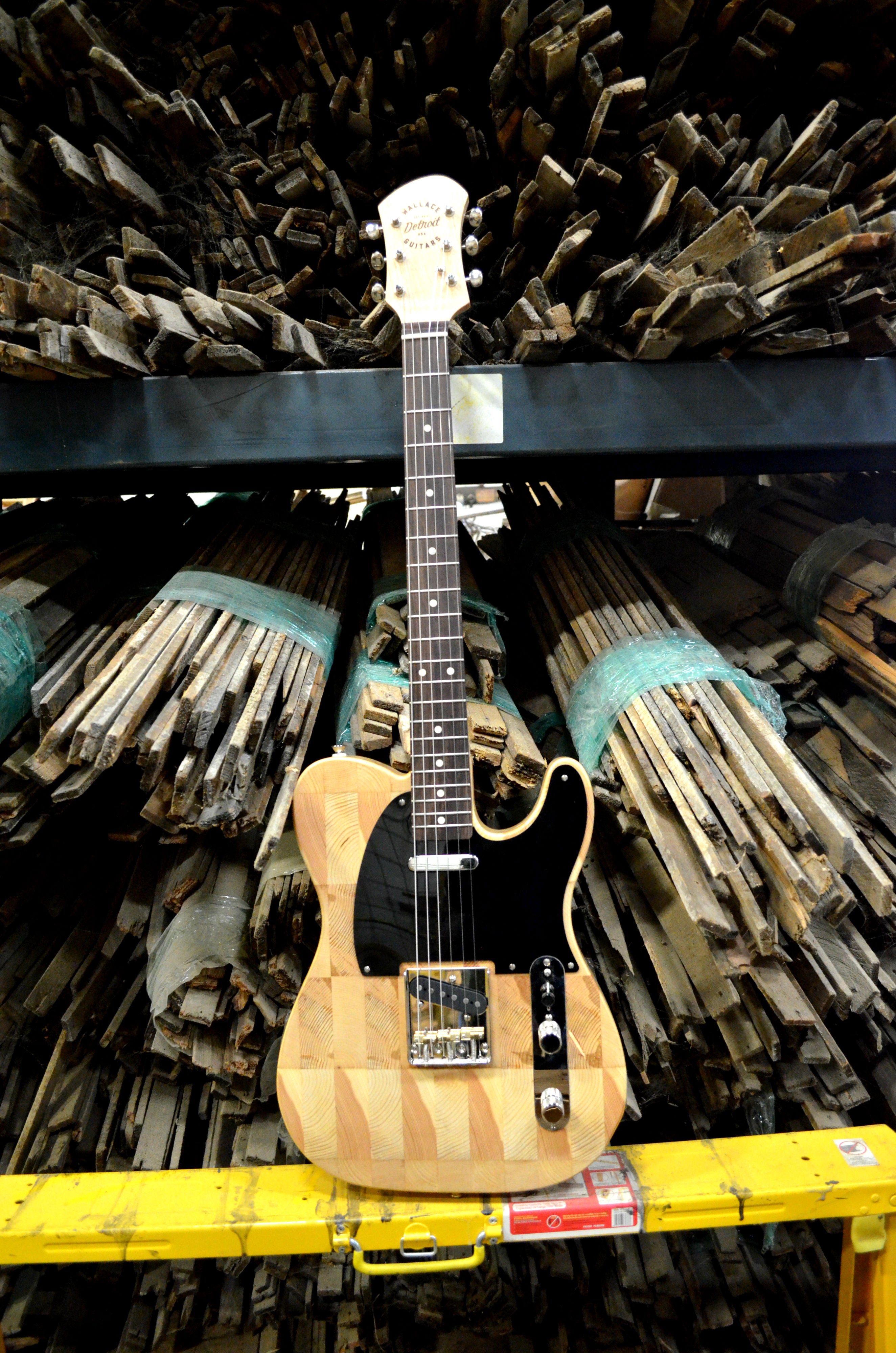 A Wallace Detroit Firehouse guitar. Photo by Dustin Blitchok.
Wallace describes himself as "the orchestra conductor" in an operation that includes a full-time manager and part-time luthier. He uses, appropriately enough, an automotive metaphor to describe his instruments.
"I want people to pick up a guitar and feel like they're playing a Cadillac."
The guitars have sold to rock 'n' roll, blues and jazz players, as well as collectors, and have been praised for their sustain and "hard edge," Wallace said.
The next steps for Wallace Detroit Guitars include establishing more distribution channels, new guitar strings and shapes and potentially branching out into basses, the company's founder said.
Wood From Detroit Skyscrapers And The Former Home Of The Supremes
The idea for Wallace's guitar company came during a conversation he had with Architectural Salvage Warehouse Executive Director Chris Rutherford.
The nonprofit, which salvages and resells wood that would otherwise be lost in demolitions, had a piece of butcher block that Wallace realized was the same size as a guitar, he said.
Architectural Salvage Warehouse's Rutherford said the partnership with Wallace has been excellent.
"It's a lot of fun developing a product and refining it over the years," he said.
When Wallace Detroit Guitars began in 2014, Wallace estimates he spoke to 100 people about the finer points of guitar-making: finish work, electronics, necks, bodies and more.
Wallace self-funded the business, he said. About 70 guitars have been manufactured so far, at a pace of three to five a month, and most are sold online. They retail starting at $2,800.
The guitars produced at Wallace's shop have included a Brewster Wheeler model, made with wood reclaimed from the former Brewster-Wheeler Recreation Center — part of the housing project where The Supremes grew up and Joe Louis trained.
Another model used wood from the David Whitney Building, a formerly vacant downtown skyscraper that was renovated in recent years and reopened as a hotel, Aloft Detroit at The David Whitney.
"There are a lot of people selling Detroit-made products today and I love most of them," Wallace said. "There are some people who just put the word 'Detroit' on a product and the product is no good. I never want to be that person."
View Comments and Join the Discussion!
Posted-In: Architectural Salvage Warehouse Detroit Wallace Detroit GuitarsTop Stories Startups Small Business Exclusives Interview Best of Benzinga