What Apple Might Be Valued At If It Sold As Many Units As Samsung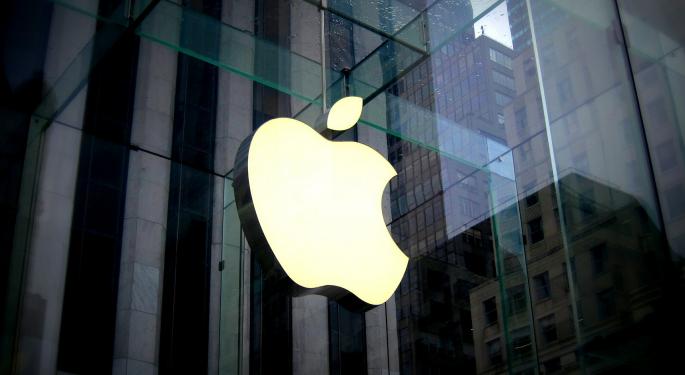 Apple Inc. (NASDAQ: AAPL) and Samsung Electronic (OTC: SSNLF)'s famed rivalry in the smartphone arena continues. Though the former appeals to its audience with its feature-rich phones, which are aesthetically designed and are easy to use, the latter has strived all through to match its rival in every step.
Maintaining Its Lead Despite Note 7 Debacle
Samsung's forte is its cost appeal, as it creates several models, each catering to different demographics of society. In 2016 alone, Samsung rolled out 31 models of smartphones from its stable compared to Apple's three.
Despite its flagship Galaxy Note 7 fiasco, which transitorily generated negative sentiment, Samsung still sold 311.4 million smartphone units of in 2016 compared to Apple's 215.4 million, giving Samsung a market share of 21.2 percent. Who knows what, if not for the Note 7 debacle, Samsung's numbers would have been?
Benzinga looked at how Apple would have fared in terms of valuation if it had sold as many units of smartphones as Samsung did in 2016.
The analysis was done based on the following assumptions:
Unit shipment figures for 2016 from IDC's research.
The ASP of iPhone was taken from the most recent quarter for which data was available (fiscal year first quarter or calendar year fourth quarter).
Revenues of other product/service categories were taken from Apple's fiscal year Q2, Q3 and Q4 of 2016 and fiscal year 2017 Q1. The corresponding quarterly numbers were summed up to get the calendar year 2016 figure. (This became essential because Apple's fiscal year ends in September and the shipment data available from IDC pertained to the calendar year 2016).
iPhone Revenues 44% More With Samsung Shipment Numbers
Assuming Apple sold 311.4 million units (Samsung's 2016 smartphone shipments) of iPhones instead of the 215.4 million it actually sold and applying an average selling price of $695 (the most recent quarterly statistics), the company would have generated annual revenues of $216.42 billion from the iPhone alone, roughly 44 percent more than it actually made.
Reconciled Calendar Year 2016 Revenues From Other Product Categories
iPad: $19.08 billion.
Mac: $23.42 billion.
Services: $25.46 billion.
Other Products: $10.81 billion.
Arriving At Valuation
Apple's calendar year 2016 revenues using Samsung's smartphone units would have been $295.19 billion.
Applying a price to sales ratio of 3.46, valuation would have been $1,021.36 as opposed to $753.72 billion currently.
Under this hypothetical scenario, Apple would trade at $194.55 compared to its current market price of $144, suggesting 35 percent upside from current levels.
Is Apple's think tank listening? A moot point, however, would be if Apple begins to focus on volume, and whether it can it do so without hurting margins and product quality.
Related Links:
New Data Show Why Smartphones May One Day Dethrone TV As The Supreme Screen
Unpacking Samsung's UNPACKED Event: The Unveiling Of The New Galaxy S8
Posted-In: Galaxy Note 7 Samsung Galaxy Samsung Galaxy Note 7Top Stories Economics Tech Trading Ideas General Best of Benzinga
View Comments and Join the Discussion!