Which Streaming Providers Are Winning The Content War?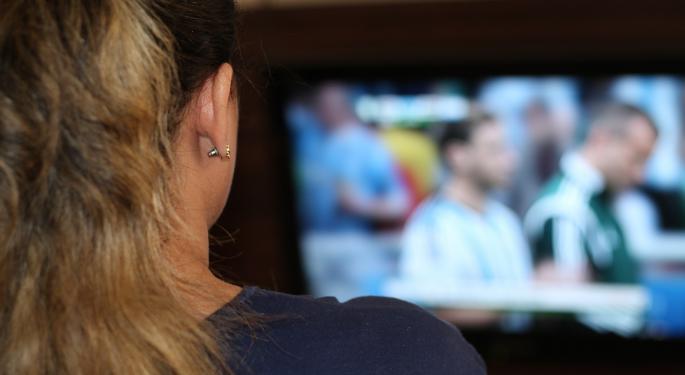 The announcement of a price-tag-unknown deal Wednesday between Jerry Seinfeld and Netflix, Inc. (NASDAQ: NFLX) is another signal of how heavily streaming services have entered the production side of the business.
A-List Comedians At Netflix
The production of exclusive content as a growth strategy comes at a cost. While the financial terms of Seinfeld's deal weren't disclosed, they were estimated at $100 million by the Hollywood Reporter. Seinfeld's agreement with Netflix calls for 24 new episodes of the series "Comedians in Cars Getting Coffee" and the streaming of 59 reruns.
Other recent content deals give an idea of the size of investment Netflix is willing to make: It was announced in November that comedian Dave Chappelle will be paid $60 million by the streaming service for three stand-up specials. A month before that, it was reported that comedian Chris Rock will be paid $40 million by Netflix for two stand-up specials.
Netflix saw a 10.2 percent growth in users in 2016, and the market research firm eMarketer predicts the company's user base will grow by another 8 million users this year.
Amazon Prime: Streaming With Fringe Benefits
For $99 per year, the Prime service from Amazon.com, Inc. (NASDAQ: AMZN) unlocks access to streaming movies and content from partners such as HBO, streaming music, access to Kindle e-books — and free two-day shipping. It's a platform that competes with Netflix and Hulu's core businesses, but with added value.
Amazon Prime's customer base was estimated in October at 65 million subscribers by Consumer Intelligence Research Partners.
Amazon released "The Grand Tour" last year, a car show with former "Top Gear" star Jeremy Clarkson.
"The Grand Tour" shows that Amazon's wallet is open: Estimates for the price paid for three seasons have ranged from $160 million to a whopping $250 million.
Amazon began offering a standalone TV subscription in 2016, and appears to be going head-to-head with Netflix with rollouts such as the "Chappelle's Show" back catalog.
Hulu: The Go-To For Network TV
Privately held Hulu is backed by media giants: Walt Disney Co (NYSE: DIS), Comcast Corporation (NASDAQ: CMCSA) and minority stakeholder Time Warner Inc (NYSE: TWX).
The strength of Hulu's content is in its timeliness and exclusives: It's where you can catch up on "South Park," "Family Guy," and "Saturday Night Live." Rather than being a destination for binge-watching original shows (think "House of Cards" on Netflix), Hulu's 12 million users are more likely there for the streaming access to existing television nameplates.
While the company has had some notable house-made productions — such as "11.22.63," a miniseries based on a Stephen King novel built around the JFK assassination — Hulu is simply in an earlier stage of content generation than Netflix.
Recent moves show Hulu's place in the market could change in 2017. The company continues to option historically successful series and films unavailable for streaming elsewhere, and has a major original series, "The Handmaid's Tale," launching April 26.
View Comments and Join the Discussion!
Posted-In: Dave Chappelle eMarketer Hollywood ReporterTop Stories Tech Media Trading Ideas General Best of Benzinga