What Makes Warren Buffett So Optimistic?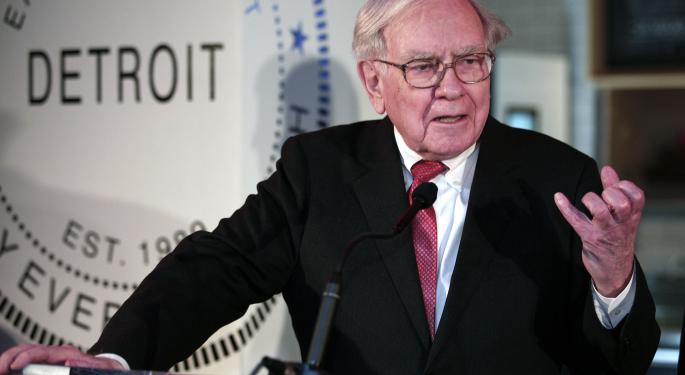 In a new interview, Warren Buffett expressed his general sense of optimism about the modern world.
Buffett believes the United States generates plenty of output to elevate the standard of living of all Americans but faces distribution challenges.
He says it is impossible to say whether the U.S. economy will outperform China's economy in coming decades but believes that both economies will continue to grow.
In a recent interview with Yahoo Finance, iconic investor Warren Buffett discussed a range of topics including sources of optimism, the state of U.S. education, U.S. wealth distribution and the Chinese economy. Here are several key quotes from the Oracle of Omaha.
On Optimism
When asked what gives him a sense of optimism these days, Buffett named off a long list of modern-day luxuries, including medicine, education, transportation and entertainment.
"In fact, I tell the students, these students in that class today are actually living better than John D. Rockefeller Senior lived when I was born… In all kinds of ways they're living better than the richest man in the world lived at the time of my birth. The luckiest group of babies ever born in the world are the babies being born in the United States today."
Related Link: EXCLUSIVE: Warren Buffett Says Mr. Market Is A 'Drunken Psycho'
On Education
While Buffett admits that there are plenty of shortcomings in the current education environment, he again notes that students today are getting much better educations than they did when he was growing up.
"You know we'd like to say we have equality of opportunity in this country but unless everybody has a shot at a similar education there is no equality of opportunity. We've got a long way to go on that…We're spending $10,000 or close to that a student per year in education, so it isn't from unwillingness to put the resources up. We just haven't learned the best ways."
On U.S. Wealth Distribution
According to Buffett, one of the biggest roadblocks to a prosperous life for the average American is the country's uneven wealth distribution.
"If you look at real GDP per capita, it's six times what it was when I was born…Now it isn't utopia for many people, but that's a distributional problem. We have the output for everybody to do well in this country, but a lot of people do get left behind."
On The U.S. Economy Vs. The Chinese Economy
When comparing the future of the U.S. economy versus the Chinese economy, Buffett said that he couldn't pick a winner, but that both countries have a bright future.
"I think both will be good places. I can't pick one over the other…In a political season, to hear people say your children aren't going to live as well as you do – that is 100 percent nonsense. I mean, even at 2.0 percent GDP that's over 1.0 percent per capita, and in one generation that means the next generation is going to live 25 percent better than we live per capita in the United States, so both countries have a very, very good future."
View Comments and Join the Discussion!
Posted-In: Warren Buffett Yahoo FinanceTop Stories Economics Best of Benzinga