When Choosing Credit Cards, Look Closely At The Fine Print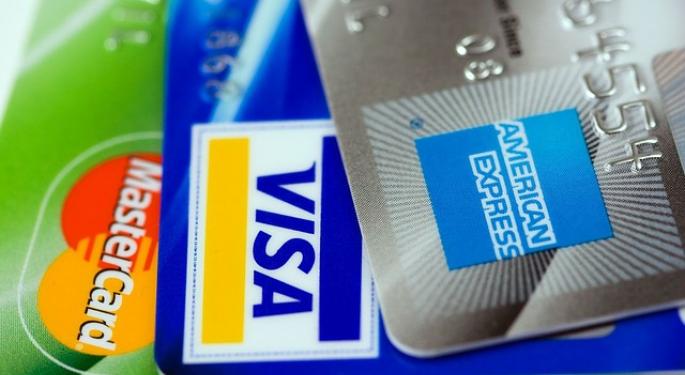 While carrying plastic can be beneficial to your credit, not all cards are created equal. With an average of six potential fees per card, keeping open a line of credit can be more hassle than it appears.
According to a recent survey conducted by CreditCards.com and circulated by Bankrate Inc (NYSE: RATE), the worst "hidden fee" offenders are not always the most apparent suspects.
The Pesky Fine Print
The researchers surveyed and categorized the fine print of a representative sampling of 100 U.S. credit issuers' cards. By law, all potential fees must be listed in the terms and conditions. Based on the "hidden fee" misnomer, it is essential that all potential credit card holders take the time to read and understand what each contract says before signing.
Related Link: Basics Of Responsible Credit Card Ownership
While terms and conditions are typically not enthralling reads, a signature at the bottom of a contract legally binds the signee/card holder to the elements within those arduous pages. Therefore, by skimming, signing, but not comprehending, card holders are not exempt from those itty bitty lines about fees.
Due to the CARD Act, anyone is entitled to request and receive a copy of the terms and conditions on credit cards; in other words, if misplaced or tossed, credit card holders only have to ask and the providers must deliver.
Frequent Fees
CreditCards.com's survey categorized the fees that could be incurred from their representative sampling. The following were the most common:
Annual Fees: Fees charged on a yearly basis for simply having the line of credit. CreditCards.com calculated that 26 percent of the cards surveyed charge this fee.
Balance Transfer Fees: These fees are charged if a balance is exchanged between two (or more) accounts. The survey found that of the 90 cards that offer a balance transfer option, 80 charge a fee for the transfer.
Cash Advance Fees: These fees are put into place when the holder requests an advance on their credit amount; basically, these advances are short-term loans taken against the credit card. These fees are the most lucrative for card issuers, and 98 of the 100 cards surveyed list that they charge this fee.
Foreign Transaction Fees: Using familiar credit cards while overseas can be helpful and convenient, but the fees that are attached to this use can be steep. CreditCards.com found that for each transaction in U.S. dollars made overseas, an average of 3 percent is charged as a foreign transaction fee.
Late Fees: The most familiar and most universal of the lot, late fees are charged to users who do not pay their balances on time. Of the 100 cards studied, 99 charge a late fee. The CARD Act has implemented a cap on late fees at $27 for first offense and $38 for repeat offenses.
Related Link: 4 Financial Pitfalls Fooling Millennials
According to Senior Industry Analyst Matt Schultz, "There are two main categories of fees: penalty fees and transactional fees."
He explained, "Penalty fees are pretty easy to avoid, for example, by paying your bills on time. Transactional fees are more important to comparison shop." By way of example, Schultz brought up foreign transaction fees, "If you travel internationally a lot, a credit card that doesn't charge foreign transaction fees is a great value."
Most Fees
Below are the six cards surveyed that carry the most fees:
Fifth Third Bank Platinum MasterCard: 9 fees
Credit One Visa Platinum: 9 fees
Regions Visa Platinum Rewards Card: 9 fees
Navy Federal Credit Union Cash Rewards: 9 fees
First Premier Bank Credit Card: 12 fees
First Premier Bank Secured MasterCard: 12 fees
Least Fees
Below are the five cards surveyed that carry the fewest fees:
Capital One Spark Cash Select For Business: 3 fees
Spark Classic From Capital One: 3 fees
Spark Miles Select By Capital One: 3 fees
ExxonMobil SmartCard From Citi: 3 fees
PenFed Promise Visa Card: 0 fees
As with any investment or contract, think before you sign. Take the time to read contracts in full, especially when they deal with anything financial. Contracts are legally binding agreements, whether you read the terms and conditions or not. Don't be caught unaware and slammed with fees you didn't know about. Take control of your financial health through financial literacy.
Image Credit: Public Domain
View Comments and Join the Discussion!
Posted-In: Capital One Citi Credit One CreditCards.com ExxonMobil Fifth Third BankTop Stories Personal Finance Best of Benzinga