This Startup Wants To Be Google Analytics For The Physical World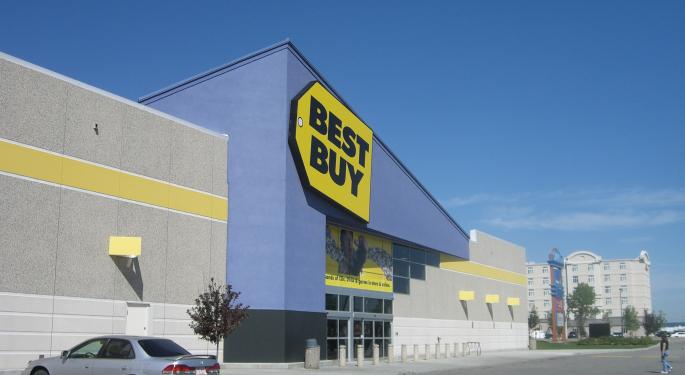 Last week, Best Buy Co Inc (NYSE: BBY) and Nintendo Co., Ltd (ADR) (OTC: NTDOY) teamed up for another in-store event coinciding with the Electronic Entertainment Expo. The event allowed consumers to play Nintendo's new "Super Mario Maker" and "The Legend of Zelda: Triforce Heroes" months ahead of their releases.
Best Buy could measure the event's success by counting the number of people who attended, but that's a small portion of the data that could be derived. Euclid Analytics wants to provide the rest of that data.
"[We provide] Google Analytics for the physical world," Brent Franson, CEO of Euclid Analytics, told Benzinga.
This might seem complex, but Franson made it sound very simple. He explained that Euclid Analytics' technology sits on top of pre-existing Wi-Fi infrastructures, which are already in 82 percent of retailers. The company has relationships with 95 percent of enterprise Wi-Fi OEMs, including Cisco Systems, Inc. (NASDAQ: CSCO) and Aruba Networks, Inc. (NASDAQ: ARUN).
"[These relationships] allow us to flip a switch and send the data into our data warehouse without adding any new hardware," said Franson. "We have customers who will light up hundreds of locations just within a couple of hours."
Related Link: If Nintendo's Lines Were Always This Big, Wii U Could Outsell PlayStation 4
How Retailers Benefit While Customers Remain Anonymous
Franson compared Euclid Analytics' data retrieval to that of a cookie implemented by a website. He said that phones are constantly transmitting a unique ID that can be picked up anonymously. This allows retailers to know how many times a customer visits a store without tracking more than his/her unique ID, which does not reveal the person's actual identity.
"For somebody like Best Buy, they are sponsoring and running events [where the] ultimate goal is to drive revenue," said Franson. "They drive revenue by driving people to the store and to online sales."
Best Buy does not currently use Euclid Analytics' technology, but its solutions are used by retailers spread across 42 countries. Franson said the company does not publicly disclose the names of its clients.
Related Link: E3 Day 3: Digital Game Industry sees Slow Adoption Of VR
"One of the metrics that's very important to their business is the lifetime value of their customers," he said. "And the way to increase that value is to get customers to come back more often. We can tell them what percentage of shoppers during an event – or on a given day or during a certain time period – what percentage were new and what percentage were repeat and how often they are coming back."
In short, a retailer could see how new customers were brought into the store and how many of those new customers returned after the event was over. Franson said this is a common way that retailers use Euclid Analytics.
Disclosure: At the time of this writing, Louis Bedigian had no position in the equities mentioned in this report.
Image Credit: Public Domain
View Comments and Join the Discussion!
Posted-In: Brent Franson E3 Electronic Entertainment ExpoTop Stories Startups Exclusives Tech Interview Best of Benzinga