m>PATH's Plan To Revolutionize The Way Business Apps Are Built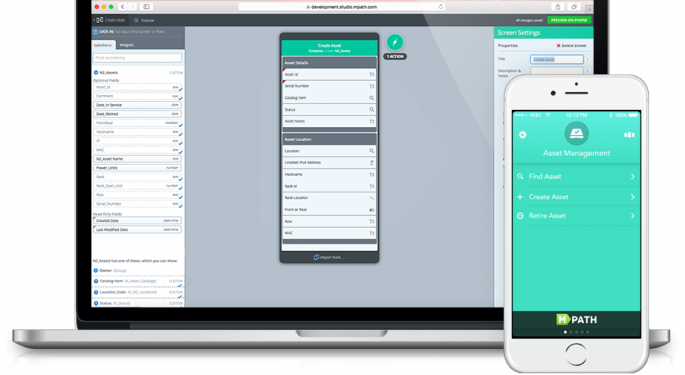 m>PATH has created a new way for businesses to assemble and deploy apps to their employees.
Founded by Claus Moldt, the former global CIO of
salesforce.com, inc. (NYSE: CRM), m>PATH allows its customers to create apps using a drag-and-drop interface. No coding is required.
"He's a brilliant and humble guy and we are addressing a market that is very large by allowing companies to create apps for their workforce," Randall Kaplan, chairman of m>PATH, told Benzinga.
"So instead of going to an outside mobile development firm and spending upwards of hundreds of thousands of dollars, which takes many months, you can build an app for yourself (on our platform) in minutes."
Kaplan is also the CEO of JUMP Investors, which led m>PATH's seed round of $1.65 million. Jaws Ventures (the venture investing arm of Barry Sternlicht's family office), Herb Simon, Ken Austin, Kirk Posmantur, Marciano Investment Group, Wilson Sonsini Goodrich & Rosati and Western Technology Investment have also invested in m>PATH.
"The main reason I invested was because of Claus' experience and pedigree," said Kaplan. "He was a senior executive at Salesforce and ran infrastructure there, and prior to that he ran infrastructure at eBay."
'A Better Way'
Moldt told Benzinga that m>PATH's mission is to "enable a fast and easy way for businesses to customize the mobile experience to help them become more productive."
This can be a serious problem for businesses. Moldt said that he previously created a fair amount of productivity tools for his team at Salesforce, which could be done fairly easy on the Salesforce platform. The same could not be said for mobile applications, which were much more difficult to create.
"I thought there must be a better way, and that's what we've been building for the last 18 months," said Moldt.
Full Functionality
m>PATH works with iOS and Android.
"We have mobile vendors -- Google and Apple," said Moldt. "We really see them as partners. We build on top of their operating system and we build native apps so we truly make and take advantage of the full functionality that Google and Apple is providing."
Moldt said that m>PATH, which uses all of the native APIs, tries to make the apps look and feel the same as they normally would on each platform. For example, users might be used to one experience on Android and another on iOS.
A Solution For Everyone
Kaplan spoke very highly of the team at m>PATH, which started with Moldt and is in hiring mode. He said that many times when his company funds CEOs, they are "young, hungry, entrepreneurs who have not had much experience in the corporate world managing teams or budgets."
"In Claus' case, in his last job at Salesforce, his R&D budget in the group he ran was $400 million and he managed 350 people on his team," said Kaplan.
That experience has given Moldt what it takes to build a rising empire from the ground up.
"One of the other very attractive features about what we're building is our target customers will be small, medium and large enterprise-scale businesses," said Kaplan. "Each of which has their own specific needs and each category will be able to address, whether your company has five employees or 500,000 employees."
"We definitely built it with all the scalability in mind," Moldt added.
Disclosure: At the time of this writing, Louis Bedigian had no position in the equities mentioned in this report.
Posted-In: Claus Moldt JUMP Investors m>PATHTop Stories Startups Exclusives Tech Interview Best of Benzinga
View Comments and Join the Discussion!