Fed Reports On U.S. Economic Fragility Trends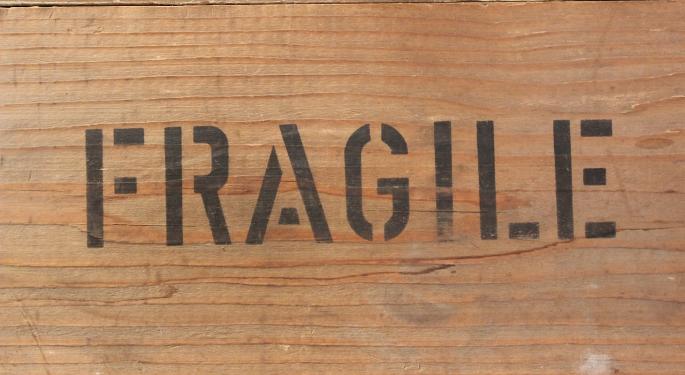 In its second annual Survey of Household Economics and Decision Making (SHED) published last week, the Federal Reserve investigated and evaluated the well-being of U.S. households.
The extensive survey covers a range of topics including credit access, savings, retirement, credit/spending behaviors, economic frugality, education and student loans, among other financially relevant areas.
Broad Well-Being
Not only did survey take account of the current American sentiments toward personal finances, but because this was a repeat survey, the sentiments were placed into a comparative context – tracking the trends of responses over the past two years.
Related Link: TD Ameritrade: Financial Difficulties Lead To More Than Monetary Hardship
While most survey participants noted that they believe their financial situations are better than their parents, the survey found only mild improvements overall since 2013 and noted that over 33 percent of respondents indicated some degree of financial stress:
25 percent of participants responded that they were "living comfortably"
40 percent responded that they were "doing okay"
24 percent reported that they were "just getting by"
10 percent reported that they were "finding it difficult to get by"

Source: SHED Survey
In considering current financial well-being to that of the past five years, the survey found slightly improved sentiments across the board.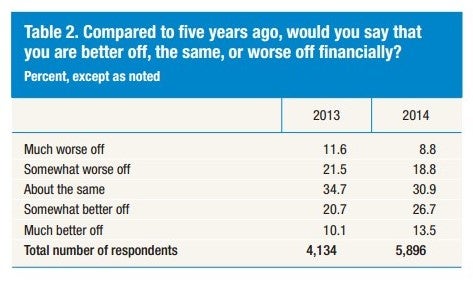 Source: SHED Survey
Economic Fragility
While there are many key indicators of broad financial well-being, the ability to withstand unforeseen financial difficulties correlates strongly. The survey reported that "almost a quarter of respondents indicate[d] that they experienced some form of financial hardship in the year leading up to the survey."
Furthermore, the survey concluded that "households throughout the income distribution struggle[d] to maintain a financial safety net that could minimize the repercussions from such events."
Related Link: Unanticipated Life Events Cost Americans $2.5 Trillion In Lost Savings
The implication of these findings is that financial disruptions are not economically biased, preying on people from all walks of life. Additionally, the lack of adequate savings unsurprisingly plays heavily into economic behaviors and illustrated that "many households appear ill-prepared for financial emergencies."
Emergency Savings: Only 45 percent of survey participants indicated that they have a savings fund that could cover their household's financial expenses for a three-month period. An additional percent of participants indicated that through charity, selling assets and/or borrowing money they could survive for three months without income.
Spending: In considering spending habits among all participants, keeping in mind the responses toward financial sentiment and savings, spending habits relative to income indicated broad issues. While 41 percent of survey participants indicated that they spend less than they bring in, 37 percent claim that their output spending is equal to their input and 20 percent state that their spending exceeds their income.

Source: SHED survey
Image Credit: Public Domain
Posted-In: Federal Reserve SHED Survey of Household Economics and DecisionmakingTop Stories Economics Personal Finance Best of Benzinga
View Comments and Join the Discussion!