Instagram Could Have Been A $20 Billion Empire Without Facebook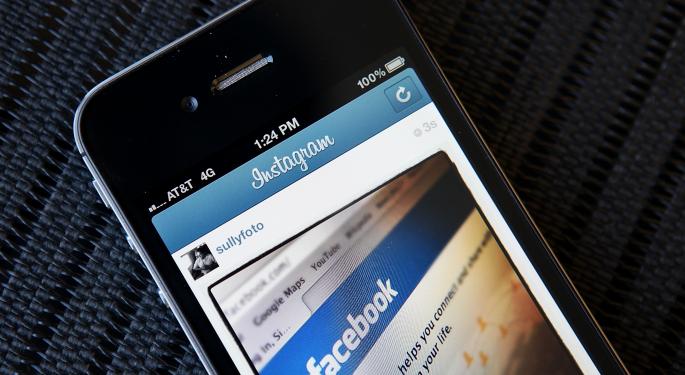 Facebook Inc (NASDAQ: FB) paid $1 billion for Instagram, believing that it was a prominent social media platform that would only grow stronger with time. That bet seems to have paid off.
"They're probably a $20 billion company if they're standalone right now," Leigh Drogen, co-founder and CEO of Estimize, told Benzinga.
Estimize crowdsources estimates from more than 4,500 hedge funds, brokerages and independent analysts.
"The market to see the inevitability for these things is becoming more and more apparent," said Drogen, referring to the future of startups like Instagram. "The valuation is going to the number sooner than they used to. They're looking at Instagram and saying, 'Man, we're seeing this all over again [with Snapchat].' It's inevitable."
Related Link: Google's Latest M&A Is A 'Coin Toss' - Should It Buy Billions In Revenue Instead?
Big Week For Snapchat
Snapchat, the social media star that both Google Inc (NASDAQ: GOOG) and Facebook offered to buy, will reportedly receive a $200 million investment from Alibaba Group Holding Ltd (NYSE: BABA). Now investors may know why.
According to Re/code, Snapchat's Discover platform (which offers videos and stories from various publishers) is charging $100 for every 1,000 views. That is reportedly twice the amount of what a premium video publisher can get, and is several times more than what the average Web publisher receives.
"It's all about engagement rates," said Drogen. "Snapchat has massive engagement on its content that can command much higher CPM."
Drogen said that the reason Snapchat has received such a high valuation ($15 billion) is because there is less and less room on the home screen of a mobile device.
"It's filling up," he said. "If you're one of the core pieces on the home screen of a mobile device…it's going to be monetized and they're going to get the engagement on it."
Stock As Currency
If Alibaba invests in Snapchat, Drogen expects the company to use its stock as a currency, similar to what Facebook did when it acquired Instagram and WhatsApp.
"Using your stock as a currency is an extremely valuable thing for a company to do, especially at Alibaba's stage where their core business is going to grow, but they now have the ability to build this massive conglomerate," he said.
In the past, companies would go public and continue doing the same thing. Drogen said that has changed over the past five to seven years.
"It feels like these tech companies are understanding that in order to continue to get the multiples they're getting, they need to be more than what their initial products were," said Drogen. "They need to end up being conglomerates of technology."
Competing In New York
Estimize is one of many firms competing in the Benzinga Fintech Awards. The awards gala will be held in New York on April 8 from 4:00 p.m. to 9:00 p.m.
"I think it's really smart that Benzinga, as a media company, goes and puts together a place where the capital markets companies and investors and biz dev -- and specifically for startups in the space -- have a conference once a year," said Drogen. "When you look at the amount of VC money flooding the space, it's evident of the opportunity at hand. We're excited to be a part of it."
Disclosure: At the time of this writing, Louis Bedigian had no position in the equities mentioned in this report.
Posted-In: Estimize Instagram Leigh Drogen SnapChatTop Stories Startups Exclusives Tech Best of Benzinga
View Comments and Join the Discussion!