Microsoft's HoloLens Is What 'You'd Expect From A Cutting-Edge Technology Company'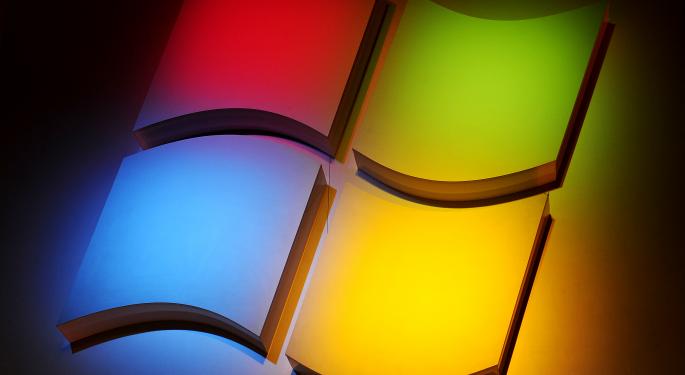 Investors may not be aware of the numerous cool products being developed by Microsoft Corporation (NASDAQ: MSFT). Most of them are creative concepts that may never make it to retail. Others could be ready for primetime, but are too expensive to implement. This is ultimately what kept the unique IllumiRoom projection system from coming to Xbox 360.
Technological Innovative Power Outweighs Cost
Cost will not keep Microsoft from bringing an augmented reality device to market, however. The company unveiled its first AR headset, HoloLens, earlier this week. No price was announced, but Google Inc (NASDAQ: GOOG)(NASDAQ: GOOGL) charged $1,500 for its AR goggles before the Glass Explorer program was closed last week. Other AR goggles have been priced at $3,000. Thus, HoloLens could be a very expensive product – but the technology is very promising.
"This is the sort of thing you'd expect from a cutting-edge technology company," Thomas H. Yorke, managing director of Oceanic Capital Management, told Benzinga. "I think it's very interesting that they're even going out there with this."
FBR Capital Markets analyst Daniel Ives said that HoloLens is one of many things that shows Microsoft is "all about applications, enhancements, virtual games [and] virtual realities."
"They need to do everything from an R&D perspective to make consumers and developers want Windows 10, rather than being forced to be on it," Ives told Benzinga. "Don't think about this from a revenue opportunity perspective. It's about the need to really think [outside] the box and change the perception of Microsoft."
Related Link: Can Sony Steal Microsoft's Thunder With Virtual Reality?
Innovation Doesn't Happen Overnight
Eventually, someone will get it right. Augmented reality will be perfected and everyone will want to own a pair of AR goggles.
HoloLens may be the first step in this direction, but there will be many more that follow in the years to come.
"My feeling is that…this kind of augmented reality is never just going to jump off the page and be an absolute success from the get-go," said Yorke. "It's going to be baby steps."
Yorke felt that Google Glass was "probably a little too expensive" to become a mainstream device, but HoloLens can't be judged in a similar fashion until the price is announced.
"I'm not sure that people are really going to want to walk around the streets of New York City wearing these things," Yorke added, referring to Google Glass. As for HoloLens, Yorke thinks it is "very interesting that it's all evolving around Windows 10."
"I can only see this as [being] good for the augmented reality," Yorke concluded. "[It] is also clearly good for Windows 10."
Disclosure: At the time of this writing, Louis Bedigian had no position in the equities mentioned in this report.
View Comments and Join the Discussion!
Posted-In: FBR Capital Markets Glass Explorer Google Glass Daniel Ives HoloLens IllumiRoomTop Stories Exclusives Tech Best of Benzinga