Windows 10 Offers 'Chance To Reload' On Microsoft 'If You Didn't Get In Before'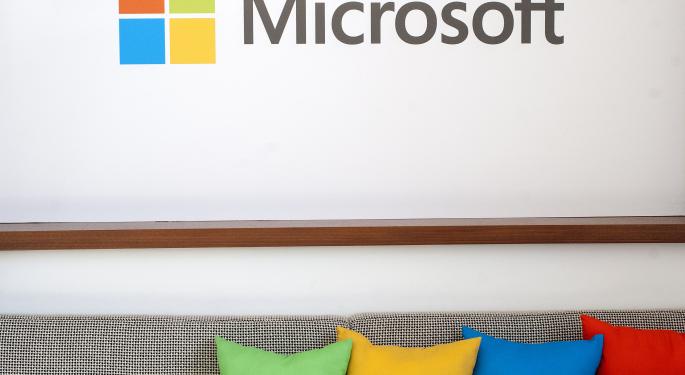 Windows 10, the next-generation operating system from Microsoft Corporation (NASDAQ: MSFT), will launch across a multitude of platforms in 2015.
Unlike previous iterations, Windows 10 is being designed for every device imaginable. From smartphones and tablets to PCs, game consoles and augmented reality glasses, Microsoft wants Windows 10 to be the first OS that works the same across multiple platforms. It's more than six months away, but analysts and industry professionals already feel very strongly about its release.
"I can see OS 10 taking off….and being a real money maker for [Microsoft]," Thomas H. Yorke, managing director of Oceanic Capital Management, told Benzinga.
Chris Woodin, director of Microsoft operations at Softchoice, expects Windows 10 to be as successful as Windows 7.
"We don't think it's going to happen overnight," Woodin told Benzinga. His IT reseller and integrator business is built around Microsoft technology. "We do expect that there's going to be pretty broad adoption to the same degree that you saw with Windows 7."
Related Link: Did Microsoft Buy Acompli To Disrupt Email?
Free Is Key
FBR Capital Markets analyst Daniel Ives thinks that the upgrade offer (Windows 10 will be free to Windows 7 and 8.1 users) is a key part of Microsoft's strategy.
"It shows Microsoft is looking in the mirror, realizing it's not about the revenue opportunity on the upgrade, it's what comes after," Ives told Benzinga. "They need to do everything in their power to enhance the attractiveness of Windows 10."
Yorke, who also manages a portfolio on Covestor, referred to Windows 10 as a "dramatic move" for Microsoft.
"The OS system is not what anyone expected," he said. "But I'm looking at this as a chance to reload on this stock if you didn't get in before. To me, it's moving to what P&G [Procter & Gamble] might refer to as the razorblade model or what HP might call the inkjet model. You can buy a printer for practically nothing because you're going to buy the ink for the printer. Razors, they sometimes give them away because you're going to buy the blade."
Returning To A Classic
Woodin said that everyone at Softchoice has been "very pleased" by what they've seen of Windows 10.
"I think the reason we're most excited is that Windows 10 does represent a return to what made Windows releases in the past successful and avoided what made some of the previous releases unsuccessful," he said. "Windows 10 returns to a very intuitive, stable experience."
Woodin compared Windows 10 to Windows 7 and Windows XP, two of Microsoft's most popular operating systems.
Disclosure: At the time of this writing, Louis Bedigian had no position in the equities mentioned in this report.
View Comments and Join the Discussion!
Posted-In: Chris Woodin Daniel Ives FBR Capital Markets Microsoft SoftchoiceTop Stories Exclusives Tech Best of Benzinga