Will The iPhone 6S, iPhone 7 Feature An Entirely New Display?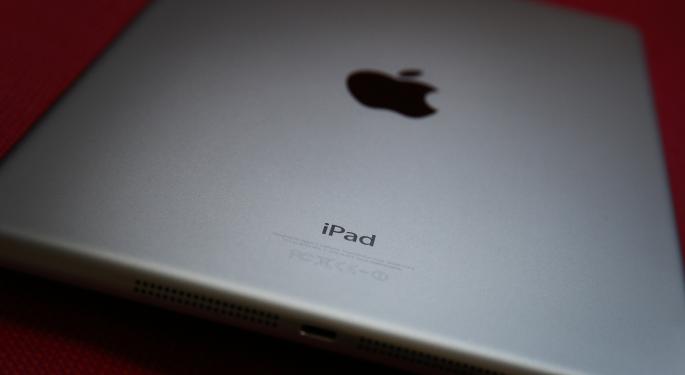 Apple Inc. (NASDAQ: AAPL) was very close to releasing an iPhone with an entirely new display in 2014. When GT Advanced Technologies Inc (NASDAQ: GTAT) failed to deliver on its promise and filed for bankruptcy, Apple was forced to look elsewhere.
The company ultimately turned to a familiar supplier: Corning Incorporated (NYSE: GLW), the company behind Gorilla Glass. Apple had hoped to move beyond Gorilla Glass and sell an iPhone with a display made of sapphire.
Meanwhile, SAMSUNG ELECT LTD (OTC: SSNLF) skipped the sapphire dream and focused on developing a curved edge display instead. LG took this concept one step further when it introduced a phone that had two curved edges.
Related Link: Apple Inc. Watch Shows 'Innovation Is Back'
"I think the big issue with that sort of curved edge is Samsung really needs to prove that there's a use for it," IHS Technology (NYSE: IHS) senior analyst Daniel Gleeson told Benzinga. "It really needs to get developers interested in that concept and have apps that make innovative use of it. That's probably one of the things Apple is best at and why Apple does so well."
Gleeson said that when Apple innovates and introduces any new technology, "it does so with a very clear purpose in mind."
"That's not the case with Samsung, which tends to put out hardware and technology innovations as more of a, 'Look at what we can do' effort without any clear tie back to use cases," he said.
Gleeson doesn't expect Apple to release a device with an edge display until it can prove its use case.
Sapphire Display Or Sapphire Disaster?
If Apple wants to bring sapphire to the iPhone 6S or iPhone 7, the company will need to iron out a number of problems -- and get a new supplier.
"Sapphire's got three problems," Rob Enderle, principal analyst at Enderle Group, told Benzinga. "1) It's very expensive. 2) It's very brittle. It's hard on one side, but on the other side it's very brittle, so it won't take any flex at all without shattering. 3) If you introduce a flaw, if you are able to chip it -- much like a diamond or any other jewel -- that flaw turns into a critical problem in the integrity of the crystal. Those three things are really keeping it out of large form factor devices."
Enderle noted that sapphire still remains the favored substance for watch-sized devices, including select models of the Apple Watch.
"It doesn't seem to be growing much because large form factor devices are gonna have to flex a little bit because there's no material that's going to be as rigid as a crystal and you don't want your screen to be the most rigid element in a device," Enderle added. "Otherwise it's just going to break."
Disclosure: At the time of this writing, Louis Bedigian had no position in the equities mentioned in this report.
View Comments and Join the Discussion!
Posted-In: Apple Watch Daniel Gleeson IHS Technology iPhone 6S iPhone 7Top Stories Exclusives Tech Best of Benzinga