Does It Matter If Apple Releases A 12-Inch Tablet?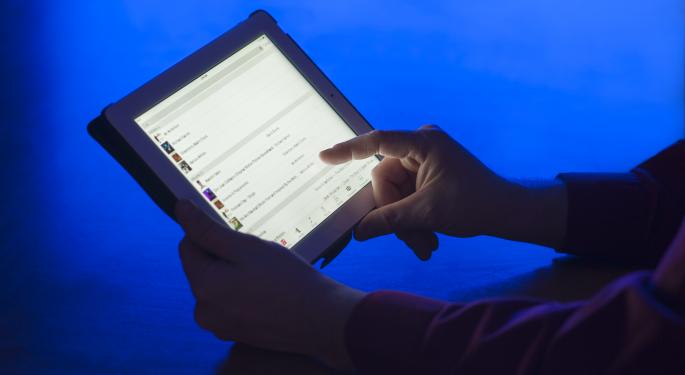 Sony Corp (ADR) (NYSE: SNE) is the latest company rumored to be developing as 12-inch tablet.
Benzinga readers may recall that Apple Inc.'s (NASDAQ: AAPL) unconfirmed 12-inch tablet first surfaced in July 2013 -- a full month before Samsung's similar product appeared.
Other manufacturers, including Microsoft Corporation, have also released 12-inch tablets.
The unconfirmed Sony tablet could cost more than $1,000, which would ultimately limit its sales potential against the iPad. The price may not matter, however.
"I think a lot of these companies should quit making [some of the] products that they make because they don't make any money on them," Sean Udall, CIO of Quantum Trading Strategies and author of The TechStrat Report, told Benzinga. "They don't improve their brand reputation. There's no big upside to it."
Related Link: Sony Hackers Are Taunting Employees
iPads = iPods?
Tech industry expert and analyst Jeff Kagan compared the tablet industry (specifically the iPad) to the iPod, the world's most notable MP3 player.
"We watched the tablet market grow over several years and then crest and now it's starting to soften," Kagan told Benzinga. "Tablets just aren't new enough, aren't sexy enough to get people to trade in their device and buy a new one every year."
Kagan said he doesn't understand all of the competitors jumping in with new sizes.
"Unless their tablet will do something totally different," he said. "[Something that] totally captures the imagination and will totally win in the marketplace. [Otherwise] I think it's going to struggle."
Apple's iPad continues to dominate the industry despite widespread declines.
"Every other one, even Android, is still struggling," Kagan added. "I'm glad that Sony is continuing to advance and innovate, but I don't think this is going to be a slam dunk."
Where Are The Exit Signs?
The tablet industry may be overflowing with manufacturers today, but Udall doesn't expect it to stay that way.
"A lot of the competition is probably gonna get out of the business," Udall predicted. "The whole world sort of only likes iPads anyway. Nobody else that makes tablets makes any profit on them. If they sell the product, they're selling a loss leader."
Sony may be trying to avoid that with its rumored price tag.
Disclosure: At the time of this writing, Louis Bedigian had no position in the equities mentioned in this report.
Posted-In: Apple iPad Jeff Kagan Sean Udall SonyTop Stories Exclusives Tech Best of Benzinga
View Comments and Join the Discussion!