5 Hottest Tech Product Categories In 2015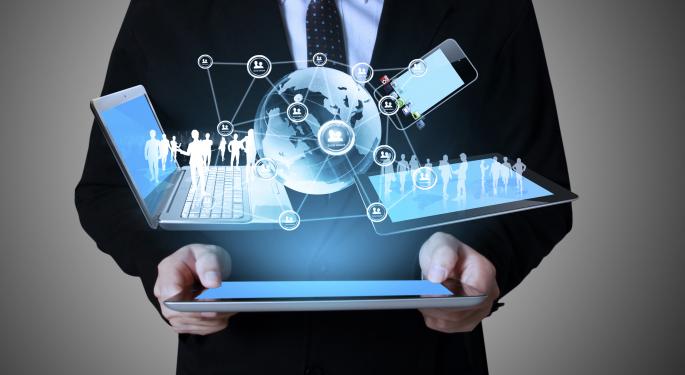 Smartphones, tablets and laptops are old news -- it's time for new tech products to take center stage. Read on to see which ones are most likely to make a splash in 2015.
Virtual Reality
Sony Corp (ADR) (NYSE: SNE) and Facebook Inc's Oculus VR are already doing their part to advance virtual reality. In 2015, Microsoft Corporation (NASDAQ: MSFT) is expected to do the same.
It is widely speculated that virtual reality will be a big part of the next generation of game consoles -- that is, PlayStation 5 and the fourth-generation Xbox. However, VR could arrive (and change gaming) long before that.
If Microsoft enters the fray next year, that will be another reason for the other players to ramp up production. As it stands, no one knows exactly when Sony will release its VR headset, but the company is expected to continue demoing its technology in 2015.
Meanwhile, Oculus VR is attracting a lot of attention from game developers, which will be essential for any VR platform to succeed.
There's also the possibility that Magic Leap -- now backed by Google (NASDAQ: GOOG) -- will do something amazing in 2015.
Related Link: The Woman Who Revolutionized 'Star Wars' Is Now Looking At Virtual Reality
Smartwatches
Apple Inc.'s (NASDAQ: AAPL) first smartwatch all but guarantees that the category will receive far more attention in 2015 than it ever has before.
Even if the product flopped (and that's a big "if"), it will still draw massive media attention, inspire hundreds of blog entries and attract thousands of consumers to every Apple Store. That attention will be based on the assumption that if Apple does something, it must be good.
And if it is good, watch out -- Apple's assault on smartwatches could be similar to its assault in tablets. Apple wasn't the first company to release a tablet, but it has dominated the market ever since the original iPad arrived.
Tablet Hybrids
Apple could also be given credit for revitalizing this seemingly dead category, but it's not the only one that stands to make a splash. Microsoft has been trying to demonstrate the power of tablet hybrids ever since it released the first Surface Pro. A fourth-generation model is likely to arrive in 2015, and who knows what will become of the consumer-focused Surface 2? It might receive an upgrade as well.
The bigger news could come from Apple, however, which is rumored to be developing a 12-inch MacBook Air. Not much is known about the mysterious (and still unconfirmed) device. It is expected to feature touch screen elements, however, which could usher in a whole new generation for the Mac OS.
Just as Apple will gain consumers' attention with the Apple Watch, the company could do wonders for hybrids if it decides to release one in 2015.
Augmented Reality
Augmented reality has taken a backseat to the hype for VR, but there are some companies that hope to change that. The most notable is Google, but its wearable tech (Google Glass) is more of a tool and less of a reality enhancer.
Meta Company, on the other hand, is developing a true augmented reality experience. The firm's development kit retails for $667 and is available for pre-order. Customers are encouraged to "inquire for pricing and availability" of the Pro edition, which indicates that it is going to be very expensive.
That, of course, is a problem almost every new technology endures. There was a time when high-definition TVs retailed for upwards of $10,000. Now one can be purchased for a few hundred bucks.
Will everyday consumers be able to buy a Meta headset in 2015? The answer is probably no. When the price comes down, however, Meta's products could become the most common AR tech available.
Other Wearables
Most people think that wearable technology is limited to watches, goggles and the fictional contraptions introduced in books, movies and TV shows.
In reality, there are tons of real-world wearable concepts in development, including smart shirts, smart vests and smart shoes. These may not change the world in the next 12 months, but expect them to become a bigger part of the wearable space as more developers enter the field.
Disclosure: At the time of this writing, Louis Bedigian had no position in the equities mentioned in this report.
Posted-In: Apple Apple Watch Facebook Google Google Glass Meta CompanyTop Stories Tech Best of Benzinga
View Comments and Join the Discussion!