Doug Kass Talks The Market, Pop Culture And What He Has In Common With Warren Buffett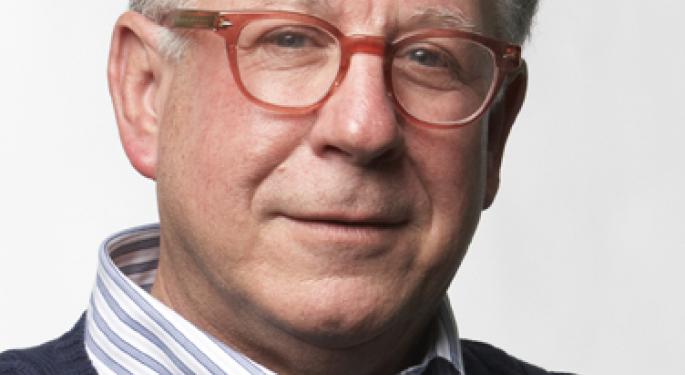 Asked to sum up his new book, "Doug Kass On The Market: A Life On The Street," Kass told Benzinga, "In some ways, this book is a chronicle of my investment odyssey from Woodstock music festival in 1969, which I attended, to addressing Berkshire Hathaway shareholders at their annual meeting last year, described often as the 'Woodstock of Capitalism.'"
'What A Long Strange Trip It's Been'
Kass closed the preface to his book with that familiar lyric by Grateful Dead songwriter, Robert C. Hunter. It's far from the only time pop culture has infused itself into the writing of Doug Kass.
Cultural references to everyone from Mae West to Crosby, Stills, Nash and Young to singer-songwriter Don McLean and others populate both Kass' writing and conversation on a regular basis.
Related Link: 12 Money Myths Just Debunked By Experts
As for Wall Street cred, there is plenty of that as well.
Kass earned an MBA from the University of Pennsylvania's prestigious Wharton School and currently serves as president of Seabreeze Partners Management Inc.
In addition, he's been a long-time contributor to Jim Cramer's The Street.
"Still," he said, "my path to writing has some unconventional aspects to it."
From Philosopher To 'Daniel In The Lion's Den'
"I started by studying philosophy in both undergraduate and graduate school," Kass said. "My first job was as a Nader Raider. I co-wrote a book entitled 'Citibank' with Ralph Nader."
Kass also raced harness horses as a hobby –- a hobby in which he broke two world records and won a million-dollar race.
He received an honorary PhD from his alma mater where he also gave the commencement address.
Just last year Kass was invited by Warren Buffett to come to Omaha and play, in Kass' words "Daniel in the lion's den" at the annual shareholder's meeting in front of 60,000 ardent followers.
A Book Is Born
Given his background and history, it is no surprise Kass has written a book.
According to Kass, he has penned more than 50,000 blog entries since 1998. By his count, that amounts to about 30 million words.
As for what he tried to accomplish in writing his book, Kass said there were half a dozen or so things on his agenda.
Lessons Learned
The chapter titled "Lessons Learned" contains more than two dozen titled entries filled with lists such as "11 Early Warning Signs" pointing to bad stocks.
The author also includes his basic tenets of investing, Know Thyself, Work Hard and Don't Get Emotional, which he explained in detail.
Smartest Investors
"I tried to answer who are the smartest investors I've met and how do they differentiate themselves," Kass said. "I think the smartest people in the house to me are those who recognize and identify a primary trend in the markets or any asset class then jump on that trade in an outsize way like a drunken sailor."
Then, in typical Kass "cultural quip mode" he added, "I'm reminded of what Mae West once said 'Too much of a good thing can be wonderful.'"
Inside The C-Suite
On time he has spent with more than a thousand corporate management teams, Kass paraphrased Warren Buffett saying, "They lie like ministers of finance on the eve of devaluation."
He said that he prefers "to speak to competition or customers." He added, "I've never met a company who was anything but optimistic."
Boca Biff And Other Interesting Characters
Kass also discussed a number of the most interesting people he has met.
"To me the most interesting guy is Boca Biff. He's a real person but it's a phony name. I want to protect the innocent from him."
"He's never met a bubble he didn't speculate in," Kass said, speaking about Biff, "And he taught me a lot of lessons."
Media Mavens
When it comes to the smartest people in the media, Kass clearly had his favorites.
They included Alan Abelson, Bloomberg's Tom Keene, Brian Sullivan and David Faber at CNBC.
According to Kass, they have read everything they could get their hands on, they were skeptical to the core, they had a variant point of view and, in his words, "they see through all the bullshit."
Related Link: 5 Of The Best Interviews From Benzinga's #PreMarket Prep
The Oracle Of Omaha
One chapter of the book is dedicated to the man Kass said was "the greatest investor of all time," Warren Buffett.
Among other things, he discussed Buffett's relationship with his bridge partner and friend, Rabbi Myer Kripke.
According to Kass, with Warren's urging, Rabbi Kripke invested in the first year of Berkshire Hathaway Inc. (NYSE: BRK-A), a move that turned out to be an exceptionally good one.
Kass described several similarities between Buffett and himself including the fact they both worked in the horse business and were both "stoopers," people who, after a race, pick up discarded betting slips hoping to find one that was a winner.
Check back soon for the second part of this interview, where Kass provides investment tips for evaluating companies and stocks, along with his take on the impact of the Fed on monetary policy.
Part 2 of this interview can be found here.
At the time of this writing, Jim Probasco had no position in any mentioned securities.
View Comments and Join the Discussion!
Posted-In: Berkshire Hathaway Bloomberg David Faber Doug Kass Seabreeze PartnersTop Stories Exclusives Interview Best of Benzinga