5 Economists Explain What's Happening In Japan Right Now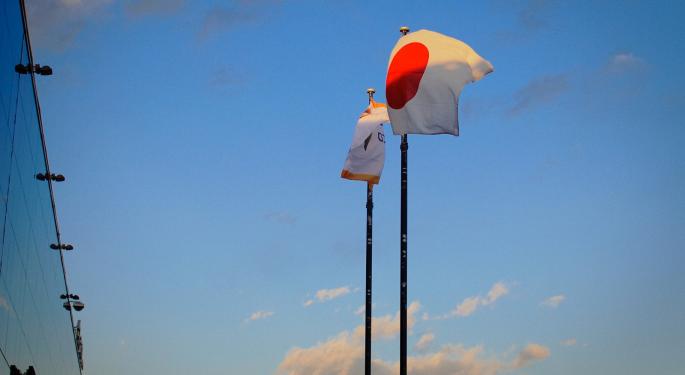 After Japan released reported worse than expected GDP numbers earlier this week, the country has technically entered into an economic recession.
But what exactly is going on in Japan right now? Benzinga asked a few prominent analysts to explain:
Slow Growth
Economist and author of "The Next Economic Disaster" Richard Vague told Benzinga that Japan has shown very slow growth for a generation.
"The rapid run-up in private debt in the 1980s caused its 1991 crisis, and the level of private debt is still a very high 170 percent of GDP," he explained. "That heavy burden is stifling demand and GDP growth, and is a key culprit in Japan's deflationary tendencies."
Vague said that Japan's recovery will require reducing the private debt through "restructuring and thus reinvigorating" the private sector.
Related Link: Japan Focused Funds Show Divergent Performance
Need For Debt Reduction
Economist and former Federal Reserve Officer Dr. Thomas Simpson told Benzinga that the situation in Japan is worse than had been thought even a month ago. He said that the Japanese economic expansion is probably more fragile than previously thought and the economy was less resilient to the take in April than expected.
Simpson also emphasized the need to reduce debt, but he explained that tax increases are harmful to the economy (as shown by the hike earlier in the year).
"A plan for spending cuts, especially entitlements, would be less disruptive to the Japanese economy," he said. "So far, this does not seem to be on the political radar screen."
Instead, the Japanese prime minister has indicated that he might be planning on introducing a fiscal stimulus package, which Simpson said would further increase debt.
Structural Problems
Japan's deflation is structured, according to Innovative Advisory Group Chief Economist Kirk Chisholm. He told Benzinga that structural problems cannot be fixed with monetary solutions.
"Monetary solutions are for cyclical problems. Structural changes are more significant. They require more legislative or even cultural changes," he said.
Chisholm said that Japan's central bank printing trillions of yen is not helping. He does not think this will stabilize the economy.
Fighting Deflation
The Bank of Japan's current approach is very similar to what the U.S. Federal Reserve employed under its third round of quantitative easing, according to Standard & Poor's Ratings Services Chief Global Economist Dr. Paul Sheard. He said that the Japanese central bank is being more aggressive than the Fed was.
"The Bank of Japan's latest decision to ramp up its rate of balance sheet expansion jibes with its new-found commitment to bring an early end to deflation," he said.
Sheard explained that the Bank of Japan must do two things under "Abenomics:" counter the "contractionary effect" of the increased consumption tax and end deflation.
He said some surprise in monetary policy actions may be unavoidable and desirable, given that the central bank must "dislodge, raise and then re-anchor the public's inflation expectations."
Related Link: How Are People Reacting To Japan's Recession?
Implications For The Global Economy
The recession in Japan is a symptom of a weakening global economy, Southern Polytechnic State University Professor of Economics Dr. Mikhail Melnik told Benzinga, but the implications are somewhat limited.
"Although the economy of Japan remains rather important, its relative importance has diminished, reducing the impact its business cycle has on the rest of the world," he said.
Although Japan is ranked as the world's third-largest economy, Melnik explained, its GDP is about 30 percent that of the United States.
Image Credit: raitank, Flickr
Posted-In: Abenomics Bank of Japan economist Federal Reserve GDPTop Stories Economics Interview Best of Benzinga
View Comments and Join the Discussion!