Review: 'The Hunger Games: Mockingjay - Part 1' Ends Strong, But Can It Top $400 Million?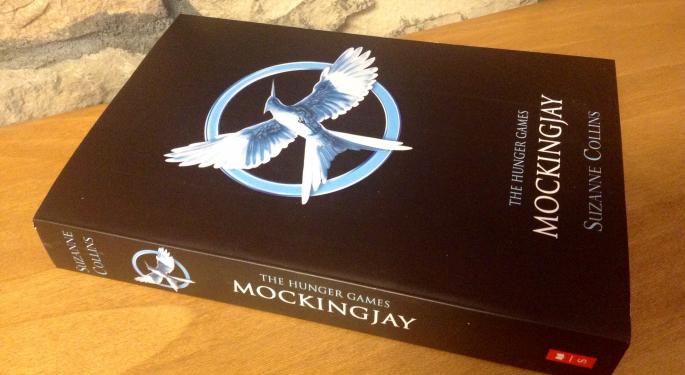 Time Warner Inc's "Harry Potter" franchise taught film studios that they can win big by splitting movies -- particularly the last chapter in a series -- into two parts. Instead of producing one billion-dollar motion picture, Warner Bros. earned more than $2 billion from Part 1 and 2 of "Harry Potter and the Deathly Hallows."
"Twilight" and "The Hobbit" produced similar results. Lions Gate Entertainment Corp. (NYSE: LGF) will now attempt to strike gold with "The Hunger Games: Mockingjay - Part 1."
"I'm modeling the movie to do $425 million domestically, which is just about what the last movie did," B Riley analyst Eric Wold told Benzinga. "I kind of don't care too much what it does opening weekend. Opening weekends are great, but clearly there's a lot of demand for this movie that goes beyond opening weekend."
Rob Enderle, principal analyst at Enderle Group, thinks "Mockingjay" will come close to challenging "The Hobbit."
"'The Hunger Games' has held audiences very well both in theaters and in DVDs and streaming movies," Enderle told Benzinga. "People tend to watch them. It's one of the more popular series and we're getting toward the end. It would be a real surprise if they didn't do well in the box office and again in DVD sales. I think this will do a nice job."
Related Link: Why Disney's Apple-Google Deal Isn't A Big Deal
Barrington Research analyst Jim Goss also expects "Mockingjay" to surpass its predecessors.
"I'd be under the assumption that this will continue the progress that the last couple have made," Goss told Benzinga. "Both have been very successful."
Patrick Moorhead, president and principal analyst at Moor Insights & Strategy, thinks "Mockingjay" will be the "biggest movie of the holidays" -- and possibly the "blockbuster of this year."
Review -- A Rough Start
Like the other chapters in "The Hunger Games" series, "Mockingjay" is in many ways at the mercy of its novel counterpart. If director Francis Lawrence wanted to stay true to author Suzanne Collins' original vision, it was inevitable that the movies would include at least a few of her missteps.
Francis Lawrence (who took over "The Hunger Games" franchise after Gary Ross completed the first film) achieved remarkable results with "Catching Fire." The film ditched the book's most monotonous moments (most notably Katniss' whining about who she loves more, Gale or Peeta) and focused on two core elements: the Quarter Quell and the eventual uprising.
In that regard, "Mockingjay's" transition from book to big screen is not quite as effective. The film is initially bogged down by slower, less memorable moments, such as Katniss' nightmares and her first meeting with President Coin, which is not as exciting as viewers might expect.
Related Link: The Walt Disney Company Won't Have To Pay Author $250 Million If It Never Read The Book
One-Woman Show?
"Mockingjay" finally picks up steam (catches fire, if you will) after Katniss embarks on her first mission to record a propaganda video to rile the rebels. This is where Jennifer Lawrence (no relation to the director) really shines as she transforms into an angry, emotional Katniss who is constantly reminded of the Capitol's wrath. It's not a one-woman show, but Jennifer Lawrence definitely carries this movie -- even more so than its predecessors.
Newcomers President Coin (Julianne Moore) and Cressida (Natalie Dormer) are adequate, but they aren't likely to impress anyone who isn't a die-hard fan of those characters or those actresses. Instead of adding a new dimension to the films, they were mostly included to serve Katniss and to bring the story to its conclusion.
Don't misunderstand -- as the leader of the rebellion, President Coin is important to the overall saga. However, Coin didn't need to be president. Her inclusion was only necessitated by Collins' own decision to make Coin the leader in the first place.
Breathtaking Finish
"Mockingjay" makes up for its slow intro with an exhilarating conclusion. While most filmmakers struggle to split a book into two parts, Francis Lawrence found the perfect place to end "Mockingjay."
There were rumors that the film would conclude with the death of a main character (a la "Harry Potter and the Deathly Hallows"), but "Mockingjay" takes another route, sending viewers on a final mission that is incredibly riveting. Once again, Francis Lawrence has gone above and beyond Collins' vision by directing a dark and intense conclusion that will make viewers wish "Mockingjay - Part 2" wasn't a full year away.
Disclosure: At the time of this writing, Louis Bedigian had no position in the equities mentioned in this report.
Image Credit: Mike Mozart, Flickr
Posted-In: comments Eric Wold Francis Lawrence Jennifer Lawrence Jim Goss MockingjayTop Stories Tech Best of Benzinga
View Comments and Join the Discussion!