Hurdles Ahead For Apple Pay Consumers: New Research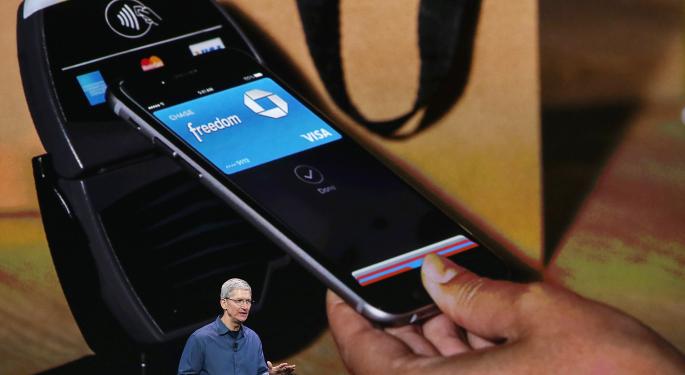 New research from Phoenix Marketing International indicates that Apple Inc. (NASDAQ: AAPL) might have a few hurdles to overcome in promoting and selling Apple Pay.
Phoenix interviewed more than 2,700 smartphone owners and spoke to an additional 4,000 household financial decision makers and found that 22 percent had a "very positive" view of Apple Pay. According to the report, this is "considerably more positive than past measurements of consumer interest in using a payment app." An additional 21 percent had a "positive" view of the new payment system.
This sounds like a step in the right direction, but respondents were not entirely sold on the idea of mobile payments, as evidenced by Phoenix's conclusion. The company detailed three hurdles that Apple Pay must overcome to achieve widespread consumer adoption:
"NFC credit or debit cards have a 13% penetration overall but a 48% penetration among those who have used a smartphone payment app."
"Among users, 38% reported transaction problems at the point-of-sale; 64% of those with an installed app who haven't used it have contacted customer service or technical support. A quarter of this group came away from the call still not knowing what to do."
"Apple Pay's strong stand on payment privacy [comes] at the expense of personalized retailer rewards."
Related Link: Apple Inc. Watch Shows 'Innovation Is Back'
The survey was conducted in September and shows how consumers have responded to other, similar technologies -- not Apple Pay. Is this really something the iPhone maker should worry about?
"You can say what you will: 'it won't be a problem for Apple,'" Greg Weed, director of Card Performance Research at Phoenix Marketing International, told Benzinga. "But the fact remains that there's a big gap between having an app on the phone and it actually being used. There's a number of factors that relate to that. Apple has a big opportunity to solve these things, but it still remains to be solved."
Nothing New?
Analysts and security experts aren't too worried about Apple's potential hurdles.
"The first two are just realities of where we're at right now," Patrick Moorhead, president and principal analyst at Moor Insights & Strategy, told Benzinga. "As it relates to NFC at point of sale, I don't think that's a new piece of information. We get into this argument of what comes first: the cart or the horse? The real issue, the primary issue, is that consumers just didn't have awareness of what they could do with it and what the benefit was. [Apple is showing] just how easy and secure this thing is -- and private."
Related Link: Apple's Q4 Results Solidify Its Success Through 2016
Kevin Blackman, CTO of e-security firm WISeKey, told Benzinga that Apple Pay is a "big leap forward" in security, "especially for the American market."
"This form of tokenization… increases security a hell of a lot," he said. He believes it has become "much more difficult" for a hacker to hit a third party and get to a user's Apple Pay data.
"You can't easily hack into them and get a ton of card numbers," Blackman added. "Now you've got to hack Apple and you've got to compromise their token system and put an agent in there to get tokens while they're passing. Even that is not going to help you because that token is being used instantly. If you were able to intercept that token, get it and use it before the customer at the retail point, the retailer would know something is going on and Apple would probably catch it pretty quickly and find that agent."
Scott Schober, CEO of Berkeley Varitronics Systems, said that Apple stands apart from those who have failed previously.
"The Touch ID fingerprint sensor that they've integrated into the iPhone 6 and 6 Plus, I think that's one of the key things that does differentiate them from a Google Wallet or another type of mobile payment system," Schober, whose company designs and manufactures wireless test and security products, told Benzinga.
Schober said that Apple's approach to NFC "closes the loop of uncertainty."
"That's one positive thing that will alleviate some of the security concerns," he added.
Success Starts At Home
A lot of people think that mobile payment success will start at the retail level. Moorhead said that is not the case.
"It starts with the user," he insisted. "We've got two or three flavors of NFC payment already out there and they've all failed because they just haven't made it easy enough. Once you get people with a high awareness and create demand for it, you are going to see more NFC terminals out there."
Disclosure: At the time of this writing, Louis Bedigian had no position in the equities mentioned in this report.
Posted-In: Apple Apple Pay comments Greg Weed iPhone 6 iPhone 6 PlusTop Stories Tech Best of Benzinga
View Comments and Join the Discussion!