These 5 Cars Have The Lowest Fuel Economy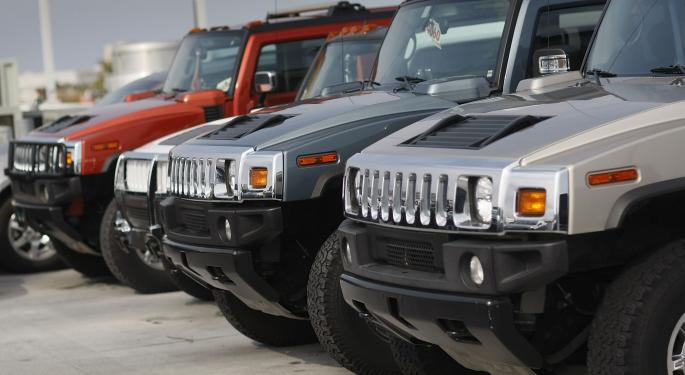 Earlier this April, researchers at the University of Michigan found that the average fuel economy of new, light vehicles (a designation that includes cars, SUVs, vans, and pickup trucks) had reached 25.4 miles per gallon, as compared to 20.8 mpg in 2007.
With pressure on manufacturers from governments and from hybrid and electric competition, fuel economy has been steadily improving. There are still several models that are weighing down that average, and as might be expected, they are trucks and sports cars.
Here are the five cars and trucks with the lowest fuel economy. For a look at the five cars with the highest fuel economy, click here.
Note: Measures of miles per gallon (mpg) are, unless otherwise noted, combined, averaging city and highway figures.
Bugatti Veyron, 10 mpg
This high-powered sports car, designed and developed by Volkswagen AG (OTC: VLKAY), which owns Bugatti, holds the dual distinctions of being the fastest street-legal production car in the world and the least fuel efficient. The Veyron can hit 267.85 miles per hour with 1,001 metric horsepower, but gets just 8 mpg in the city and 15 on the highway. It costs about $2.5 million.
Roush Performance F-150 SVT Raptor Pickup 4WD, 11 mpg
This Ford Motor Company (NYSE: F) F-150, produced aftermarket by the racing and street car engineering company Roush Performance but sold at select Ford dealerships, can accelerate from 0 to 60 mph in five seconds flat. With 590 horsepower, this model gets 10 mpg in the city and 12 mpg on the highway.
Ford E350 Wagon, 11 mpg
This passenger van gets 10 mpg in the city and 13 mpg on the highway, making it slightly less fuel efficient than other vans that are actually larger than it, including the Chevrolet Express 2500, the GMC Savana 2500 and Ford's own E350 Van, each of which get a combined 12 mpg.
Ferrari FF, 13 mpg
Ferrari's FF, which at $295,000 is more affordable than the Bugatti, pulls 11 mpg in the city and 16 mpg on the highway. It can go from 0 to 62 mph in 3.7 seconds. According to Ferrari, it is the world's fastest four-seater.
Mercedes-Benz G550, 13 mpg
Rounding out the top five is one of the more stylish SUVs on the market, Mercedes-Benz's G550, which gets 12 mpg in the city and 15 mpg on the highway.
Posted-In: Bugatti Ferrari Fuel Economy Mercedes-BenzTop Stories Economics Best of Benzinga
View Comments and Join the Discussion!