Long Gen. Wesley Clark's New Book, Short The Yen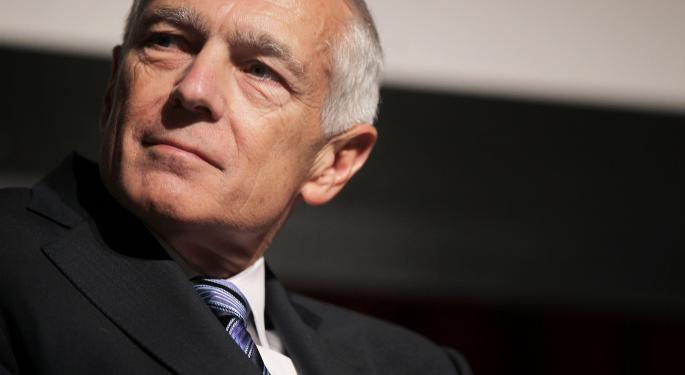 Over the course of his career, General (ret.) Wesley Clark has been the valedictorian of West Point, a Rhodes Scholar, a four-star general, Supreme Allied Commander of NATO and a presidential candidate in 2004.
He's also a best-selling author whose latest book, "Don't Wait For The Next War," couldn't come at a better time. The nightly news has never been more depressing. We're constantly bombarded with alarming geopolitical developments from across the globe.
Russia-Ukraine, Syria, ISIS, a nuclear Iran… it never ends.
As Gen. Clark notes in this book, "the lack of a national sense of purpose seems reflected in the vacuous 24-hour news cycle that captures every nuance of minor celebrities, the latest airline crash or lurid horror, but fails to track the major forces impacting the lives and futures of ordinary Americans."
In "Next War," Clark points out that the U.S. has lacked a cohesive national strategy since becoming the sole global superpower after Cold War ended in 1989. Since then, 9/11 was the only event that united Americans on a national scale.
Unfortunately, it did not build a consensus-based national sense of purpose. Instead, the response to Al-Qaeda and other security threats has been a disjointed effort with no clear objective, made worse by incessant partisan bickering.
In fact, former ambassador to China and 2014 Republican presidential candidate Jon Huntsman said in a recent television appearance, "Of the four countries I've lived in, only one –- the United States –- doesn't have a national strategic agenda."
Campaigning politicians use "strategy" as a buzzword all the time, but very few actually have thoughtful ideas about how it should be implemented.
While Gen. Clark is perhaps best known for his 2004 presidential campaign on the Democratic ticket, his ideal national strategy has significant bipartisan appeal. Candidates thinking about a 2016 campaign should at least have Gen. Clark on speed dial… possibly their ticket. "Next War" not only articulates what threats we face as a country, but how to combat them before they metastasize into another global conflict… hence the full title, "Don't Wait for the Next War."
The threats keeping Clark awake at night include terrorism, cybersecurity, financial instability, China and climate change. The most interesting sections of this book involve China. Possibly more so than any other country on earth, China has a long-term national strategy with the goal of becoming a leading global power.
The country's single-minded focus has already yielded spectacular economic results. The strategy has been consistent for decades –- take education, capital and technology from the West, manufacture cheap exports that include Western technologies, mass resources and work for the long-term.
The question, according to Clark, is whether "China will rise peacefully within the international diplomatic, legal and security structures –- or will instead push, shove, intimidate and fight" to rebuild global systems that best suit its national self-interest. China is not the new Soviet Union, but is a threat unlike anything the U.S. has ever dealt with -- larger than 1980s Japan, more powerful than pre-World War II Germany and more economically integrated globally than the Soviet Union in its heyday.
President Obama's reengagement of Islamic extremists in Syria and Iraq is perhaps most significant because it delays the administration's "pivot to the Pacific," designed to keep an eye on the Chinese.
The investment ramifications of a second global superpower would be enormous. The Chinese are now opening up domestic stocks to greater foreign investment, and analysts believe it could be the second largest stock market in the world by the end of this month. Over the long-term, increased capital flows will surely drive outperformance of Chinese shares.
Judging from the Shanghai Composite / S&P 500 chart below, it looks like we've already reached a turning point. U.S. investors can play this theme by owning the iShares China Large Cap ETF (NYSE: FXI) and selling the SPDR S&P 500 Trust (NYSE: SPY).
Shanghai Composite Index / S&P 500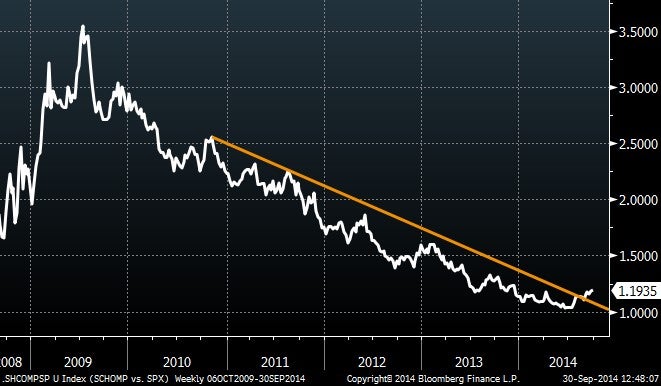 China's ascension to global superpower status should scare the daylights out of Japan. According to a recent Genron / China Daily survey, 53 percent of Chinese respondents -– and 29 percent of the Japanese polled –- expect their nations to go to war. A record 93 percent of Japanese have an unfavorable view of China, while 87 percent of Chinese view Japan unfavorably.
By 2019, Gen. Clark estimates the China will be a formidable challenge for U.S. armed forces –- surely they would steamroll the Japanese. If Japan's widening current account deficit and hyper-experimental monetary policy don't cause the Yen to collapse, a war with China certainly would.
The CurrencyShares Yen ETF (NYSE: FXY) has already fallen significantly this year, but there's still plenty of downside.
CurrencyShares Japanese Yen Trust (FXY)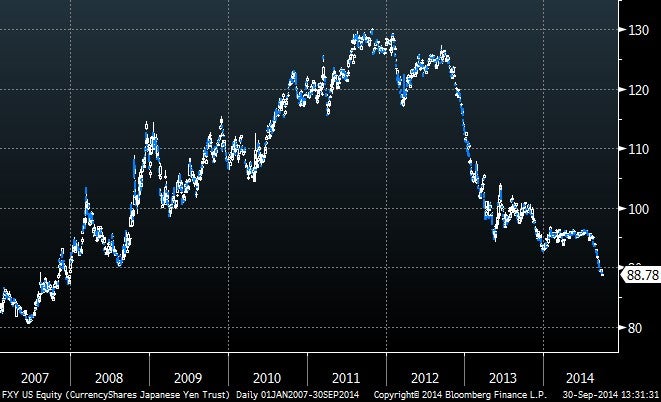 "Next War" covers the other four threats on an individual basis, but Gen. Clark's proposed initiatives combat several national threats at once. For instance, energy independence is a goal any sensible American would support.
Clark believes that increased domestic hydrocarbon production coupled with a carbon tax to support renewable energy would simultaneously boost economic growth, while reducing the threat from terrorism, financial instability and climate change.
The U.S. is already about to overtake Saudi Arabia as the world's largest producer of liquid petroleum, but Clark thinks the United States becoming a net exporter of energy would be a clear signal that it is not a declining power.
Again, there is money to be made here. The United States currently consumes approximately 26 trillion cubic feet of natural gas per year, but insiders privately acknowledge that the country's gas reserves are at least 4,000 trillion cubic feet and probably more. The fact that Clark is promoting the exportation of energy is a very bullish signal for liquid natural gas (LNG) producers.
However, companies like Cheniere Energy (NYSE: LNG) that develop LNG terminals along the coast stand to benefit the most. The Department of Energy has already allowed Cheniere to develop an export terminal in Louisiana, and judging by the tone of this book, there will be more on the way.
Cheniere Energy (LNG)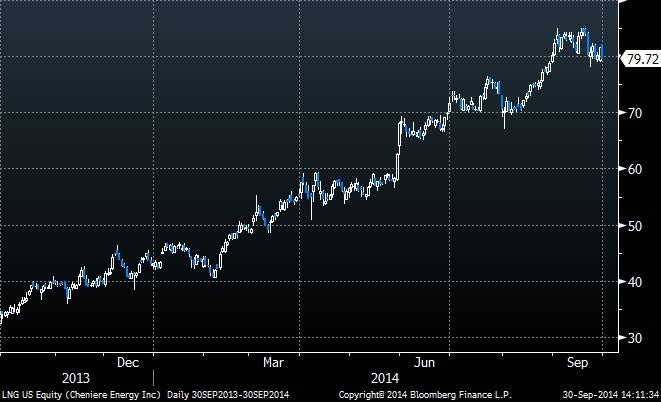 There are no overt investment recommendations made in "Next War," but it's clear that the federal government's changing objectives will create serious opportunities. With that being said, this book is about much more than foreign or public policy.
Gen. Clark tells fascinating tales about meetings with prominent officials from all over the world that offer insight into the strategic goals of other countries. For instance, on a trip to Mongolia in 2010 Clark learned that Vladimir Putin was threatening to double the price of diesel imports from Russia unless Mongolia turned over an old uranium mine.
Looking back, it seems as if Putin used Mongolia as a test-run. Under Putin, Russia has increasingly used energy to extend its influence, culminating in the Russia-Ukraine standoff that has been front-page news for most of 2014.
Available for purchase on October 7, the publishers of "Next War" could not have timed its release any better. Not only does the book cover pertinent current events like Islamic extremism and Russia's incursion into Ukraine, but it also touches on domestic issues as well.
The debate over police militarization reached a fever pitch this summer after the death of Michael Brown in Ferguson, MO. As Gen. Clark points out in the book, "the US military's cooperation with domestic law enforcement represents a level of military involvement in the home not seen since the American Civil War. This deeply threatens the distribution of power between federal, state, and local governments."
He also has some interesting things to say about Edward Snowden and the future of government surveillance.
If you take away one message from this book it's that 24-hour media cycle has created a short-sighted culture. The U.S. has few long-term goals, and the country's status as the preeminent global superpower hasn't been weaker since the Cold War ended.
Still, the United States is an exceptionally powerfully nation with the ability to unite and exert its global influence. You may not agree with Gen. Clark's strategies, but at least he trying to elevate the national conversation with his fantastic new book.
Tags: Rhodes Scholar Wesley Clark
Posted in: Reviews Interview Best of Benzinga