Will Microsoft Corporation's Windows 10 Outsell Windows 8, OS X?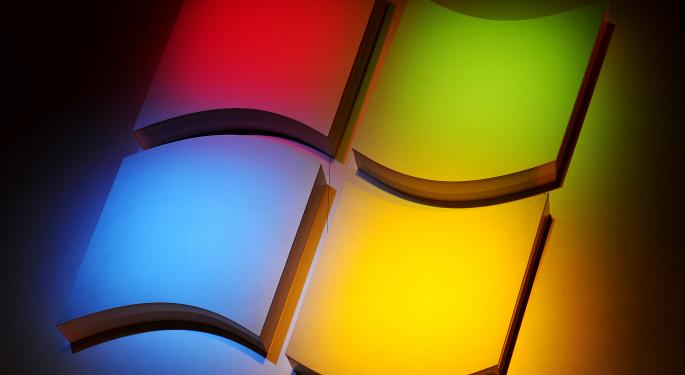 Microsoft Corporation (NASDAQ: MSFT) teased its next OS this week and announced that will be called Windows 10. The new version contains a real Start button and looks like a cross between Windows 7 and Windows 8.
Thomas H. Yorke, managing director of Oceanic Capital Management, told Benzinga that he thinks the new version is a "10."
"The most missed feature of Windows 8, the Start [button], is finally back -- and it looks great," said Yorke, who serves as a portfolio manager on Covestor. "An attractive overlay of the favored old-style combined with the customizable tiles of Windows 8. [It's] a blend of old favorites and modern touches, which establishes a seamless integration with all the applications."
Related Link: Microsoft 'Doubles Down' On Gaming With 'Minecraft' Purchase
The 'Right Thing' To Do
Global Equities Research analyst Trip Chowdhry thinks Microsoft is on the right track with Windows 10.
"I think this is the right thing for Microsoft to do because the previous versions were difficult to use," Chowdhry told Benzinga. "Windows 10 will probably be a lot more successful than Windows 8."
Chowdhry praised the mix of touch and traditional desktop features that will be present in Windows 10.
"I think Windows 10 will be very focused on the business user versus [the] consumer," he added.
A first look at #Windows10: http://t.co/rRxbwEiIbB

— Windows (@Windows) September 30, 2014
Windows 7.5
Richard Edwards, a principal analyst at Ovum who specializes in enterprise IT, told Benzinga that the new OS isn't really Windows 10.
"It's Windows 7.5," Edwards said facetiously. "It's the version of Windows that should have come after 7."
Tigress Financial Partners analyst Ivan Feinseth told Benzinga that while there were a lot of positive features in Windows 8, the "dramatically different" user interface frustrated consumers and delayed adoption. He said many consumers skipped the OS unless they were buying a convertible notebook.
"A lot of people just continue to buy computers with the Windows 7," said Feinseth.
Related Link: 5 Ways Microsoft Can Earn Billions Monetizing Minecraft
Windows 10 Vs. OS X
In developing Windows 10, Microsoft might have given Apple Inc. (NASDAQ: AAPL) an unlikely advantage.
"I think the consumer market will be taken over by Apple," said Chowdhry. "The focus of a consumer-based PC is very different from a productivity-based PC. You can't have a one-size-fits-all [machine], you have to have a focus. The focus of Apple is the consumer and they will be the dominant player [in that market]. The focus of Microsoft is business, so they will be the dominant player. That's the way the market will split."
Edwards also thinks that Windows 10 will give Apple an advantage.
"I think Microsoft is providing Apple with an even greater opportunity to increase its market share for Mac OS X," he said. "There's also a small opportunity for Google to compete with its Chrome operating system, but I would put that at a distant third behind OS X."
A 'Non-Event' For The Stock
Sean Udall, CIO of Quantum Trading Strategies and author of The TechStrat Report, referred to the Windows 10 unveiling as a "non-event."
"[The] stock performs with or above the market as long as Windows OS isn't disrupted in the enterprise," Udall told Benzinga.
Disclosure: At the time of this writing, Louis Bedigian had no position in the equities mentioned in this report.
View Comments and Join the Discussion!
Posted-In: Apple comments Covestor Ivan Feinseth Microsoft OS XTop Stories Tech Best of Benzinga