Google Vs. IBM: The Quantum Computing Race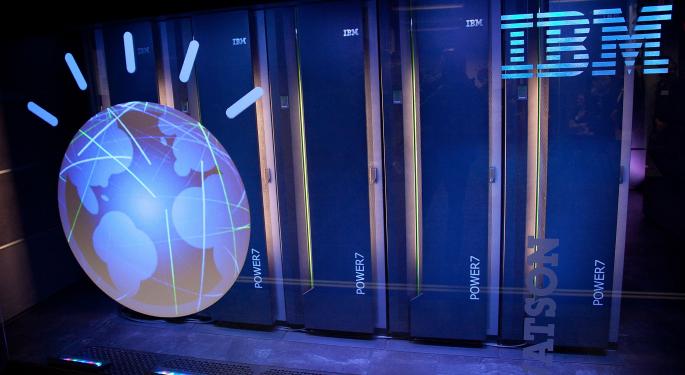 Google Inc (NASDAQ: GOOG) recently announced that it is developing a semi-secret quantum computer. The computer is being developed with the help of John Martinis, a physics professor at the University of California Santa Barbara.
"The Martinis group at UCSB that Google just announced…they're one of the real leaders in the area," Dr. Michael Bremner, an associate professor at the University of Technology in Sydney, Australia, told Benzinga. "I think it's a really good move by Google to invest in Martinis' group."
It may be good move, but can Google truly compete with International Business Machines Corp. (NYSE: IBM), an industry stalwart that has been working on similar projects for several years?
"Well, yes -- in a sense they can," said Dr. Bremner. He explained that IBM and Martinis' group have been more or less competing (in a friendly manner) for years.
"They work in slightly different architectures," Dr. Bremner added. "But they're achieving very similar levels of capability, which is great to see."
Related Link: Google Vs. Samsung: The Race For The Smart Home
Underperforming?
Rob Enderle, Principal Analyst at Enderle Group, expressed doubt about Google's ability to compete with IBM -- particularly against Watson.
"Quantum computing is very different [from] artificial intelligence," Enderle told Benzinga. "Quantum computing is massive number crunching, and so far the quantum computers have been very disappointing. They've underperformed their more traditional peers. Quantum computing is all about math and number-crunching, code-breaking, numerical analysis -- that kind of thing. It really doesn't have a lot to do with intelligence."
Enderle said that he doesn't think any quantum computer would be in competition with Watson.
"But Google's got a huge AI effort that is in competition with Watson," he added. "Who knows, they might be able to port it over to quantum computing at some point."
No Near-Term Profit In Sight
Earlier this month IBM announced Watson Analytics, a natural language-based cognitive service that allows users to access predictive and visual analytics tools. This is just one of the commercial services that Watson has allowed IBM to create.
It took IBM several years to develop these services. Dr. Bremner does not expect Google to move any faster.
"This sort of investment is really a long-term thing," he said. "I don't think they're thinking about short-term strategies at all in this investment. My assumption is we're not going to have quantum computers which are really capable of doing things that most consumers would be interested in for a very long time."
When they are ready, however, Dr. Bremner expects quantum computers to provide some "huge advantages."
"It's really the best way that we know of for improving existing computing technologies that we have now," he added. "As this technology grows, I think [Google] wants to play a serious part in it. That seems to be the way they're thinking. That's certainly the way I think IBM has been thinking about it for a long time now."
Disclosure: At the time of this writing, Louis Bedigian had no position in the equities mentioned in this report.
Posted-In: comments Google IBM John Martinis Michael Bremner Rob EnderleTop Stories Tech Best of Benzinga
View Comments and Join the Discussion!